A section of the Keystone oil pipeline has leaked 5,000 barrels of oil, or about 210,000 gallons, in a remote area of South Dakota, TransCanada announced Thursday.
The company said the conduit was "safely shut down" about 6 a.m. local time, in line with safety procedures, but environmental groups have pointed to the leak as evidence a sister pipeline, the Keystone XL, should be rejected in neighboring Nebraska.
"The section of pipe ... was completely isolated within 15 minutes and emergency response procedures were activated," the company said in a statement. "The safety of the public and environment are our top priorities and we will continue to provide updates as they become available."
The company shared an aerial photo of the area affected by the spill on Twitter and said emergency crews and cleanup personnel had been sent to the site.
The spill comes just days before the Nebraska Public Service Commission is slated to decide whether to grant a permit for Keystone XL, and environmental groups were quick to warn against it.
"With an approval decision still to be made, hopefully the Nebraska Public Service Commission is paying close attention to this spill and what it means for the future," Eliot Bostar, executive director of the Nebraska League of Conservation Voters, said in a statement. "While unfortunately it's too late to prevent this terrible spill in South Dakota, it's not too late to protect Nebraska's families, farms, and communities from paying the same price."
President Donald Trump issued a permit to revive the Keystone XL pipeline in March, following through on a campaign promise to support American fossil fuel production. The move reversed a 2015 decision by the Obama administration to reject the project, citing the pipeline's effect on U.S. efforts to combat climate change and lower carbon emissions.
When complete, the 1,700-mile Keystone XL pipeline would transport Canadian tar sands oil through Montana and South Dakota to Nebraska, where it would connect with existing pipelines. The pipeline has faced hurdles, however, and environmental groups have sued to block its construction.
Jared Margolis, a senior attorney at the Center for Biological Diversity, said the incident "makes clear why Keystone XL should never be built."
"Trump's issuance of a permit for Keystone XL is a farce that will only lead to more pollution for people and wildlife," he said in a statement.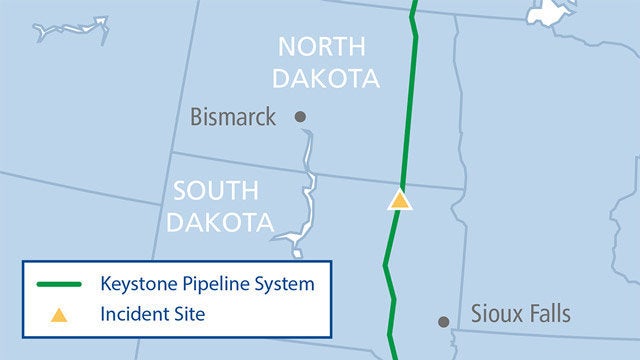 Related
Popular in the Community