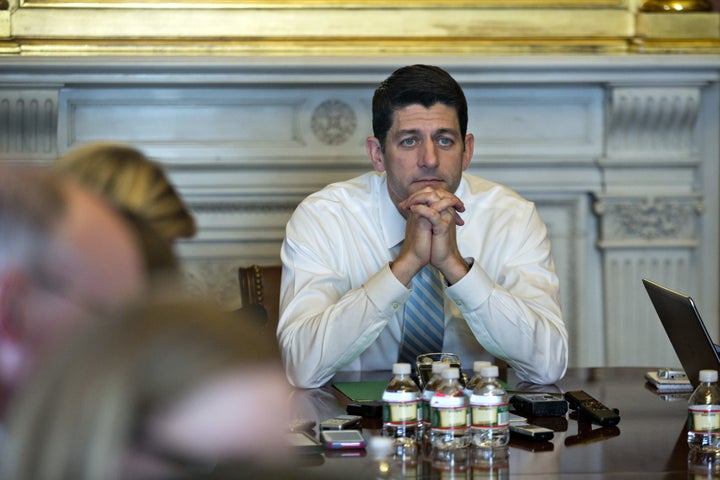 WASHINGTON -- Following reports that an endorsement was imminent, House Speaker Paul Ryan (R-Wis.) said Wednesday that he wasn't any closer to publicly backing Donald Trump. But if you ask Ryan's Republican colleagues, it's a question of when, not if.
"I don't have a timeline in my mind, and I have not made a decision," Ryan told reporters gathered in his office Wednesday.
Ryan said it was important that Republicans discuss "the principles that we all share in common, and the policies that come from them." He suggested he wants to be sure that Trump understands those points.
"That's the kind of conversations we're having," Ryan said, noting that his and Trump's staffs talk "virtually every day."
Late Tuesday night, there were reports that Ryan was telling confidants he was ready to endorse Trump. Trump's own campaign leaked word to ABC that Ryan's endorsement was imminent. (That ABC story has since been updated to scrub the endorsement predictions, but sections of the original story, noting that Trump's staffers said an announcement from Ryan could come this week, can be found here.)
Of course, it's entirely possible the reports were right that Ryan was about to declare his support. Ryan could have just delayed the happy event so as not to appear as though Trump had cornered him into an endorsement.
Either way, the smart money says Ryan is headed toward backing Trump.
It's not that Trump has really changed his ways. Just this week, he attacked New Mexico Gov. Susana Martinez (R) for "not doing the job."
Ryan, who noted on Wednesday that Martinez was a friend of his, was stuck in the difficult but familiar position of disagreeing with Trump on a foundational level and still trying to avoid a direct rebuke.
"I'll just leave it at this: Susana Martinez is a great governor," Ryan said.
It's clear Ryan doesn't want a GOP civil war. And he's evidently placed that political desire over any philosophical or stylistic misgivings he might have about the presumptive nominee.
You could argue that maybe Ryan doesn't want to address Trump's never-ending stream of offensive comments because doing so could turn into a full-time job. But Ryan also knows he's in a politically untenable position. Presented with a choice between what makes sense (not supporting a candidate who says despicable things) and what makes sense politically (supporting the nominee of your party), Ryan seems to be opting for the latter.
The speaker has tried to introduce a bit of daylight between himself and Trump by holding out on an endorsement. But most House Republicans seem to think such an endorsement is inevitable.
"I can't see how he doesn't," Rep. Matt Salmon (R-Ariz.) said.
The Huffington Post conducted more than a dozen interviews -- on-record, off-record and everything in between -- with various House Republicans, almost all of whom said that Ryan not immediately jumping into bed with Trump is a good idea, from both a practical standpoint and a political one.
"I think he's kind of threading the needle the way he feels he has to," Salmon said, adding that Ryan truly does want Trump to adopt a more conservative view.
Even Rep. Tom Marino (R-Pa.), one of the earliest members of Congress to hop aboard the Trump train, said he understood Ryan's hesitation, though he added that his "gut feeling" is that Ryan will endorse in the next week or so.
And that's how GOP members generally think this will play out. As Rep. Andy Barr (R-Ky.) said, "The party's coming together."
There are Republicans who privately expressed reservations about Trump. Two members noted that, publicly, their position was that they'd support the GOP nominee -- but both expressed concern that Republicans were nominating a racist and a xenophobe.
Private reservations be damned, though -- in the public eye, at least, Republicans are coalescing.
Sure, plenty of House Republicans have concerns about Trump. There's a large swath of vulnerable Republicans who refuse to speak his name, saying only that they'll support "the Republican nominee" -- if they'll say anything at all.
Rep. Bruce Poliquin (R-Maine) wouldn't say a word for over 40 seconds when HuffPost asked him about whether he was supporting Trump.
But House Republicans aren't lining up in opposition to the real estate mogul. They're just going along. Although they might prefer that reporters not ask about it.
The irony with these vulnerable Republicans is that Trump is expected to raise millions of dollars for them. According to Politico, Trump will soon set up joint fundraising committees with the National Republican Congressional Committee and the National Republican Senatorial Committee. Another joint fundraising committee, one between the Republican National Committee and Trump, was set up on Wednesday.
A rift at the top of the Republican Party could cost members piles of money, and Ryan appears to understand that. He seems to think that standing up to Trump would be more politically damaging than standing with him -- at least in this election.
Still, when every passing day brings some new exposed falsehood or attack on a Republican governor, there's an outside chance Ryan could withhold his endorsement. There's that chance Trump says or does something so beyond the pale that no one could blame the speaker for not getting behind Trump, if anyone could be blamed for such a thing at all.
But the more likely scenario is that Trump will maintain his normal regimen of off-the-cuff insults and caustic late-night tweeting, a routine that apparently hasn't crossed enough lines yet. And then Ryan will just throw up his hands and say he doesn't want to "litigate this stuff."
Before You Go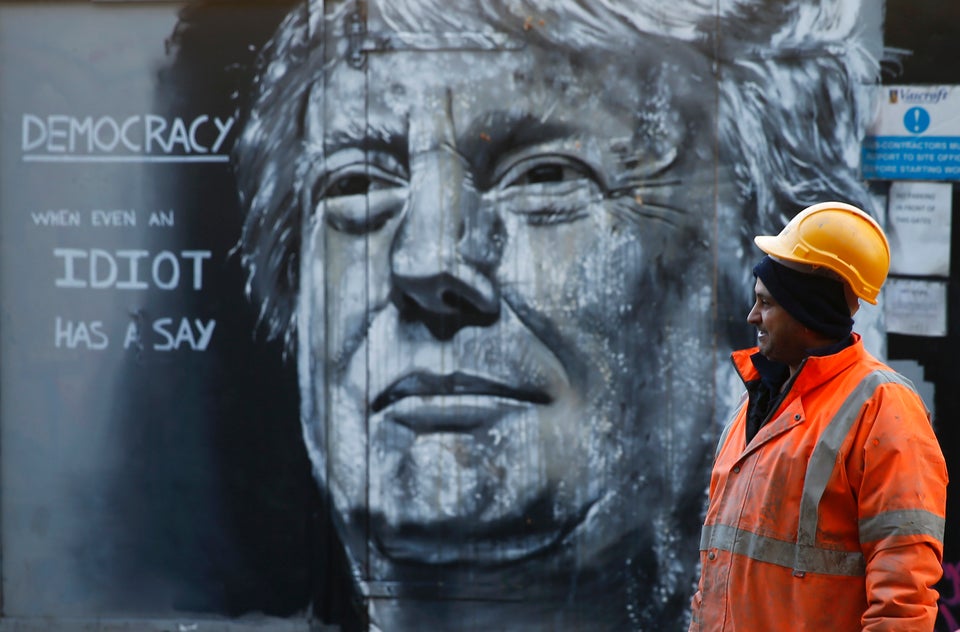 Anti-Trump Street Art From Around The World
Popular in the Community