WASHINGTON ― When you think of political dynasties in American history, you might think of the Kennedys or the Bushes. You've probably never heard of Paulette Jordan's family.
Jordan, an enrolled member of the Coeur d'Alene tribe, comes from thousands of years of intergenerational leadership in Idaho and the Pacific Northwest. Her grandfathers were chiefs. Her grandmothers were chiefs. Some of her ancestors were very prominent, like Chief Kamiakin of the Yakama-Palus Nation. In 1855, when the territorial governor of Washington forced Kamiakin to sign a treaty of land cessations, Kamiakin later banded together with 14 tribes and waged a three-year war against the U.S. government.
"They could lead as chiefs and fight as warrior chiefs," Jordan said of her grandmothers, one of whom was tribal chair of Colville Confederated Tribes. "They taught me the way."
But Jordan, 38, has her eye on a different kind of leadership role. She's running for governor of Idaho, and if she wins, she would make history as the first female governor of the state and the first Native American governor in the nation.
That's not even the most unusual aspect of Jordan's candidacy. A two-term state legislator, she is running as a progressive Democrat in a deeply red state ― and doing remarkably well. Ahead of the May 15 primary, a March poll by Idaho Politics Weekly found Jordan leading multimillionaire and Boise school board member A.J. Balukoff, her Democratic opponent, 41 percent to 27 percent.
The same poll showed no clear front-runner in the general election. Among all voters, Jordan was backed by 15 percent, while top GOP candidates Raul Labrador and Tommy Ahlquist were at 16 percent and 15 percent, respectively. Balukoff was backed by 8 percent.
The obvious question is how a Democratic woman can win a governor's race in Idaho, a state that's never been led by a woman and one where Republicans control the state legislature, the governor's office and all of the state's seats in the U.S. House and Senate. The last time Idaho chose a Democratic governor was in 1990.
It's a question Jordan gets over and over again. "Does it just baffle you that I'm running for office?" she said. "The world is asking."
To this Idaho native, connecting with voters isn't about party or gender. It's about understanding the rural way of life. She talked about her grandfather's pride in ranching 1.5 million acres across eastern Washington and teaching others how to ranch, effectively teaching people how to be independent and provide for their families. Idahoans are deeply rooted in this culture, she said, and she wants to preserve it.
"It's more than just the process of ranching and being part of the ag community. It's what it means to be a rancher or an agriculturalist," Jordan said. "It's sustainability. It's defending your family and your way of life. When I talk about protecting my future generations, that resonates. When I talk about protecting the land, that resonates."

Jordan grew up on her family's timber and farmland in northern Idaho, where she now lives with her two sons. After graduating from the University of Washington, she came home and ran for a seat on the Coeur d'Alene Tribal Council in 2008. She won, becoming its youngest member, and went on to run for the Idaho Legislature in 2012. She lost that year, but ran again and won in 2014 and 2016. In the last election, she was the only Democrat in conservative north Idaho to win in a district that President Donald Trump won.
She announced her run for governor in December, vowing to tackle the state's broken tax system and education system that she says doesn't support teachers. Between the historic nature of her run and being a progressive in a GOP state, it wasn't long before Jordan was in the national spotlight. She's been endorsed by Planned Parenthood, Democracy for America, People for the American Way, Our Revolution and Indivisible. Locally, she has support from unions, community leaders and Add The Words, an Idaho LGBTQ group.
Cher ― yes, Cher ― is also a fan. The two crossed paths in January at the Women's March in Washington, D.C., and then met again at a Women's March rally in Las Vegas. They chatted backstage about Jordan's run and Cher was won over. Soon after, she tweeted to her 3.6 million Twitter followers that she was endorsing Jordan's campaign.
"I did not expect the tweet," Jordan said with a laugh. "I did not ask for anything."
Local news stations went bananas, Jordan said, and some Idahoans were not sure what to make of it. Some were mad that Cher would try to influence a state race and vowed not to support Jordan because of it. Others, particularly younger people, thought it was amazing and pledged to support Jordan because of it. Jordan said she's not sure if it hurt or helped her campaign overall, but she's honored that Cher would try to help her out.
"My mom is one of her biggest fans," she said. "It made her world to see us together in photos. 'Cher is endorsing my daughter! This is so cool!'"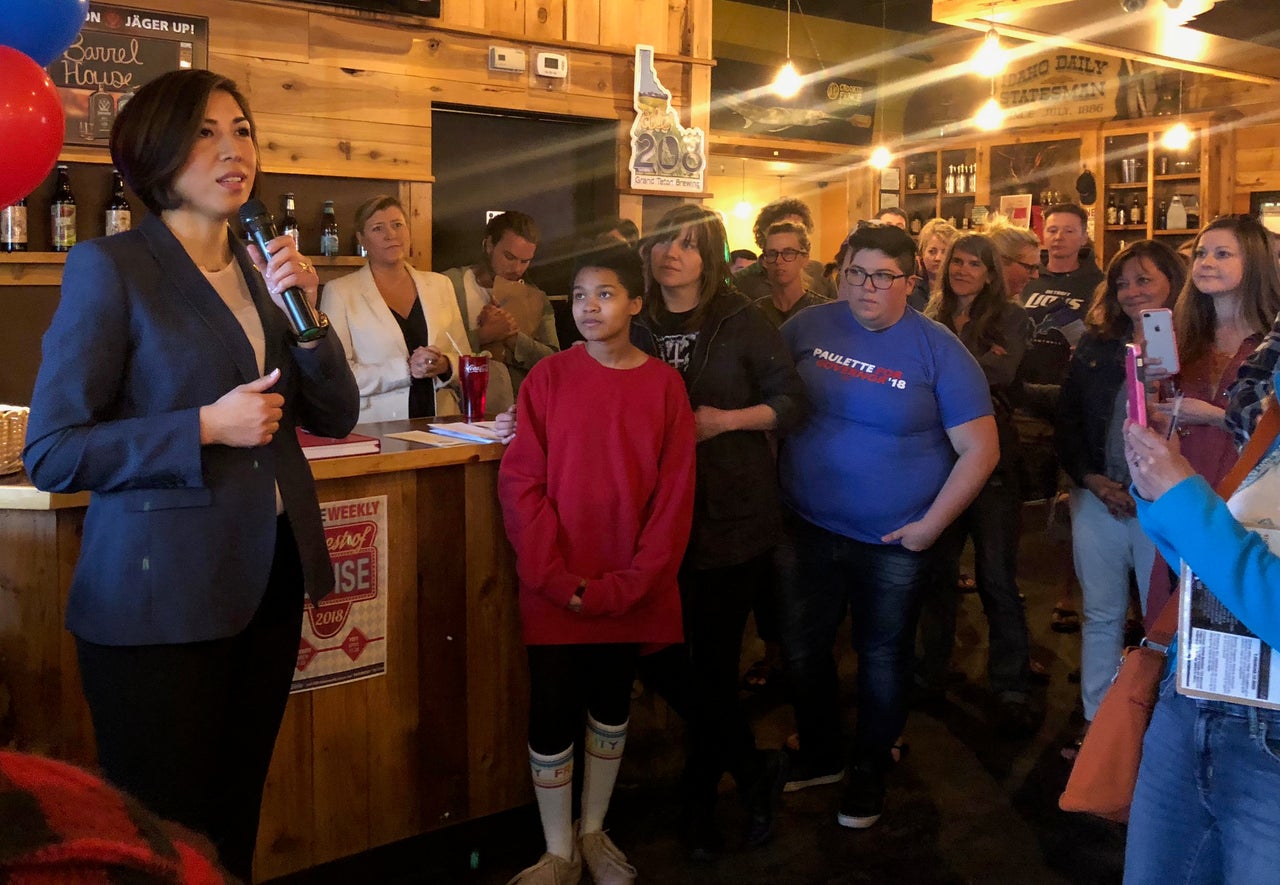 But Jordan has more pressing challenges than celebrity endorsements. A number of Democratic state legislators and former Idaho Democratic Party leaders are siding with her opponent, Balukoff. He ran for governor in 2014 and got crushed, after spending $3.6 million of his own money on his campaign. What's different this time is that the governor's seat is open, as current Gov. Butch Otter (R) is not running for re-election.
Balukoff, 72, shares some of Jordan's policy views. They both support expanding Medicaid. They both say education is a top priority, despite having different stances on charter schools (she's a fan; he's not) and guns in schools (she's opposed to arming teachers; he says local leaders should decide). But Jordan is clearly to the left of Balukoff. She supports legalizing marijuana. She is a forceful advocate for LGBTQ and women's reproductive rights. Neither is true for Balukoff.
Their backgrounds are also vastly different. Jordan was raised Catholic and grew up in a rural community. Balukoff is Mormon, grew up in San Diego and used to be a Republican. He has donated thousands of dollars to GOP candidates over the years, including former Idaho Sen. Larry Craig (R) and former GOP presidential candidate Mitt Romney.
They are financing their campaigns differently, too. Jordan isn't taking any PAC money and is relying on grassroots support; Balukoff is largely self-funding his campaign. Jordan has raised about $300,000 in total. Balukoff, who is worth as much as $50 million, has spent about $800,000 on TV ads alone.
Balukoff boasts about the endorsements he's picked up from state Democratic leaders ― including from some of Jordan's colleagues in the House, which is a slight to Jordan. He has said he thinks Jordan is a fine candidate but needs to wait her turn.
"I think I bring more experience this time around and had leadership roles that Paulette hasn't had," Balukoff said in March. "I think people should stay with me this time around. She may be what we need the next time."
That sentiment did not go over well with Jordan, who fumed about the "older establishment" biases at play in her state party.
"People just aren't used to thinking that a woman of color, or a woman period, can win," she said. "Even people in the Democratic Party, they aren't used to envisioning a woman at the top. Yet there are Republican women who know we can get there. There are progressive women in our state who know we can get there. Being young and vibrant and fresh, that plays into a new, bold vision and strong leadership."
"People just aren't used to thinking that a woman of color, or a woman period, can win. Even people in the Democratic Party."
Jordan's candidacy comes amid an explosion of progressive grassroots activism in response to Trump's presidency. Democrats, many of whom are women and people of color, have been running for local and state offices at record-breaking levels all over the country. And many are winning, even in GOP strongholds. Jordan's platform is a natural extension of a Democratic base that's been demanding change and taken to marching in the streets ― and right past their party's establishment.
In Idaho, the establishment is clearly siding with Balukoff. What's weird is that lawmakers typically avoid making primary endorsements ― and if they do endorse, it's usually to throw support to a colleague. It's hard to overlook the influence of Balukoff's money.
HuffPost reviewed Balukoff's Federal Election Commission reports, along with state campaign finance data, and found that many of the Democratic officials endorsing him have gotten money from him.
Take, for example, the 12 Democratic state legislators that Balukoff touts on his campaign site as supporters. Eight of them have received campaign money from him.
"AJ Balukoff has the smarts, the common sense, and the know-how to be a great champion as governor," says state Sen. Mark Nye, who has received $4,000 from Balukoff since 2014.
"When A.J. reached out to me for my support, I didn't hesitate," says state Sen. Maryanne Jordan, who got $1,000 from Balukoff in the 2016 election cycle.
"Idaho students and teachers could not ask for a better candidate," says state Rep. Hy Kloc, who got $950 from Balukoff between 2013 and 2016. "That candidate is undoubtedly AJ Balukoff and I wholeheartedly endorse him in May and in November."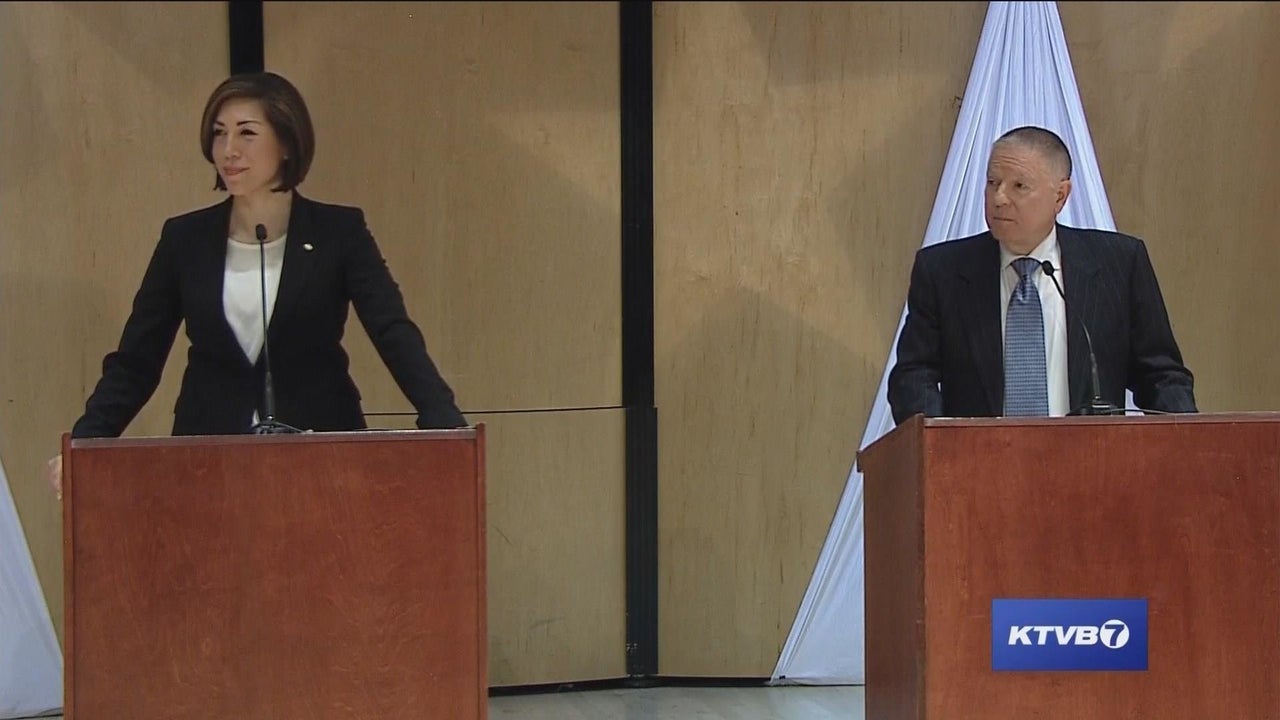 Balukoff has given more than $551,000 to the Idaho Democratic Party since 2009, including $11,000 that he and his wife donated after Nov. 2 ― the day he announced his run for governor. That means he's been financing the party at a time when it's supposed to stay neutral in his campaign. And that's on top of the $3.6 million of his own money he poured into the 2014 gubernatorial race. A year after that, he became the party's treasurer.
There's nothing inherently wrong with Democratic officials taking lots of money from a wealthy donor. Jordan herself got $500 from Balukoff in 2014. (She said she's donating it to charity.) But when you look at the spread of Balukoff's donations over the years between local and state leaders, and to the party itself, he's had an outsized influence on the system that he's now leaning on to help him become governor.
Shelby Scott, political director of the Idaho Democratic Party, emphasized that "a large amount" of the money Balukoff has donated to the party went toward his 2014 campaign's payroll and making sure campaign workers had access to health care.
"We want to make sure that we're living our values," she said.
Scott acknowledged that Balukoff has been "important to helping elect Idaho Dems" in a state where Republicans have a financial advantage. She referenced the $500 he gave Jordan's campaign in 2014.
Balukoff's campaign dismissed the idea that Democratic legislators are endorsing Balukoff in the primary because they get money from him.
"A.J. is proud of the support he's received from people and organizations that care about boosting Idaho's education system, making sure all Idahoans have access to health care, protecting public lands, and ensuring equality in the workplace," said Balukoff spokesman Andy Bixler. "He's racking up endorsements because it's become very clear to voters that A.J. is the right pick to lead Idaho."
Jordan stopped short of saying Balukoff is trying to buy the election, but lamented the effect money is having on Idaho's democratic process.
"It displaces young people and people of color from being able to rise into the party in Idaho, and then people who are poor, and all the rural communities," she said. "This is why the Idaho Democratic Party is really hurting. Everyone should have a voice at the table. They don't."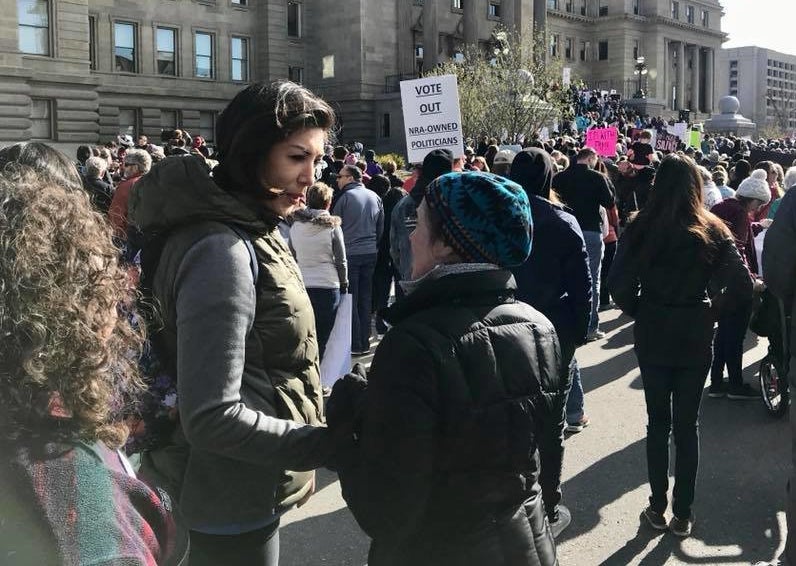 A week out from the primary, Jordan said she's been thinking a lot about her great-great-grandfather, Chief Kamiakin, and what he would make of her working for the U.S. government. He spent his life fighting the government's efforts to wipe out his community, take its land and exploit its resources.
"I always wonder if he would be proud of me," she said. "He defended me and my existence from a government that was encroaching on the freedom of the people here, for their own manifest destiny and because of greed. It was pretty tragic."
But for all the wars he waged, Kamiakin was trying to make peace, she said. And he didn't give up, even when U.S. military leaders repeatedly killed the people he sent over to broker a peace deal. That's where Jordan sees herself following in his footsteps.
"My grandmother always said, 'You will always fight. The next generation will have to hold the line and fight for the same things,'" she said. "I am always going to continue that legacy of fighting for freedom, peace and justice. I think it's a good thing for me to work internally to try to make things better."
Jordan paused. "I know he's proud of me."
Popular in the Community