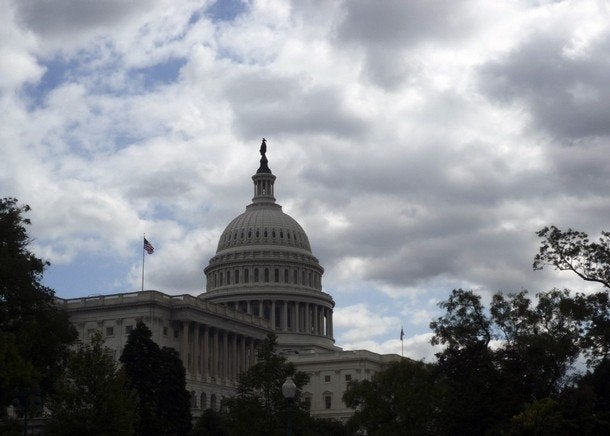 It's payback time on Capitol Hill.
Democrats rewarded the GOP for its near unanimous opposition Wednesday by ripping business tax cuts out of the final package, members of Congress said after a closed-door meeting to discuss the stimulus agreement reached with the Senate.
The Chamber of Commerce and other major business organizations lobbied for passage of the stimulus, but couldn't persuade a single House Republican or more than three Senate Republicans.
A tax break that allowed businesses to write off losses dating back several years was reduced and a measure providing a $15,000 tax credit to homebuyers was pulled. Both actions shaved a combined $50 billion off the package's price tag - about $13 billion of it carved from the business cuts. Around $75 billion of tax cuts in total were stripped from the package.
Some of the money to fill gaping state budgets and for school construction was returned to the package in place of the tax cuts. Aid to states was boosted from $40 billion to $54 billion, said Sen. Ben Nelson (D-Neb.).
Ways and Means Committee Chairman Charlie Rangel (D-N.Y.) cautioned that negotiations around the edges were still going on. "There's nothing on Ways and Means and Finance we can't make adjustments on," he said.
Any further adjustments that would be made would be downward, he said, to keep the cost at around $789 billion.
While the business tax cuts got hit, individuals' cuts did better. "We're pretty much okay with the individual tax cuts - it's more business" that got taken out, Rangel said. He said that House negotiators were able to restore a child tax credit, but not at the size they had wanted. He said the $3,000 would be a "good guess" as to the level of the credit, but said that it could still change.
"Tax relief to help middle class families and small businesses were sharply pared back for the sake of increased government spending," said an unhappy GOP aide.
Appropriations Committee Chairman David Obey said that the package included $311 to $314 billion in appropriations and the rest in "revenues and mandatories." The package now includes $275 billion in tax cuts, said Rangel, which means that another roughly $200 billion is targeted to mandatory spending programs such as unemployment insurance.
That proportion of 65 percent spending against 35 percent tax cuts tilts the final bill more heavily toward spending than it had been earlier.
"We have a basic agreement," said Obey, but he wasn't entirely thrilled at the size of the package. "People are talking about it as if it's this great new dollop of money that the governors are going to have to spread around. That's not what it is. This is larger a hole-filler."
Asked by the Huffington Post if he thought another stimulus would be needed, he said, "I don't think there's any doubt that we may need other actions." He said that next the financial markets must be fixed and the foreclosure crisis needs to be mitigated.
"This economy is in an absolute mess," he said. "I've never seen anything like it." He said that he agreed with liberal economists who said that the stimulus wasn't large enough.
"Count me in the Paul Krugman camp," said Obey, adding that the bill was better than nothing and would go a long way to slow the economy's decline.
Earlier in the day, Senate Democrats announced that a deal had been reached, only to be met with silence from the other side of the Capitol. A Democratic aide involved in the negotiations said that the hiccup was over school-construction funds. The House insisted that governors be given more flexibility to spend state aid on school construction. The word construction, however, was changed to modernization.
"It's now not construction but it's modernization, so it's clear that you don't go out and build a bunch of new buildings," said Nelson.
Also cut was a provision that would have cost $11 billion and used tax credits to encourage the purchase of fuel-efficient vehicles. Nelson said it was cut down to around $2 billion.
Nelson, too, got what he wanted. The House was pushing back against the Senate's inclusion of a patch for the alternative minimum tax. Nelson fought for it and won.
"I insisted," said Nelson.
Popular in the Community