Do you ever hear someone singing the praises of a food that sounds absolutely awful to you? You nod and smile while secretly thinking to yourself, "That sounds gross!" We at HuffPost Taste experience this regularly -- whether we're describing something we think is delicious and are faced with blank stares, or we're listening to someone describe a food about which we have completely opposite feelings. Instead of languishing in this persistent limbo of wondering what the other party sees -- whether or not the contested food actually tastes as delicious or disgusting as we might imagine -- we've decided to tackle the issue head on. In a new series, Good or Gross, we're trying all those questionable foods some people think taste amazing and other people think taste terrible.
In honor of National Pickle Day, for our first edition of Good or Gross we tried the peanut butter and pickle sandwich. This sandwich made headlines in 2012 when The New York Times wrote it up. As The Times explained, the peanut butter and pickle sandwich, the PB&P, isn't new but has in fact been a low-profile favorite in the U.S. since it appeared on deli counters, often with relish instead of full pickles, during the Great Depression. "A lot of people's grandmothers used to eat them," author Dwight Garner wrote.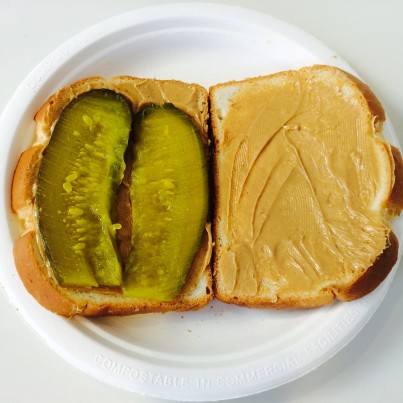 Despite how long the peanut butter and pickle sandwich has been around, however, the combination still only enjoys a cult status. It's by no means mainstream. Of course any sandwich would have a hard time competing with a peanut butter and jelly, but even combos like peanut butter and honey or peanut butter and banana have gotten more traction than peanut butter and jelly. It's clearly not for everyone, but it's got a devoted enough fan base that almost a century after the Great Depression, it hasn't died off into oblivion. We had to try one.
We made our own with smooth Jif peanut butter and dill pickle slices, and we put it to the test: Good or Gross?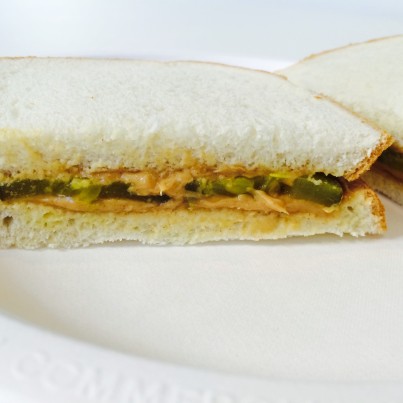 Most HuffPost editors who tried the sandwich were really into it. In our entirely unscientific taste test, the peanut butter and pickle sandwich was decidedly: Good.
People really took to the acidic, vinegary taste of the pickles combined with the rich and subtly sweet and salty taste of peanut butter. They also really liked the crunch of the pickles with the smooth, creamy peanut butter.
"If it had good bread, good peanut butter and good pickles, you could sell this sandwich at a restaurant for a lot of money."
"I love it, but I have also have a psychological block that pickles make me think of tuna fish."
"This just makes me want a peanut butter and jelly."
"It tastes like dill pickle chips to me, but better. So, so good and something I would definitely eat again."
"I'm really surprised by how much I enjoy this. Obviously sweet and sour are a good combination, but this is great. Before I took the first bite I thought it would be very bizarre, but the wateriness of the pickle is the perfect way to cut the thick, creamy peanut butter. This might be my new replacement for jelly. "
"It. Is. So. GOOD. The pickle elevates the sandwich to another level -- I never knew peanut butter had a tangy soulmate! That being said, it's only good when you get the crunchy part of the pickle -- the gooey middle part mixed with the peanut butter kind of freaked me out."
"I would eat this every day."
Try your own peanut butter and pickle sandwich, and let us know if you think this sandwich is good or gross.
Related