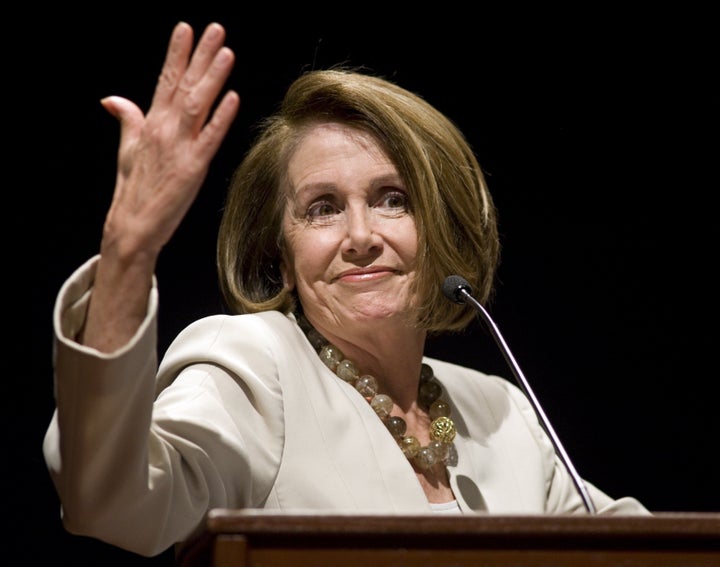 At a groundbreaking ceremony in San Francisco on Tuesday afternoon, House Speaker Nancy Pelosi gave reporters her take on election outlooks and decried the use of outside money in Congressional races.
"We are fighting to the finish, and we have gotten very good reports back about early returns," she told reporters after a ribbon-cutting ceremony for the University of California at San Francisco's new Medical Center at Mission Bay. "I was just on the phone with people down South, and across the country the early returns are very heavily in favor of the Democrats."
Tallies released Tuesday from the nine states reporting voter affiliations during early voting show Democrats are turning out in larger numbers in Iowa, Louisiana, Maryland, West Virginia and North Carolina, while Republicans lead in Florida, Nevada and Colorado.
Political analysts voiced skepticism about how much of a role such results actually play in the final count. But Pelosi was not so inhibited.
"Our candidates are in the fight," she said. "They're proud of what they have done. We feel pretty good about it."
Though Democrats are behind in many House races across the country, Pelosi said she was proud of their candidates and that there was still time to turn things around.
"A week is a long time in politics," she said.
Indeed Democrats seem to be running hard and fast in the final stretch. In a last-minute effort to boost House Dems, for instance, the DCCC purchased $21.6 million worth of air time late Tuesday night. The ads will blanket 66 districts.
The money may be a final attempt to stave off a Republican sweep in the House and counter what Pelosi called "a hostile corporate takeover of our Democracy."
"Unlimited, large amounts of money, secretly are contributed, being poured into these races to drown out the political debate that is taking place in our country and that is a new factor," she told reporters. "So that has made a difference in some races this week."
Also in attendance at Tuesday's groundbreaking was MC Hammer, who had donated to the children's wing of the new hospital.
Hammer stopped to talk to local groups outside the event who were protesting that UC had no community hiring plan in place despite the scale of the $1.7 billion investment. Hammer promised to bring their message to leadership.
"It was magical," Joshua Arce, executive director of the Brightline Defense Project told HuffPost. "Suddenly the gate parted slightly and out came MC Hammer." Hammer reportedly gave his number to protest organizer James Richards, and said: "If the community doesn't work on this hospital then you let me know."
Pelosi's office could not confirm that any message had been delivered, though an aide told HuffPost the Speaker did pause for a picture with Hammer.