In my work at McLean Hospital, I am surrounded by psychologists, psychiatrists, and other mental health caregivers who are extremely talented, passionate, and caring. This dedicated staff works hard every day to provide the best possible outcomes for our patients, and now they have a volunteer staff of four-legged individuals that helps make their jobs just a bit easier.
With names like Beanie, Pooh, Rufus, Tuna, and Smokey, I must humbly admit—as a psychiatrist myself—that our pet therapy animals may have become our most-favored caregivers. And I'm okay with that, as they have enhanced the ability of professionals to do their jobs and improved our patients' experiences.
It should be noted, however, that the current body of research addressing pet therapy is somewhat weak. While there are demonstrable short-term benefits, we need more quality research that addresses potential long-term benefits. However, in my estimation, the short-term benefits alone, which include breakthroughs in treatment, are reason enough to have a pet therapy program.
Our group of pet therapy animals is quite diverse, with a wide range of colors, sizes, and shapes. It is mostly composed of dogs, although we have one superstar cat, Tuna (who has his own Facebook page). I would add that such diversity helps to offer something for everyone, but it turns out that each and every animal seems to be adored by everyone.
Our therapy animals aren't just a bunch of cute faces. They are responsible for significant care enhancements throughout our hospital, with the ability to help patients with virtually any mental health condition.
For example, we have found that one of the things our elder patients miss the most about coming into the hospital is their pets. While they may struggle with certain aspects of their memory, they very clearly remember their animal companions, even those from long ago. By exposing these patients to a therapy animal, we evoke a lot of memories, a lot of positive feelings, and a sense of security.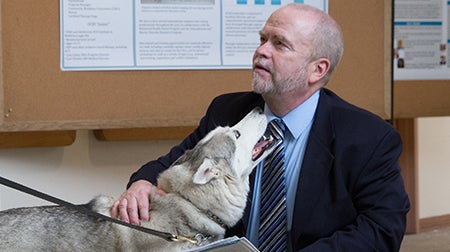 Staff in our depression and anxiety programs tell us that pet therapy groups are often the first groups their patients feel safe enough and comfortable enough to go to, and they are consistently the highest attended groups for those programs. This ability to simply get patients to participate in therapy is an important breakthrough.
During these sessions, one or more animals are present while patients in the group talk about how it feels to be with the animals and the relationships that they have with animals. Many individuals in these sessions notice how their mood shifts dramatically when the animals are present. This change is particularly significant for people with depression or psychotic disorders, as it counters their belief that they couldn't feel happy again. By reviving these dormant emotions, the animals help demonstrate to patients that they do have the capacity to feel happy, to feel connected to other people and other beings, and to recover.
I have also seen the effect that Hunter, my own therapy animal partner, has on patients.
What I have found during my work in the emergency room is that people are often very, very scared about coming into the hospital. However, when they see that Hunter—a Pomeranian who weighs about 8 pounds and is clearly not great at protecting himself—is happy and safe here, they feel confident that they probably are too.
But Hunter doesn't only help our patients. He also has an official staff support role. A lot of our staff have very stressful jobs, but they light up when they see Hunter. Just as with our patients, it makes me feel good that Hunter is helping someone else feel good, and it also provides me with opportunities to meet people whom I probably wouldn't meet if Hunter wasn't around.
Although some would argue that every animal is special, the pets on our volunteer staff have demonstrated that they are particularly suited for the work at McLean Hospital. In fact, pet therapy animals at McLean have to pass an exam with a national organization that assesses the animal's temperament and behavior, be licensed in the town in which they live, have proof that they have had a series of vaccinations, and wear a photo ID badge on campus to show that they're a legitimate volunteer.
Each of our therapy animals also has to be accompanied by a human companion while on campus, and they are credentialed together as volunteer partners. These teams always stay together and only go where they are invited at McLean. This differs from a service animal, which doesn't need an invitation to travel freely with its partner.
Unfortunately, we currently don't have enough credentialed animal therapy teams to meet demand. That's why we are encouraging people to consider becoming a part of one of these very important partnerships. It not only helps our patients tremendously, we have also found that the human halves of the volunteer teams are richly rewarded as well.
Beth L. Murphy, MD, PhD, is the associate medical director of the Clinical Evaluation Center (CEC) at McLean Hospital, a program that specializes in evaluating individuals in acute psychiatric crisis who may need inpatient hospitalization. The CEC sees individuals with a broad range of psychiatric disorders, which matches Dr. Murphy's interest in diagnostic assessment and acute stabilization.
Related