A rather bizarre pro-spaying demonstration involving humans dressed as condoms and a model named Lacey Banghard has some people scratching their heads in amused confusion this week.
On Monday at Piccadilly Circus in London, Banghard (yes, that's her real name), a 20-year-old model and "Celebrity Big Brother" contestant, was joined by two giant, fuzzy condoms to promote the sterilization of cats and dogs. The demonstration was organized by activist group People for Ethical Treatment of Animals (PETA).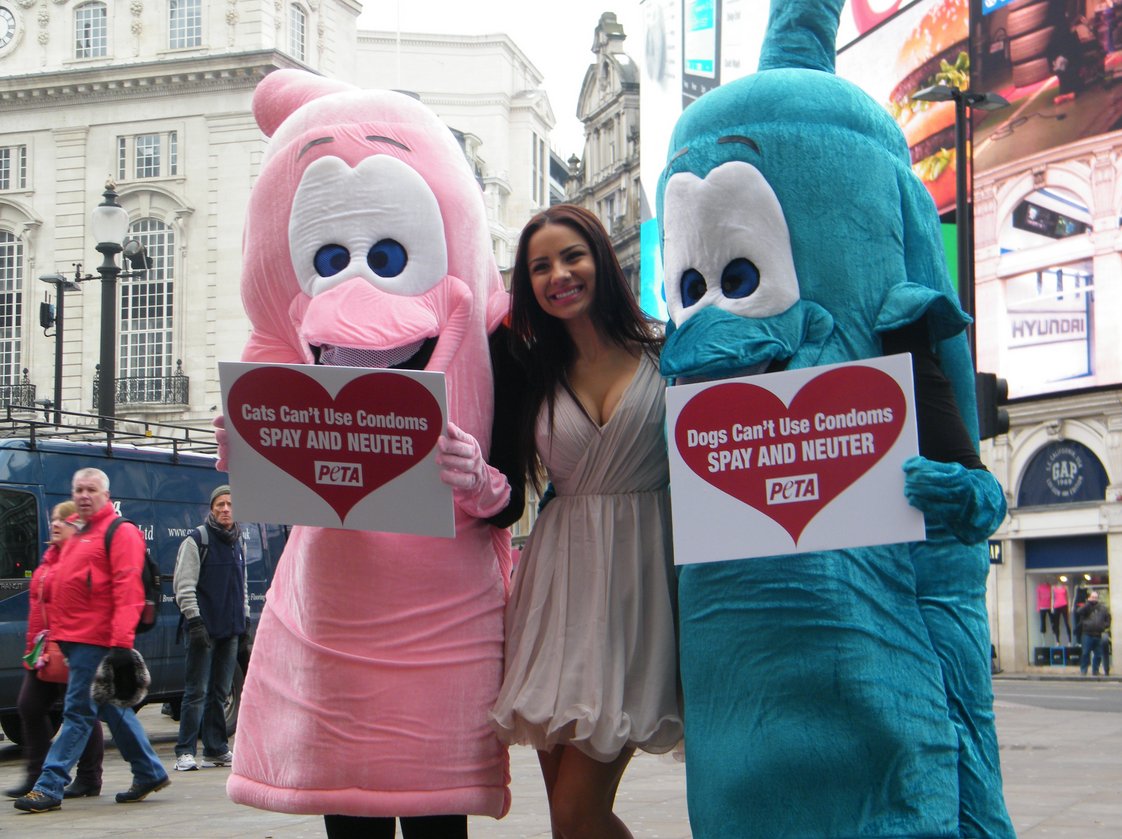 (Credit: PETA)
"If cats and dogs could rubber-up, tens of thousands of animals would be spared suffering and death every year," Banghard said, according to a press release. "But they can't, so it's up to us to fix the problem by fixing our animals."
The PETA press release continues thus:
Each year, thousands of cats and dogs in animal shelters must be killed because there aren't enough good homes for them. Other animals are abandoned on the streets, where they starve to death, get injured or killed by vehicles or fall prey to abuse. Spaying and neutering is the answer.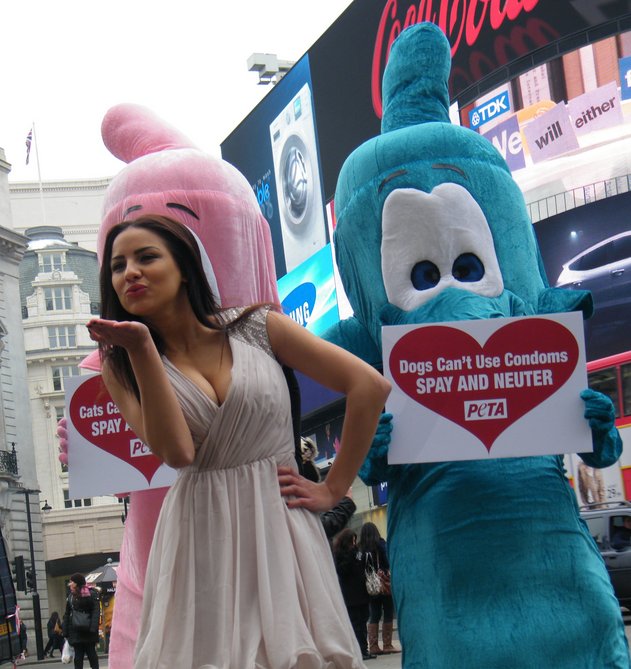 (Credit: PETA)

Though Banghard's pro-spaying message may be a good one, that hasn't stopped netizens from teasing PETA for the odd demonstration.
Alanna Okun of Buzzfeed mused that the demo may be "PETA's weirdest campaign yet." And some Twitter users have taken to the social media site to express their amusement:
A spokesperson for PETA told The Huffington Post via email on Thursday that the group has welcomed the reception to the condom campaign -- surprise, bafflement and all -- as a positive sign that the message is being spread.
"At PETA, we recognize that there's a lot of competition for consumers' attention -- and what better way to make people sit up and pay attention to the companion animal overpopulation crisis than a fun and lighthearted giant 'condom' demonstration featuring model and Big Brother star Lacey Banghard?" wrote a spokeswoman on behalf of the group. "Thanks to Lacey's good-hearted efforts, people are sharing photos of our eyebrow-raising -- and life-saving -- message over and over again on Facebook and Twitter, so we couldn't be more pleased."
"I want to capitalize on my name a bit more," she said, according to the Sun. "Banghard would be a great name for my own brand of condoms 'Banghard, bang safe.'"
This is not the first time that PETA has used humans dressed as condoms to promote the spaying and neutering of pets. According to ABC News 4 in Charleston, S.C., members of the animal rights group dressed up as condoms to give out pro-sterilization pamphlets near the campus of the College of Charleston earlier this week.
Kooky or clever? Tell us what you think of PETA's pro-spaying demo in the comments below.
REAL LIFE. REAL NEWS. REAL VOICES.
Help us tell more of the stories that matter from voices that too often remain unheard.
BEFORE YOU GO