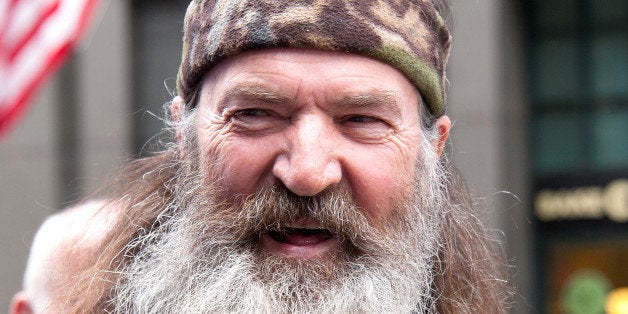 "Duck Dynasty" star Phil Robertson made headlines this week for his anti-gay sentiments in a GQ interview. Now another statement from the interview -- this time about the black community during the pre-civil rights era -- is stirring more controversy.
"I never, with my eyes, saw the mistreatment of any black person," Robertson is quoted in GQ. "Not once. Where we lived was all farmers. The blacks worked for the farmers. I hoed cotton with them. I'm with the blacks, because we're white trash. We're going across the field.... They're singing and happy. I never heard one of them, one black person, say, 'I tell you what: These doggone white people'—not a word!... Pre-entitlement, pre-welfare, you say: Were they happy? They were godly; they were happy; no one was singing the blues."
We want to be clear why Phil Robertson's remarks are not just dangerous but also inaccurate. Mr. Robertson claims that, from what he saw, African Americans were happier under Jim Crow. What he didn't see were lynching and beatings of black men and women for attempting to vote or simply walking down the street. And his offensive claims about gay people fly in the face of science. In fact, it's important to note that every single leading medical organization in the country has said that there is absolutely nothing wrong with being [lesbian, gay, bisexual or transgender] -- it's not a choice, and to suggest otherwise is dangerous.
Popular in the Community