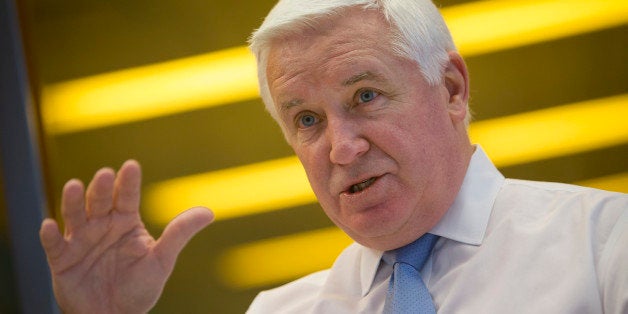 The parents of Philadelphia are in limbo. While back to school season has come to be reviled, Philadelphians are praying that it'll arrive in their city as planned.
Philadelphia's Superintendent William Hite said Thursday if he doesn't get an additional $50 million by Aug. 16, the city's beleaguered 218 public schools will be unable to open their doors on schedule on Sept. 9. At the time, Hite said, $50 million would be "not sufficient, but necessary" for starting the school year. His comments were the culmination of massive layoffs, state budget cuts, financial mismanagement and pension liabilities. Sources say Hite is meeting with Gov. Tom Corbett (R) Monday evening in Harrisburg to hash out a resolution. (Corbett spokesman Tim Eller said later in an email he could not confirm the meeting).
"I am in the unfortunate position today of having to announce that if we do not receive at least $50 million by Friday, August 16, the School District of Philadelphia will be forced to consider alternatives to starting the 2013-14 school year on Monday, September 9," Hite said in a statement. "This means that we may not be able to open any schools on September 9, that we may only be able to open a few, or that we might be open for a half-day. We will not be able to open all 218 schools for a full-day program."
The announcement came after blistering layoffs of 3,800 employees in June and the closure of over 20 schools. "Without the funds to restore crucial staff members, we cannot open functional schools, run them responsibly or provide a quality education to students," he said. The $50 million, he said, would enable him to bring 1,000 of those workers back.
With a potential Corbett deal on the horizon, though, a group of parents is taking Hite to task. Along with local congregations and students, they're organizing a town hall Monday. Even if the first bell does ring on Sept. 9 as scheduled, the Philadelphia school district will be a shell of its former self. Fifty million dollars, they say, is not enough -- it's far less than the $180 million the district had originally asked for. If the $50 million is necessary but not sufficient for educating their kids, they wonder, what's the point?
"The town hall is a community wide response to the notion that we're looking at funding schools so that buildings can open, rather than funding schools that can educate children," said Helen Gym, a public school parent and founder of the activist group Parents United for Public Education. "The money that he's [Hite] asked for is necessary but not sufficient to operate our schools. That's just a terrible and dangerous standard for our district to put out there."
Gym said she would take Hite's ultimatum a step further. "Unless the schools get what's needed for them to educate children and not open buildings, we don't think school should open either," she said. "We're asking the district to redo its budget so they can guarantee arts and music, a counselor in every school."
The Rev. Dr. Kevin Johnson is also helping to organize the community. When he moved to Philadelphia, he pulled his kids out of private school to take advantage of the city's public schools. Now, he says, he's concerned. "We are worried that the schools will be unsafe," he said, without proper staff. "What we are saying is if $180 [million] is what you need to make the schools safe, we don't want our children entering schools if they're not safe on September 9." Philly schools have long been known to be dangerous -- in January, a girl was kidnapped from school and sexually assaulted. "This is very real for us," Johnson said.
The situation in Philadelphia's schools is so dire it has caught the eye of the federal government. "I'm really really worried about the education that children in Philly are going to receive this upcoming school year," U.S. Secretary of Education Arne Duncan told The Huffington Post, unprompted, in a July interview. "I'm concerned about a lack of commitment, a lack of investment in public education." Representatives for Hite did not immediately return requests for comment, and Eller, the Corbett spokesman, said only that he could not confirm the potential meeting with the superintendent.
Philadelphia faces a $304 million school budget shortfall. The massive layoffs included aides, assistant principals, social workers and arts teachers. Hite and Mayor Michael Nutter (D) have called on the city council to extend a 1 percent sales tax to make up the difference. They are also negotiating a contract with the local teachers' union, hoping to save money by asking teachers to make concessions on things like benefits. The city council president has said he'd want half of the money from a sales tax extension to go to the city, though.
Meanwhile, schools are scrambling to fill the gap. One principal, Gym said, sent a letter to his school's parents urging them to contribute upwards of $600 dollars each to make up a $350,000 deficit. In a public school. "It's insane, it breeds dramatic inequity," she said.
Leslie Tyler, a mother who works in public relations, says parents are picking up the phone in her sixth-grade son's school because they have no secretary or assistant principal. Kids are giving up lunch money and their allowance to pay for supplies. "Parents who have means are picking up and moving their children into the suburbs," she said. "Parents who can't afford to do that take what the state and city dishes out."
And the situation, she added, has led to tough conversations with her children. "What do you tell them?" she asked. "They're young enough where they love school. They look forward to the first day. Having to tell them school may not come on time because adults can't figure out how to pay for it, that's upsetting."
This post has been updated to include response from Corbett spokesman Tim Eller. It has also been clarified to reflect Johnson's mention of $180 million.
Popular in the Community