Explorer, social entrepreneur and environmental advocate, Philippe Cousteau is the 31-year-old son of Jan and Philippe Cousteau Sr., and the grandson of Captain Jacques-Yves Cousteau. Philippe is continuing the work of his legendary family through EarthEcho International, the non-profit organization he founded with his sister and mother to empower youth to take action that restores and protects our water planet.
EarthEcho recently launched the What's On Your Fork? as part of their Water Planet Challenge. Youth are equipped with an information-packed action guide that they can use to organize a Meatless Monday campaign in their schools, homes and communities. Support and content was provided by the Toyota USA Foundation, Discovery Education, Participant Media and the Johns Hopkins Center for a Livable Future.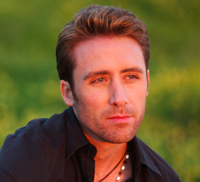 I had an opportunity to speak with Philippe about our food system, the health of the planet's water and how he hopes to empower young people to become agents of change.
Peggy Neu: It's been over 10 years since you and your sister Alexandra founded EarthEcho in order to inspire the next generation to restore and protect our water planet. Are young people rising to meet the challenge?
Philippe Cousteau: Over the last ten years, it has become increasingly obvious that youth are indeed stepping up to the cause. From passing laws, to raising money, to adopting energy efficiency programs that change their communities to protecting land and conserving water, there is no end to what young people can do. Young people not only influence their peers, they also have a tremendous influence over the buying and voting habits of their parents. At EarthEcho, we engage youth to become advocates of our work and empower them to influence their parents and decision makers, much like the successful seat belt and anti-smoking campaigns did.
PN: When I think of "Cousteau", I think of oceans and fish. Why the focus on reducing consumption of animal protein?
PC: Now more than ever the world is interconnected and the ocean serves as a critical link. Coal dust from China lands on the shores of the Bahamas and industrial and agricultural pollution from the Midwest ends up in the Gulf of Mexico. The oceans are the life support system of our planet and water is its single most precious substance and both of these critical resources are in serious trouble. Waste from industrial agriculture is a major contributor to water, ocean and air pollution. Making small changes in our eating habits is one way we can have a positive impact on the health of our oceans.
We've already launched resources for youth to take action around water, energy and pollution - we hope the What's On Your Fork? action guide will encourage young people to think about how the food choices they make impact their health, the health of their communities and the health of the planet.
PN: What's behind your decision to make Meatless Monday a focus of the What's On Your Fork? service-learning project?
PC: Meatless Monday is a great service project for students because it's an easy ask that can make a big difference. An astounding 173,000 miles of national waterways are impacted by agricultural runoff, which can create "dead zones" where no marine life can survive. Research has shown that current animal farming practices contribute more than 30% of the nitrogen and phosphorus found in our drinking water. While these are complex challenges that require focus and solutions at multiple levels, each of us has the power to have a positive impact just through everyday choices and by making small changes. That's what Meatless Monday is all about.
PN: Do you think EarthEcho's youth advocates can get healthier food choices on their lunch trays?
PC: It's no secret that the food available to most students in school is a far cry from the ideal for healthy and balanced nutrition. The USDA actually counts tomato sauce on pizza as the equivalent of a vegetable serving. And Congress just recently declined more stringent standards for school lunches. So what seems like such a straightforward concept--providing healthy meals at school--is a hotly debated subject in our "adult" world. I hope that inspiring students to take responsibility for their food choices and advocate for change can be a powerful tool in challenging the status quo.
PN: What advice would you give kids as they embark on their service project?
PC: My advice is always to find something you're passionate about and have fun while you're doing it. I have seen youth change the face of their communities and the world -- anyone can do it. Water Planet Challenge's service-learning projects are a great starting point to investigate interests and passions and make a plan to take action. Just take one step at a time and before you know it you are on your way to making a big impact for yourself and the planet.
PN: What's your favorite meatless dish that would appeal to a high school student who loves burgers?
PC: One of my favorite easy dishes is:
Take a corn tortilla and warm it in a frying pan on med/low heat. Turn the heat to low and shave a few slices of Parmesan cheese into the center of the tortilla and allow it to melt slightly. Keep an eye on the pan or your tortilla will burn. Remove the tortilla from the pan and add fresh Pico de Gallo salsa (recipe follows). Also add slices of avocado and/or a little sour cream on top and eat. Black beans are another great topper and an excellent source of protein and fiber for this dish.
Pico de Gallo.
2 large heirloom tomatoes
1 small onion
1 small jalapeño pepper (optional)
Small bunch of fresh cilantro
tsp. of salt
tsp. of pepper
Juice of half a small lime
Chop all the ingredients and mix together. Voila...easy salsa.

Popular in the Community