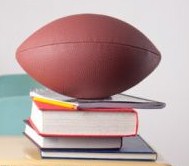 I was pleasantly surprised at the gym last week to find the NFL draft on TV. In case you missed it, the networks now station cameras in top recruits' homes, where they lounge around in thousand-dollar suits with fifty of their closest friends until the NFL makes the call.
Naturally, the first thought that came to mind was: Man, I'd LOVE to sit around my house waiting for a major organization to call me on national television and pay me a ridiculous amount of money to do what I love.
For me, that's writing fiction. Which begs the obvious question: why couldn't one enterprising publisher, or rich guy, or frickin Amazon, set up a literary talent development system modeled on the NFL draft to discover the next Junot Diaz?
Humor me for a minute. Last year's #1 pick in the NFL draft is a lucky, talented, and unfairly handsome bastard named Matthew Stafford, who received $41.7 million in guaranteed salary.
Instead, take that $41.7 million--just Matthew Stafford's salary, not the whole NFL draft's--and put it toward recruiting aspiring novelists. Personally, I'd settle for $100,000 annually, for which I will absolutely produce a brand-new novel each year. Pay me points if any sales go over a million bucks; otherwise, I settle for the hundred large. Invest in 417 writers like me (equal to one Matthew Stafford) and put the books on the market. Give us three years to get better, under rigorous coaching, literary training camp, and writing weight-lifting. Invest in us. If we don't produce, cut us loose.
The LitDraft is more than a mere recruitment tool--it's a national media event focused on reading! Put the LitDraft on TV (CSPAN, PBS, whatever); give us face time with reclusive literary celebrities; provide running commentary and red carpet interviews; and package nifty segments on writers' fascinating stories. It'd get casual fans fired up about new voices--hell, it'd get them thinking about reading for a few minutes period. Along the way, the LitDraft creates instant local celebrities, and a brief descent from the New York juggernaut might even make the book world feel slightly accessible to readers. (Did JK Rowling really wear that?)
Don't rule it out so fast. The Medicis made a killing off this system, and created some of the best art in history. The publishing business made $23.9 billion in revenue last year--thrice that of the NFL. The money's there, it's a relatively cheap investment, it makes for a juicy story, and it all gets paid back with the discovery of just one Peyton Manning or Dan Brown.
Sure, there are myriad literary grants, fellowships, professorships, and other arcane funding mechanisms out there. But they're boring and convoluted and the average reader's never heard of them.
Lump em all together, hire Oprah to host, and let's have ourselves a LitDraft.
Popular in the Community