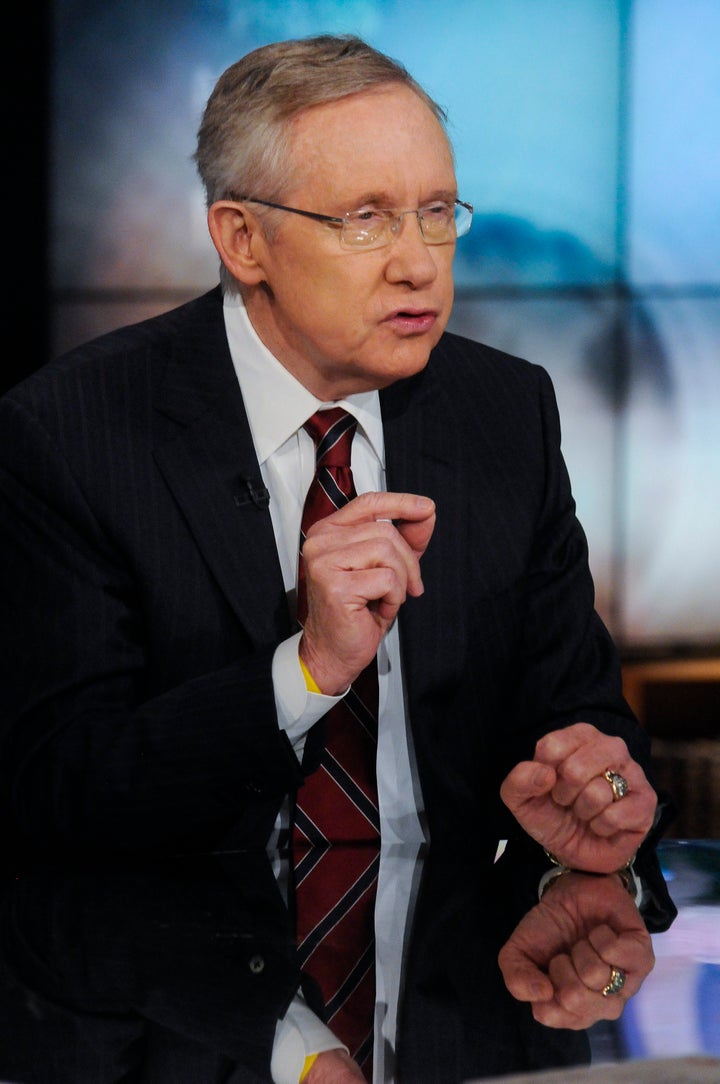 WASHINGTON -- In a significant victory for open Internet advocates, Senate Majority Leader Harry Reid (D-Nev.) and House Judiciary Committee Chairman Lamar Smith (R-Texas) both indefinitely postponed votes on controversial anti-piracy legislation.
"In light of recent events, I have decided to postpone Tuesday's vote on the Protect IP Act," Reid said in a written statement.
The move followed a frantic week of political jockeying on Capitol Hill amid intense online activism, in which Wikipedia and other major websites voluntarily blocked access to their content in protest of the bills. The Stop Online Piracy Act and its Senate companion, Protect IP, would have given the government broad powers to shut down entire websites accused of violating copyright laws -- without a trial or a traditional court hearing. Hollywood movie studios and other content creators would also get new powers to sue companies like banks and advertisers that do business with websites accused of piracy.
In the House, Smith had been planning to hold a committee vote on SOPA in February, which lobbyists on Capitol Hill expected to closely mirror whatever legislative language passed the Senate. While the delayed Senate vote does not necessarily mark a final failure for the anti-piracy legislation, it almost certainly delays any vote for months. During an election year in which lawmakers are particularly cautious about bringing up controversial legislation, the bill's supporters now face a steep uphill battle to pass anything on piracy at all.
Hollywood had been pushing the bills hard for months, and had secured broad bipartisan support in both chambers of Congress. But free speech advocates warned that the power to shut down whole sites, rather than current powers to remove infringing content, created the prospect of widespread First Amendment violations, while tech experts noted that the anti-piracy tools envisioned by the legislation would threaten the basic functionality of the web.
Reid's decision to pull the bill was an unusually abrupt changing of the political tide in the nation's capital. As recently as Thursday afternoon, Protect IP opponents did not believe they had the votes to block the legislation on the Senate floor, and had almost no power to revise the bill's language ahead of a vote. On Saturday, January 14, the Obama administration issued a statement opposing the bill. Nevertheless, Reid refused to delay a vote on the bill, instead diving into a set of backdoor negotiations with Senate Judiciary Committee Chairman Pat Leahy (D-Vt.) and Sen. John Kyl (R-Ariz.). All three Senators supported the original bill. No Senator opposed to the bill was included in the negotiations about how to revise the legislation before bringing it to the floor for a vote, while tech lobbyists and experts were excluded from the talks, as well.
"The American people weighed in yesterday for a more open, transparent discussion and now we're told that the remedy is to go behind closed doors," bemoaned Sen. Ron Wyden (D-Ore.) in an interview Thursday afternoon, the first Senate opponent of the bill. After Protect IP unanimously passed the Senate Judiciary Committe last spring, Wyden placed a hold on the legislation, barring it from coming up for a vote for months.
On Thursday afternoon, Wyden was particularly concerned about the vagueness of the opposition voiced by many new converts after Wednesday's protests. Some Senators explicitly called on Reid to delay the vote. But others, like Sen. Ben Cardin (D-Md.) only revised their position by indicating they wanted to amend the bill, and stopped short of supporting a filibuster or delaying a vote.
According to Wyden, that strategy -- don't join a filibuster and fix tech-company concerns on the Senate floor -- was being promoted by the U.S. Chamber of Commerce, the top corporate lobbying group and a strong supporter of the bill. The Chamber was not immediately available to comment.
Hollywood, meanwhile, was going all-in on the airwaves. Motion Picture Association of America Chairman Chris Dodd, a former Democratic Senator from Connecticut, even threatened to cutoff campaign donations to Democrats if the bill didn't get a hearing.
"Candidly, those who count on quote 'Hollywood' for support need to understand that this industry is watching very carefully who's going to stand up for them when their job is at stake," Dodd said in an interview with Fox News. "Don't ask me to write a check for you when you think your job is at risk and then don't pay any attention to me when my job is at stake."
Dodd's statement was a rare acknowledgement of the dominant source of most corporate political power -- money. But it also revealed a significant weakening of Hollywood's power over the legislation. Just a few weeks ago, Sen. Dianne Feinstein (D-Calif.) had asked to broker a compromise between movie studios and Silicon Valley tech companies. But Walt Disney Co. CEO Bob Iger, on behalf of all the major film companies, declined the invitation, a signal that the content industry felt confident about the strength of its position in Washington.
That confidence was deflated on Thursday evening, when, Senate Minority Leader Mitch McConnell (R-Ky.) announced that he would not support the bill, and asked Reid to shelve it. McConnell stopped short of threatening to filibuster the legislation, but an official statement from the Republican leader would provide political cover to any other Republican uncomfortable with the legislation.
That dynamic only deepened during Thursday night's presidential debate in South Carolina, in which the Republican front-runners all made statements criticizing SOPA and PIPA, a rare arena of agreement with the Obama administration for any of the candidates.
"This is not a 'let's-get-a-couple-of-good-old-boys-in-the-backroom-and-it'll-fix-this-thing' kind of problem," said Art Brodsky, spokesman for Public Knowledge, a leading open internet advocacy group. "The blackout protests proved that."

Hollywood is not giving up. In a written statement issued after Reid's announcement Dodd praised lawmkers who had supported efforts to crack down on internet piracy, and urged Congress to move forward with a compromise bill.
"With today's announcement, we hope the dynamics of the conversation can change and become a sincere discussion about how best to protect the millions of American jobs affected by the theft of American intellectual property," Dodd said.
Dodd's MPAA continues to have many strong backers in both political parties, including Reid. Even Reid's announcement that he would not proceed with a vote on the bill reiterated standard MPAA talking points about the film industry's contribution to the American economy, including a dubious claim that movies "support" more than 2.2 million jobs -- a figure which is mostly derived from other industries that film companies do business with. Only 272,000 people are deployed directly by movie studios and television companies.
"There is no reason that the legitimate issues raised by many about this bill cannot be resolved," Reid said. "Counterfeiting and piracy cost the American economy billions of dollars and thousands of jobs each year, with the movie industry alone supporting over 2.2 million jobs."
The online data visualization community visua.ly, which opposed the bills, produced an infographic illustrating the shift in Congressional support that occurred during the blackout protests on Wednesday. Take a look:
Support HuffPost
The Stakes Have Never Been Higher
Popular in the Community