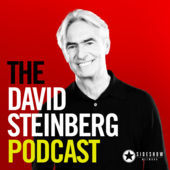 One of the many interesting aspects of podcasting is that performers seem to be discovering the medium at the same time listeners are finding their way here, too. David Steinberg has signed in, and it's great to have this longtime standup comedian in front of a microphone after what seems forever. He's mainly been directing television for the past few decades (having won several Emmy awards along the way), but his background in improv and comedy have stood him in good stead over the years.
For his first few episodes of The David Steinberg Podcast, housed on the Sideshow Network, he's chosen guests that make it easy to fill the time - Gilbert Gottfried and Kathy Griffin are the "self-conversing" kind of people.
In the second episode, Griffin is a rollicking raconteur, keeping Steinberg and what seems to be a small audience laughing with tales from her formative years. She claims to have, basically, conned her family into moving to Hollywood from Chicago so that she could pursue a show business career. And then the stories of being a struggling standup and wannabe actress keep the episode moving right along, with just enough questions and comments from the host to keep it from veering too crazily off-course.
The show promises to get even more engaging as Steinberg settles into his hosting role.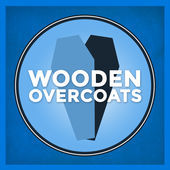 The British podcast Wooden Overcoats popped onto the scene a little over two months ago, blasted out a first season of eight episodes, and left an early audience wanting more while the rest of us bend an ear catching up.
Billing itself as "a sitcom about rival funeral directors", the show is in the fine style of top-notch English television situation comedies.
The setting is the small Channel Island village of Piffling Vale and the main figure is Rudyard Funn, the proprietor and undertaker of Funn Funerals, the only funeral parlor in town...until now.
All the stories swirl around the rivalry between Funn and Eric Chapman, who arrives in the village and opens his own mortuary. There's intrigue, romance, violence, mystery - and it's all done in the style of snap-pace comedy. There are shades of Fawlty Towers, The Black Adder, The Office, and likely a good number of other Brit-coms I'm not familiar with, all while being completely original.
From the concept and plotting by series creator David K. Barnes, direction from Andrew Goddard and John Wakefield (whoever heard of podcast directors before?) and spot on acting by a great voice cast - including leads Felix Trench, Beth Eyre, Ciara Boxendale, Tom Crowley, and Belinda Lang (who voices Madeleine, the show's narrator, who happens to be a mouse) - the show entices one into binge-listening the premiere season.
Podcasts I'm also listening to this week: Fempire - Episode 1: Ali Fedotowsky; and Allegedly w/guest Dennis Quaid
The The David Steinberg Podcast, Wooden Overcoats reviews and other podcasts mentioned originally posted as part of This Week In Comedy Podcasts on Splitsider.com.
Marc Hershon is the host and executive producer of Succotash, The Comedy Podcast Podcast, featuring clips from comedy podcasts from across the Internet as well as interviews with podcasters, comedians, and assorted show biz folk.
Calling all HuffPost superfans!
Sign up for membership to become a founding member and help shape HuffPost's next chapter