The two suspects wanted for the Boston Marathon bombings engaged in an explosive shootout with police overnight Thursday and into Friday in Watertown, Mass. The incident left Suspect 1 dead.
Authorities launched an investigation after news broke that an MIT police officer, identified later as Sean Collier, 26, had been shot and killed on Thursday. Around 1:20 a.m. Friday, CNN had live coverage of a firefight between police and the two suspects -- identified later as brothers Tamerlan Tsarnaev and Dzhokhar A. Tsarnaev -- in the Boston suburb of Watertown.
CNN reported the suspects were driving a car they had hijacked in Cambridge. They shot at officers and threw explosives out of this vehicle during the chase. Officers shot back, resulting in a firefight.
Some residents in the area were awoken by sounds of gunshots and were able to capture video of the shootout on their camera phones. Multiple videos later appeared on YouTube.
During the shootout, 26-year-old Tamerlan Tsarnaev was killed. Dzhokhar A. Tsarnaev, 19, is still at large.
From Watertown to Cambridge, police surrounded various buildings as they searched for Suspect No. 2. Around 8:30 a.m., officers sprinted toward a house in Watertown, and reporters were pushed back more than a block as helicopters buzzed overhead. SWAT teams, FBI agents and armored vehicles assembled at the scene as sharpshooters across the street trained their guns at the house.

"We believe this man to be a terrorist," said Boston Police Commissioner Ed Davis. "We believe this to be a man who's come here to kill people."

The bombings on Monday killed three people and wounded more than 180 others, tearing off limbs in a spray of shrapnel and instantly raising the specter of another terrorist attack on U.S. soil.
Before You Go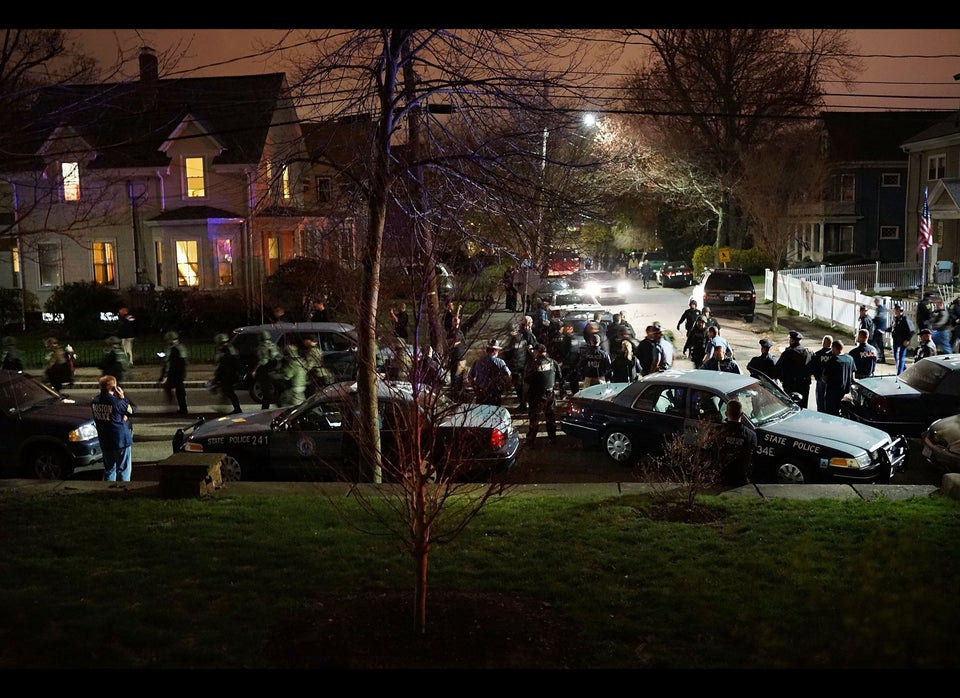 Manhunt For Suspect #2
Popular in the Community