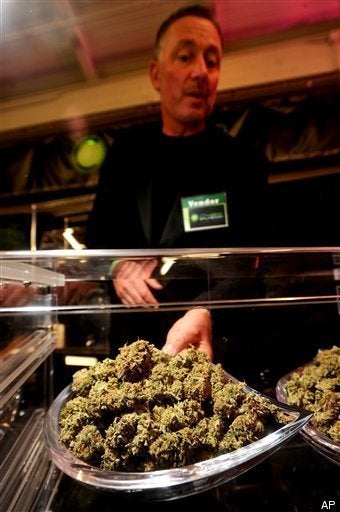 Now, according to Rasmussen, a full 49 percent of Coloradans support legalizing and taxing marijuana, and only 39 percent think it should remain illegal. With the remaining 13 percent undecided, these new numbers might give a likely new legalization ballot measure this year some real ammunition.
Here's the breakdown of the Rasmussen poll results, showing each of the potential match-ups in the state's two major political battles and how they stack up to marijuana legalization:
Marijuana legalization -- 49%

Senate

Jane Norton (vs. Bennet) -- 48%
Jane Norton (vs. Romanoff) -- 46%

Ken Buck (vs. Bennet) -- 48%
Ken Buck (vs. Romanoff) -- 45%

Tom Wiens (vs. Romanoff) -- 45%
Tom Wiens (vs. Bennet) -- 44%

Michael Bennet (vs. Wiens) -- 42%
Michael Bennet (vs. Norton) -- 41%
Michael Bennet (vs. Buck) -- 41%

Andrew Romanoff (vs. Buck) -- 40%
Andrew Romanoff (vs. Weins) -- 40%
Andrew Romanoff (vs. Norton) -- 39%

Governor

Scott McInnis (vs. Hickenlooper) -- 47%
John Hickenlooper (vs. McInnis) -- 41%

Marijuana prohibition -- 39%
The poll not only shows that a growing number Coloradans are recognizing the failures of marijuana prohibition; it demonstrates that marijuana has gone mainstream in the Centennial State.
After all, who's on the fringe now? Anyone who scoffs at the potential for marijuana to be made legal might as well scoff at every gubernatorial and senate candidate's chances of getting elected. In fact, anyone who scoffs at marijuana legalization is now scoffing at about half of the states voters.
Sen. Scott Renfroe, R-Greeley, said he was surprised that almost half of Coloradans would like marijuana to be legalized and taxed. Renfroe said earlier this month that he believed Coloradans would not only reject legalizing marijuana, but would likely approve a ban on medical marijuana dispensaries.

"That's shocking to me, if that's as high as it is," he said of the Rasmussen poll.
Clearly Sen. Renfroe is not among the roughly half of voters who support legalization. In fact, he recently elicited widespread criticism (and even some laughter) when he called a popular pro-marijuana rally an "embarrassment" for the state and suggested the governor deploy the National Guard to disrupt the peaceful event.
Yet, with marijuana polling ahead of both gubernatorial hopefuls, it's probably in their best interest to refrain from calling out the troops. After all, at this rate it's only a matter of time before anti-marijuana politicians like Sen. Renfroe are popularly recognized as the "embarrassment."