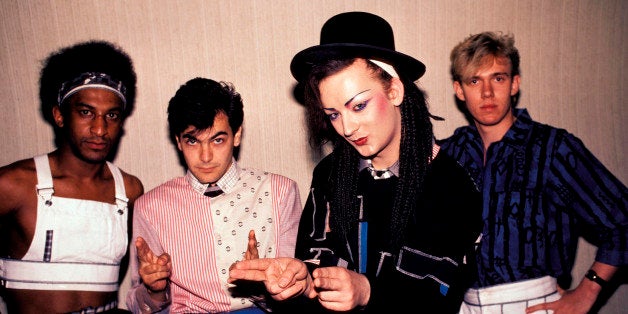 "What does it take to be a man?" asked Brad Delp, the late lead singer of the band Boston, on a track from the group's 1986 albumThird Stage.
Chances are that neither he nor the millions of Boston fans who bought Third Stage and listened to "To Be a Man" imagined the version of manhood that had dominated pop music during the first half of the decade, when makeup, gravity-defying hair and fey poses were the norm among new wave's biggest male stars. Music's second British invasion sure looked different from the first one!
New wave's bleached roots sprouted from '70s glam rock, another British subgenre featuring grown men playing dress-up, one that, unlike '60s Beatlemania and '80s synth pop, never caught on in any significant way in the United States. But for all their eyeliner, glitter and platform boots, there was something unmistakably straight about glam bands like Roxy Music, T. Rex and The Sweet as well as solo superstar David Bowie, despite his declaration of gayness in Melody Maker in 1972.
Duran Duran, Depeche Mode, Spandau Ballet and their new-wave peers were an entirely different story. Yes, at its most flash-in-the-pan, new wave's style was purely about being bright and shocking (see A Flock of Seagulls in all their sexless short-lived glory), but when stars like Boy George and Adam Ant got dolled up, it was more than just performance art. They were teen idols (unlike the glam rockers) and, in Ant's case, a bona fide sex symbol, setting fashion trends while challenging the strict definition of masculinity and what "gay" and "straight" were supposed to look like. It was, in a sense, the first metrosexual movement.
Who didn't take one look at the members of Spandau Ballet in the video for "To Cut a Long Story Short," their 1980 debut single, and just assume that they were gay? Didn't those so-called "New Romantics" tick all the gay stereotypes? How could they be nearly as pretty as girls and not be into boys?
For children of the '80s, one of the most surprising things about Mad World: An Oral History of New Wave Artists and Songs That Defined the 1980s (Abrams Image), a new book co-authored by Lori Majewski and Jonathan Bernstein that is due be released on April 15, might be how many things we were wrong about regarding that era. Among the possibly incorrect assumptions: 1) There was Band Aid/Live Aid-style camaraderie among the pop acts; 2) one big hit set them up for life; and 3) a lot of them were boys who liked boys.
That's not to say that '80s new wave didn't have its gay contingent. Boy George of Culture Club and Marc Almond of Soft Cell were proudly and publicly out at new wave's peak, as Bronski Beat's Jimmy Sommerville, Pet Shop Boys, Holly Johnson of Frankie Goes to Hollywood and Erasure's Andy Bell would be later in the decade.
Meanwhile, like George Michael, whose transformation from pretty boy to stubble-clad pop star echoed the decade's eventually regressive sexual evolution, Limahl would take longer to get there. Although the former Kajagoogoo frontman publicly discussed his sexuality when he appeared on the UK edition of I'm a Celebrity... Get Me Out of Here! in 2012, Limahl, now 55, reconfirms in the pages of Mad World what many U.S. fans of the band's sole stateside hit, "Too Shy," which went to No. 5 in 1983, might have only assumed and explains why he didn't wave the rainbow flag in the '80s.
"I was very androgynous," he says in the book. "I was pretty. I wore makeup. To my family and the band, I was out.... I hadn't decided if I was 100 percent gay, and it wasn't an issue. When you're that age, you love anybody playing with your cock."
Like many a privately-but-not-publicly-out pop star, though, Limahl did it his way for purely professional reasons. "I wasn't embarrassed about being gay, but my role as Limahl, my pop star role, had to be more enigmatic," he says. "I didn't want to start talking about gay sex and gays in 1983 when most of our following was teenage girls."
In a way, Kajagoogoo's rapid rise and fall was a blessing for at least one member. "Maybe if the band had stayed together, if we'd been in the public eye a little longer, certainly the issue would have come up," Limahl says. "But nobody talked about it. Of course, looking back, I can realize anybody with a modicum of life experience would have said, 'He's gay -- he just doesn't know it yet.'"
That was probably what savvy pop fans were saying about a lot of the era's leading men. But all the gender bending (with Eurythmics' Annie Lennox doing it in the opposite direction) might have diluted the net effect enough that their actual sexuality became almost a non-issue. Perhaps that's why Boy George managed to become a bankable international superstar, why Marc Almond logged a string of UK hits, in and out of Soft Cell, and why "Smalltown Boy," Bronski Beat's gay anthem, went to number 3 in the UK and nearly landed in the U.S. top 40 in 1984.
I suspect new wave's pre-"straight-acting" gender-unspecific fluidity is a large part of why the ongoing '80s revival resonates so powerfully with gay men in particular. The new-wave acts of the early '80s represent everything that mainstream pop acts aren't so free to be today. Imagine One Direction hitting the stage dressed like Kajagoogoo. Would teenage girls still go wild? Would Taylor Swift have dated one of them?
In the early '80s it wasn't only the new-wavers who were breaking gender rules. Prince spent much of the decade blurring the lines between male and female while being arguably the horniest straight guy in pop. Would he have to be more traditionally masculine if he were just starting out today? Could Boy George be a rising star now? Would Adam Lambert have been a bigger one in 1981?
In 2014 would British acts Leo Sayer and Imagination be able to pull off the gauzy pansexuality they flaunted in the videos for their respective 1982 singles, "Heart (Stop Beating in Time)" and "Just an Illusion," with their straight reputations intact? Look at the moves (and the outfit!) that Mick Jagger got away with in the Rolling Stones' 1981 "Start Me Up" video! Peter Griffin may have called the clip for "Dancing in the Street," Jagger's duet with David Bowie, the gayest video ever a few years ago on Family Guy, but in 1985 it was a huge hit. As it was, by 1984, the tide was already turning. Though "Rock Me Tonite" became Billy Squier's biggest single that year, the video, with its fluorescent design and homoerotic flourishes, is often credited with killing the American rocker's career.
It's not that the kids in America are less accepting today. If anything, they're more so. It's the powers that be who have regressed. Sexual image means more than ever these days in the marketing of pop stars, and if you're a guy, there's little room for flexibility. Despite the inroads made by Adam Lambert and Frank Ocean, a pop label executive today probably wouldn't approve of his next male superstar teasing his hair, putting on eye shadow and being too pretty.
As a result, pop music is no longer setting the example that it was three decades ago, encouraging freedom of expression, if not quite sexuality. Sadly, even the "don't ask, don't tell" Limahl of 1983 probably wouldn't stand a chance today.
Popular in the Community