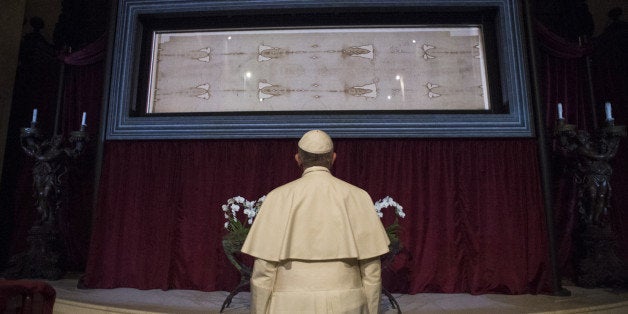 The Shroud of Turin has captivated thousands of Christians over centuries, some of whom believe it covered Jesus Christ during his burial -- and on Sunday, Pope Francis joined a throng of pilgrims to see the 14-foot strip of cloth in the Italian city of Turin.
The pope prayed silently before the shroud for several minutes inside Turin's cathedral. According to CNS, Francis crossed himself and placed his hand on the case before walking away.
During an outdoor Mass at Turin's Piazza Vittorio later on in the day, Francis said the shroud was an "icon of [Jesus'] love."
"The shroud attracts towards the face and the martyred body of Jesus and at the same time pushes us towards the face of those who suffer or are unjustly persecuted," Francis told the crowd of 100,000 people assembled in the square, according to CNN.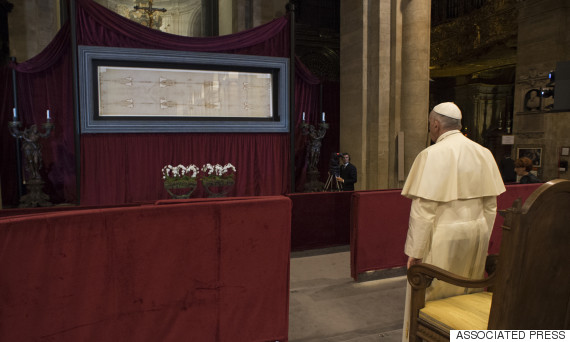 The shroud is being displayed inside a protective climate-controlled case inside Turin's cathedral from April 19 to June 24, for the first time since 2010. More than 1 million tourists have reserved free tickets to see it.
Pope Benedict XVI visited the shroud in 2010 and Pope John Paul II paid his respects in 1998.
Those who believe the shroud to be authentic point to the apparent image of a man imprinted on the cloth, whose wounds seem to reflect those described in the narrative of the crucifixion. However, skeptics believe the shroud is medieval forgery. Carbon-14 testing from 1988 dates the shroud to the years 1260 and 1390.
John Iannone, a Catholic expert on the Shroud, told Vatican Radio he doesn't believe the 1988 tests can be trusted, claiming the fibers the researchers analyzed were contaminated by medieval cotton. He says analysis conducted on the blood on the shroud seemed to show it belonged to a human male from the Middle East who died under duress.
"The thing I would like to see is that people understand that what we know today of the blood stains on the shroud, the anatomy of the crucifixion as forensic pathologists explain it ... all of this points to the fact that this is the authentic burial cloth of the historic Jesus," Iannone said.
He called Pope Francis' visit a "wonderful" sign.
"It raises public awareness of the fact that the church does consider this a very powerful icon as they call it now, reminding us of the passion, death and resurrection of Jesus," Iannone continued. "It just calls attention and hopefully raises more questions."
Calling all HuffPost superfans!
Sign up for membership to become a founding member and help shape HuffPost's next chapter
BEFORE YOU GO
PHOTO GALLERY
Shroud of Turin