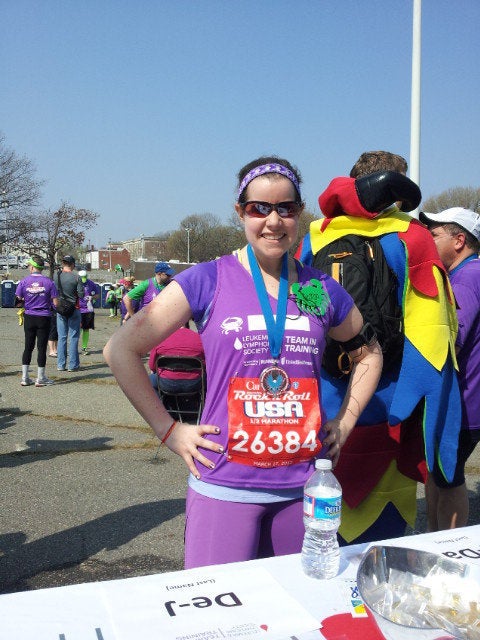 I'm smiling today. I'm running the San Diego Rock 'n' Roll half-marathon, which is more unbelievable than you can imagine.
I guess my story begins when I was really little. I was two, and my mom was really worried about my ear infections and sicknesses, so she took me to the doctor. That day she had to tell my dad that I had leukemia. And he thought the worst -- they all worried I would die.
It's times like these that families hug each other a lot, and cry a lot, and try to savor those sweet moments that are so good, and try to push out the bad and hope it all goes away. I know. I heard about all that in the years since my recovery. And one of the things my dad did back then -- when I was sick and there wasn't much he could do for me -- has had a lasting effect on a whole lot of people. And now it's part of me too.
My dad had been raising money for the Leukemia Society, little by little, hoping to help fund some research that would save my life and all the other kids we had met. But it never seemed like enough. So he got this crazy idea to challenge his friends to run a marathon with him. They did it and they raised $320,000 from pledges, and the whole running-for-charity movement was born.
Fast-forward to today, and I'm just the latest of 540,000 people who've taken up his banner and run for his team. We call it Team In Training, and for 24 years people have been signing up to run for someone they love, or to get in shape, or to tick a marathon off their bucket list, or to feel a part of something bigger than themselves, or, like me, to celebrate their survival from leukemia.
All the money still goes to The Leukemia & Lymphoma Society, and our team raises millions every year. In fact, in 24 years, we've raised $1.2 billion....with a B.
There are moms and dads out there who now have so much more hope than my parents did way back then, because the money we've raised has really made a difference. There are now new treatments for all blood cancers like mine, and the medical miracles keep coming. Last year we met a little girl who was just diagnosed with leukemia. When I was her age, my chance of survival was about 50 percent; today hers is 95 percent. That's the difference we've all made.
And so I continue to run. I never thought I'd be the one out here -- never thought I'd do any more than cheer on the team from the sidelines. But here I am! I've loved being part of Team In Training. I love meeting lots of new people and socializing. I love the mission moments when I share my story and hear about others who are affected by leukemia. I love all the coaches, mentors, campaign managers, and teammates -- they do SO MUCH to help me and others. And I love being part of something BIG!
In January I ran my first half-marathon at Walt Disney World. My dad was so overjoyed with pride and excitement after all the work I put into training and preparing for my first. A few months later I did another one, the Rock and Roll Half Marathon in Washington, D.C. On Sunday, I did it again at the San Diego Rock 'n' Roll half-marathon.
Dad tells me that I amaze him. He is always involved helping me and others on the team. We are both cancer survivors and will continue to be the rest of our lives.
As I continue my path in life, I will do more to help cancer patients by running with Team In Training. It is our time and I will be out there with a crowd of people from all over to show what we can do together to save lives. It's way more than putting on a purple jersey and sneakers. It's reaching out to each hand on route to the finish line -- a thrill of accomplishment. It's helping people find the hope to get through their treatment and have a second chance at life -- like I had.