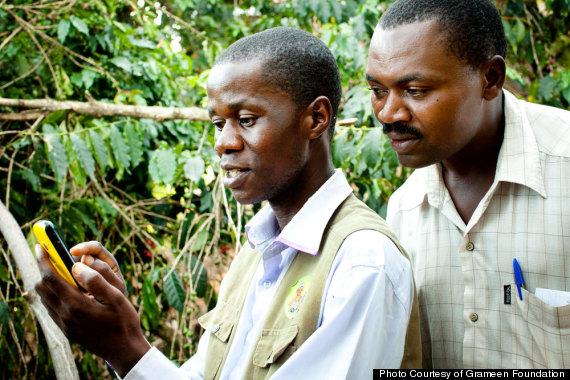 Mobile phones are giving farmers in rural communities served by Grameen Foundation's Community Knowledge Workers access to information that helps them improve their practices and earn more for their produce.
It's no surprise that global leaders are paying more attention to family farms. The World Bank estimates that 86 percent of all people living in rural areas depend on agriculture as their primary source of livelihood. The vast majority are smallholders or landless workers who live on less than $1.25/day. While technological advances and economic improvements are likely to shift these dynamics over time, farming will remain the primary way for billions of people to make a living for the foreseeable future - particularly those in the hardest to reach "last mile."
Addressing the Resource Gap
Life on a rural farm in many parts of Africa, Asia and Latin America can be defined largely by what's lacking. Farmers often have little or no access to quality seeds and fertilizer. They may also have limited information about market prices for their goods and few financial resources. These constraints make it extremely difficult to increase their level of production or earn a higher income -- and ultimately work their way out of poverty. Though a growing number of organizations are trying to address these challenges, it has proved difficult to find solutions that work and then provide them on a large scale. A major problem has been incomplete information on what farmers actually need and the specific circumstances they face in their communities.
Leveraging Mobile Technology
Five years ago, Grameen Foundation set out to design a model that could accelerate international development efforts to engage remote smallholder farmers and to ensure that efforts to serve them are responsive to their needs. Our work began in Uganda, where we developed and piloted the Community Knowledge Worker (CKW) model.
The model is anchored by a network of locally based farmers who have been selected by their peers as people who are trusted, respected and committed to their communities. They also tend to be individuals with strong social networks and a history of early adoption of new farming practices.
Through a partnership with Kiva, each CKW receives a loan to buy a smartphone and a solar charger. This equipment enables them to serve as an intermediary between Grameen Foundation and its partners and the communities from which they are selected. They also earn incentive payments for the services they deliver, which can be used to repay their loan.
Using custom applications on the smartphone, CKWs can access a library of content on agronomy best practices, weather forecasts, market directories and market price information and share that information with farmers and the larger communities. They can also survey the community about local practices, as well as the preferences and needs of the communities and use those findings to help ensure that they receive appropriate, targeted services.
Value of Reliable Information
For farmers like Isaya Msumba, having ready access to this type of information from a trusted source is important. He grows bananas and coffee beans in Uganda, where unpredictable weather can wreak havoc on crops -- and on farmers' livelihoods. Before meeting Wilson, his local CKW, Isaya sold his produce in local markets, never fully knowing whether he was getting the best prices. With Wilson's help, he now knows how much his produce is worth and where to find the best buyers. As a result, he now sells his Arabica coffee beans for a higher price to fair trade companies that source coffee from his region.
Isaya also learned new farming techniques that help to conserve his garden's soil and make it more fertile. Since digging new irrigation trenches, he has increased his banana production by 150 percent to 50 banana bunches per month and now produces and 400 kilos of coffee per season (a 400 percent increase). Wilson also advised him on how to diversify his business to ensure that his family has a stable income and he now raises chickens.
The additional income has enabled Isaya to build a bigger and more stable house for his family and to pay for his children's schooling.
Learning from our Experience
In the past five years, our network of 1100 CKWs has helped almost 300,000 farmers like Isaya across Uganda. Our work has also surfaced countless successes, failures and lessons about how mobile technology and the CKW model can best be used to help increase productivity and income for rural farmers, especially those living in the most hard-to-reach communities.
For example, our partnership with the Uganda National Agricultural Advisory Services proved that technology can help to deepen the reach of local agricultural extension services. Since it's not feasible to post trained extension experts in every community, informal local agents like CKWs can fill that gap. However, to make it work, we also learned that financial incentives for CKWs are critical as they must be able to cover the cost of being away from their own farms and other activities.
Equally important, we were reminded that technology alone is not enough. Projects that aim to improve opportunities for farmers through technology must ensure that the right people, information, and market linkages are in place to enable farmers to adopt and apply the information being provided.
To learn more about Grameen Foundation's work on mobile agriculture in Uganda, read our new Lessons Learned report.
Related