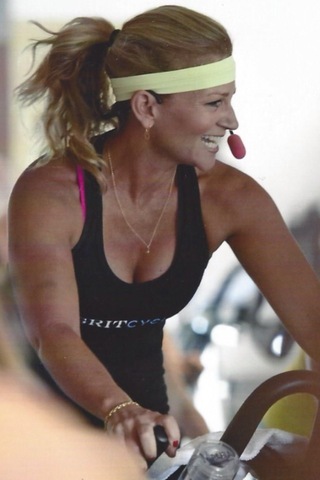 The best way for a business to stand out in a crowded space is to be seen as a valuable part of the community. In Newport Beach, California where there are many health and fitness options, one business doing it right with both social good and social media is GRIT Cycle.
Marisa Wayne launched GRIT in 2013. From the outside, it's a gorgeous space that she and co-founders, Matt Bourne and Candice Collings Loomis carefully designed to reflect the beautiful aesthetics of the area. On the inside, where the community comes to workout, patrons can connect with one another and support their common goal of giving back to a variety of local causes.
Their core belief that this small studio would have a big impact on the community is why they have become so successful. Marisa grew up in Newport Beach, the daughter of actor John Wayne. The studio is named GRIT after his movie, True Grit, along with the definition of grit being a fitting one for the studio. Indeed, it does take 'courage and resolve, strength of character' to start a new fitness regimen.
Marisa has had a lifelong love of the outdoors, physical activity and healthy lifestyle which led to a degree in exercise science. She began teaching aerobics, step and circuit in the 90's and had always wanted to open a gym but life got in the way; she got married and had kids.
After her last child was born she got back into the groove of working out. She also started teacher training while working at a gym thinking that she could open a franchise location. However, by the time she completed training the franchise opportunity was no longer available. She also realized she would rather create her own studio -- one that reflected her vision for the perfect community-based fitness facility.
The GRIT co-founders had all been friends for years and worked out together. Marisa says, "I liked the idea of the three of us bringing such different strengths to the table. Matt is an amazing instructor with a cult-like following and he's also a successful entrepreneur. Candice's strength is in promoting, event planning and being involved in the community." Marisa's strength comes from her love for the community where she was raised and a deep commitment to helping others.
Marisa says, "There are good days, bad days and the usual inner workings of a business. But I like the two-against-one dynamic that a three person partnership has; it leads to immediate compromise."
There are so many excuses you can tell yourself about why you shouldn't do something, but this venture felt right. Instead of excuses, I said 'Why not?' I really felt that if I didn't try, I would regret that more than if it didn't work. I knew we would all figure it out.
In an effort to be more than just another cycle studio, they were inspired by the
Blue Zone
strategies for living long, healthy lives. Marisa says:
The criteria for living in these blue zones includes exercise, healthy eating, feeling a sense of purpose, working together for a greater good, being social and enjoying downtime. We incorporate many of these aspects at our studio.
Their social good comes in the form of weekly 'Karma Rides' which are dedicated to a different local cause every month. All of the funds raised are donated to local branches of organizations such as the Boys & Girls Club, Second Harvest Food Bank and Wounded Warriors. GRIT also offers civil servant and student & teacher discounts to all classes.
Last June, on her father's birthday, John Wayne would have been 107 yrs. old. Marisa planned a fund raiser in his honor, called Gritty Up. With 40 bikes, Marisa was hoping they could raise $1,000 per bike. Matt Bourne thought they could raise much more, so they set the lofty goal of raising $107,000 for the John Wayne Cancer Foundation. Marisa says, "Our community raised over $200,000. This was one of the coolest experiences I've ever had. The generosity was overwhelming."
GRIT's social media efforts have been led by Cassie Plasecki, a local entrepreneur and social media strategist who is also a GRIT spin instructor. Marisa says, "Cassie has great energy. Her creativity and experience have been powerful beyond my expectations. All of our instructors are proud of what they do and they love to share their passion. This isn't just a job."
Cassie has implemented social media in the same way GRIT operates; from a place of connection, not just a business on the hunt for new clients.
Social Media Strategy from Cassie Piasecki:
Get Clients Involved:
We started off with the usual feel good, motivational Facebook posts. Our community was very receptive. Next, I tapped into the 'riders,' posting inspirational stories about how someone had lost weight or gotten off blood pressure meds since she/he started riding. I would ask 3-5 questions, post their answers with pictures and tag them. Boom! Our community became really supportive of those people featured. They would leave comments which increased the visibility of the posts. This leads to biz success because it strengthens the bonds between the riders. Inevitably, they run into each other and say "Hey! I saw your post, good job!" Then they become friends, they like to see each other online and tag each other when they "check in." Organically, it became a big, social movement.
Check Ins:
Our riders love to check in on Facebook, tag people with them and then call out the friends who aren't there. We love this! They are holding each other accountable. We especially love this during our weekly Karma Rides, when a rider checks in for one of these classes and highlights the organization, it offers a shout-out to the cause...our ultimate goal!
Instagram
I actively look for pictures on Instagram that people post either at GRIT, wearing something from GRIT or with some mention of GRIT. I re-post these and people get a kick out of seeing their stuff on our Instagram feed. The upside for us is that not only are they creating content for us, they are advertising.
In-House Social Media
Your social media should be handled by someone within the company. Someone who knows the customers, the studio, the funny things that happen, the lingo that your studio uses. If you outsource this, it will likely lack the personal touch that makes social media social.
Build Relationships
Don't just try to attract new customers. Use social to strengthen the relationships with the customers you already have. Make them feel appreciated and supported. Make them laugh. Their enthusiasm will attract the new clients.
The community's enthusiasm is what keeps Marisa loving her work.
Hearing from our clients who tell me how GRIT has changed their life is so fulfilling. Whether someone is recovering from a medical issue, feels defeated or is struggling through a difficult time, I'm so proud that GRIT has helped them move through their challenge. It's true what they say about being an entrepreneur, it's 24/7 but I love this work.
Are you implementing plans for 2015 that involve today's new power couple? It's never too late to invite social good and social media into your business model.
REAL LIFE. REAL NEWS. REAL VOICES.
Help us tell more of the stories that matter from voices that too often remain unheard.