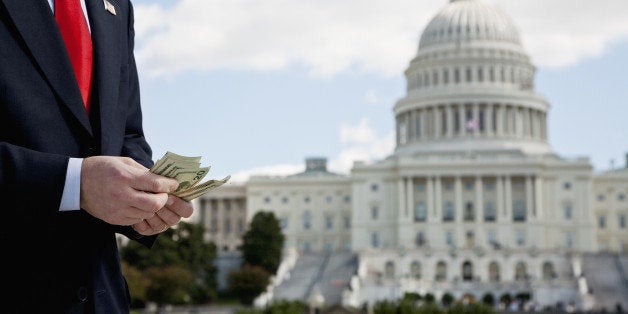 Washington, D.C. is a place that truly inspires me, and I can visit the buildings and monuments time and time again without feeling the slightest bit bored or unimpressed. My favorite statue sits in the Capitol Rotunda. It is the Portrait Monument, a marble sculpture by Adelaide Johnson of three heroic leaders of the Woman Suffrage Movement: Elizabeth Cady Stanton, Susan B. Anthony, and Lucretia Mott. The women rise up from an unfinished base- a poignant and purposeful representation of the work that is still left to be done.
Recently, in a moment of sharp clarity, I had a startling realization. What is missing from the sculpture's magnificence is the Woman Card. How it was mistakenly left off is beyond me but, thanks to Donald Trump, we're all now painfully aware about that glaring omission. There is simply no way these suffragists ever would have been successful without the Woman Card, so it's time we do something to ensure the truth is accurately portrayed. Rising out of that white marble edifice should be a hot pink card in neon lights. After all, the gleeful young schoolgirls exploring the Rotunda today certainly need a reminder of the competitive advantage they were so tremendously fortunate to be born with. That advantage, you may recall, earns them 79 cents for every dollar a man earns in the workforce for equal duties, experience, and education.
When I get out of the kitchen long enough to study the Portrait Monument, I am always struck by how weary Elizabeth, Susan, and Lucretia appear. Though their expressions display an element of peace and satisfaction, the overwhelming emotion I feel is exhaustion. And a sense of sadness. In fact, it's the same feeling- that oppressive, sad sense of fatigue- that I experience every time I see a commercial objectifying women. Every time I hear a demeaning, disgusting, and violent song on the radio. Every time I'm the recipient of a crude comment as I walk a couple of blocks to a restaurant on my lunch hour. Every time my teenaged daughter shares her own experiences with me. Every time we hear of yet another incident of campus rape. Every time I hear another tragic story about human trafficking. Every time I dare to read the online comments below a news article.
Caveat: I love men. I'm married to one, and I am in the process of raising the youngest of five of them. I have a wonderful father, and I admire my big brother probably more than anyone else alive. I work with amazing, talented men. Many of my dearest friends are men. I don't resent men. I don't feel angry at men or at the world today; nor do I feel unappreciative about the progress we have made.
Despite those sentiments, the fact that terms such as the "Woman Card" are part of a likely presidential candidate's vocabulary fills me with nearly unspeakable dismay. The suffragists of the Portrait Monument didn't fight for this. The many heroines of history didn't live and die for this. The grandmothers, mothers, sisters, and daughters we cherish and interact with each and every day deserve better than this. I don't know, Mr. Trump. Perhaps my emotions and passion are clouding my judgment. Or perhaps we still have a very long way to go, and you are not the one to lead us there.