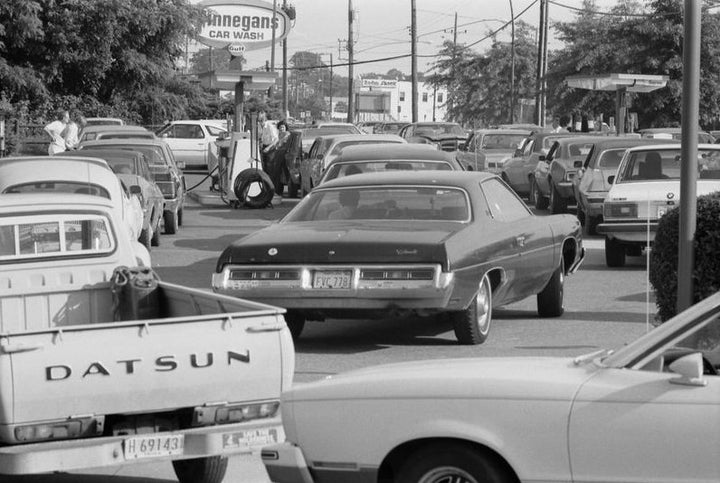 When Terry Talbott-McCall at down at my desk in Flagstaff, Ariz., she took a few minutes to compose herself. "Bring our children home," she said clearly and emphatically as she fought back tears. "This is a failed war and our children have paid too huge a cost..." She signed her postcard to the next president "just one mother."
Talbott-McCall was the 295th person to participate this year in my traveling public art project "I Wish to Say," in which I set up an office -- complete with a manual typewriter -- and invite passersby to dictate postcards to the next president. I type the messages verbatim on a blank 4x6 index card, while photographer Dhanraj Emanuel takes a portrait of each participant.
The "I Wish to Say" office will be set up in sites across the country through Election Day and the postcards will be sent to the next president -- whoever that might be -- after the inauguration in 2009. The next events will be held at Bryant Park in New York City on May 19th and 20th. After that, the show travels to Chicago on June 7th and 8th.
The 2008 tour follows two extensive public letter-writing tours in 2004 and 2006, when I invited people to dictate postcards to President Bush.
As in 2006, the war remains one of the top concerns -- especially for college students.
Salisbury University (Maryland) student Kevin Eder, said: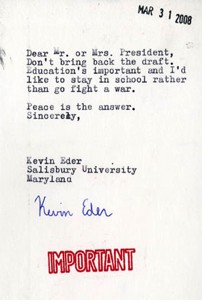 "I have friends in Iraq that I don't want brought home in body bags!" said Lindsay Simpson at the State University of New York in Fredonia.
Chelsea Ulloa at St. Mary's College in Moraga, Calif., said: "Please don't let my boyfriend get deployed."
Veterans I met on past tours were often reluctant to speak about the war, but this year all the veterans I met had something they were eager to communicate to the next president.
One family, with two members who served in Iraq and Afghanistan shared: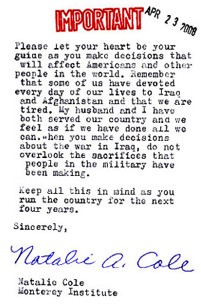 "I want you to know the war in Afghanistan and Iraq is going really well for the civilian contractors," said an OEF vet in San Francisco. "If you would pay the military as much as you are paying them you wouldn't' have to worry about looking for volunteers."
"Send the Marines home!" said Tai Ly, a former Marine from San Jose, Calif., who served in Iraq.
One after another, people from New York to California have shared their stories and experiences as they sat at my desk and composed their messages to the next president. The experience has been compared to a therapy session and many participants find the simple act of dictating a message to the next president highly emotional.
When talking about the economy or health care -- two of the other top concerns this year -- the postcards are often quite personal:
A supporter of Obama, Patricia Flores of Oakland, Calif. Conveyed: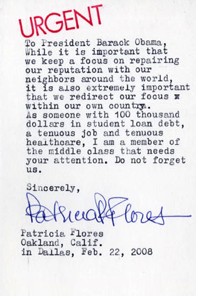 Constance Fuller, a student at Coconino Community College in Flagstaff, Ariz., shared her concerns about health care: "I have spinal bifida and even though I'm under my parent's plan it scares me to see how many people are having difficulty paying for health insurance," she said. "What are you going to do to help the people here -- the voters -- because I feel that's being neglected."
Who knows if the next president will read all this mail when it lands at the White House -- but we're hoping he or she will.

Many of the cards and photos are posted at www.iwishtosay.blogspot.com and an exhibition of the cards and photos is planned at the McCormick Tribune Freedom Museum in Chicago from mid-November through January.

Popular in the Community