At jails and prisons around the U.S., inmates who seek medical care must pay a fee of a few dollars or more before seeing a doctor, dentist or other health professional. Now, a new report shows how these copays can restrict access to care for incarcerated people who often make just cents for an hour of work ― and nothing at all in some states.
A total of 42 states allow for some form of copay for non-emergency, patient-initiated visits with jail or prison medical staff, according to the report that the nonprofit Prison Policy Initiative published Wednesday. Fees in most states range between $2 to $8 per appointment. In Texas, inmates must pay $100 per year for medical care. Federal prisons require a $2 copay.
These fees don't apply to most indigent inmates and, thanks in part to a 1976 Supreme Court ruling guaranteeing "adequate" health care for prisoners, correctional facilities can't deny care to inmates for lack of payment. Copays are also typically waived for chronic treatment, or jail or prison-mandated screenings.
In a world of rising health care costs, some people might wish they only had copays of a few bucks. Behind bars, however, inmates pay these fees with general commissary funds, which they also use to buy items like snacks, medicine, stationery and other supplies.
With prison jobs serving as the only source of spending money for many incarcerated people, the Prison Policy Initiative calculated what percentage of a monthly minimum-wage prison income an inmate in each state would have to spend on a single copay.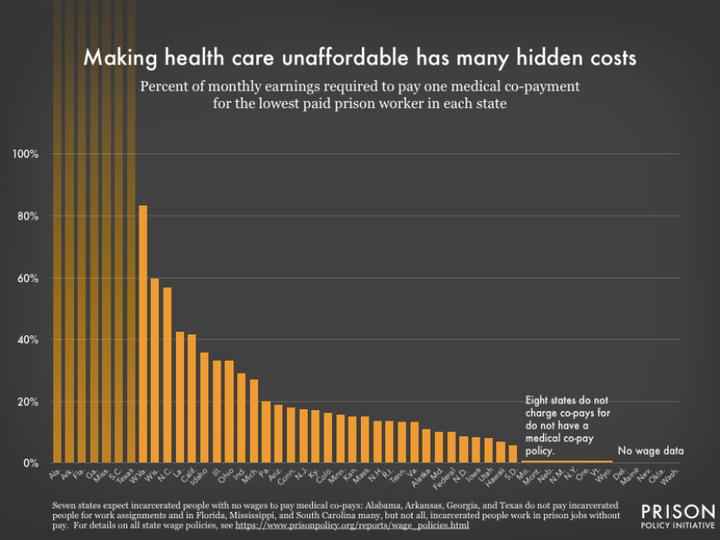 Alabama, Arkansas, Florida, Georgia, Mississippi, South Carolina and Texas don't guarantee prisoners any payment for their work, so it's possible they'd never make enough money to see a doctor. In West Virginia, for example, the hourly minimum wage for a prison job is a mere 4 cents, meaning a $5 copay would cost an incarcerated person almost an entire month's pay.
The Prison Policy Initiative also calculated the "free world" cost of a prison copay by assessing the total number of hours it would take an inmate to make that money in each state and comparing it to the state's minimum wage.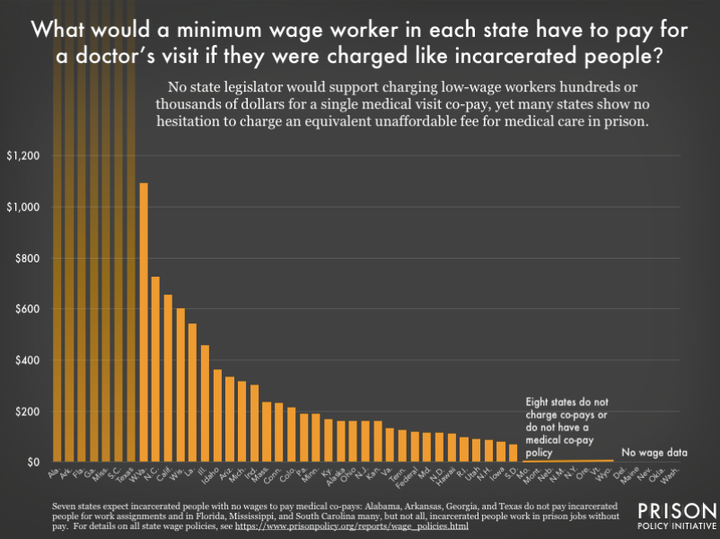 Copays are just part of a broader program of fees that jails and prisons heap on incarcerated people and their families.
"They're another way of nickel and diming people who don't have anything," said report author Wendy Sawyer, a policy analyst at the Prison Policy Initiative.
Although copays come at a huge cost to inmates, they provide very little in the way of direct financial returns to state correctional systems. For example, Michigan collected less than $200,000 on these fees in 2014, according to a Pew report, recouping just a tiny portion of its $300 million prison health care budget. The Michigan auditor general responded to those numbers by pressuring the state's Department of Corrections to be more aggressive in collecting copays from inmates.
Corrections officials often cite copays as a way to save money because they discourage inmates from making frivolous requests for medical attention.
Jails and prisons tend to be filled with people "who have not put their health as a priority" and who may attempt to abuse sick call, said Brooke Keast, public information officer at the Nevada Department of Corrections. With a prison copay of $8, Nevada is second to Texas as the most expensive state for incarcerated individuals seeking medical care.
"If you don't have guidelines, it's a constant guess as to whether they're really hurting," Keast said.
"It's up to the officers to make sure that the people who need to get seen get seen," she added.
Making inmates tap into their limited funds to receive medical care may cut down on feigned illness in jails and prisons, but copays can also make such care cost-prohibitive for inmates in legitimate need.
"Correctional people may think it's a deterrent for this annoying population who just wants attention, but in reality they probably have a lot of legitimate health concerns to be addressed," Sawyer said.
Medical copays for incarcerated individuals have gotten increasingly popular as prisons and jails look for ways to cut costs and, in the case of privately run facilities, maximize profits. In effect, the goal of this system is to allow administrators to get away with providing less overall care to inmates, said Brad Brockmann, executive director for the nonprofit Center for Prisoner Health and Human Rights.
"One of the few areas where correctional facilities have control over the budget is providing health care," Brockmann said. "Somebody who doesn't come in is somebody who isn't costing them anything."
"The health of the prison population is worse on average -- if not much worse -- than the general public, so to have this in place in any prison is unethical."
But this approach may ultimately end up costing the prison health care system more by leading incarcerated individuals to put off routine preventive care, potentially until health problems get much worse.
"By the time they absolutely have to see a doctor, it's way more expensive, way harder to treat and it puts them at greater risk," Sawyer said.
Copayments can also compound existing inequities in correctional facilities.
Prison populations tend to be split into two tiers, explains the National Commission on Correctional Heath Care in a paper laying out its opposition to copays. On one end are inmates with families or support networks that have the means to provide them with spending money. Even these individuals may choose to forgo medical care if they decide the funds could be better spent on essential commissary items.
On the other end are inmates who are indigent or completely reliant on prison jobs for income. Many of them may not even consider using their funds on a luxury like a doctor's visit.
All of these factors disproportionately restrict access to care for an already marginalized population not just of incarcerated individuals, but of those who tend to be poorer, less health literate and perhaps already less healthy.
"The health of the prison population is worse on average ― if not much worse ― than the general public, so to have this in place in any prison is unethical," said J. Wesley Boyd, an associate professor of psychiatry at Harvard University and a member of the school's Center for Bioethics.
Boyd co-authored a 2009 study that documented pervasive deficiencies in correctional health care. He says that our approach to public health policy, especially toward the prison population, continues to suffer from a lack of empathy.
"There's a lot of sentiment in this country that there are undeserving people who are getting stuff for free that I have to pay for," he said. "That applies to poor people in this country who are not imprisoned and it no doubt applies to people who are imprisoned. It's just another way of stripping away rights."
Before You Go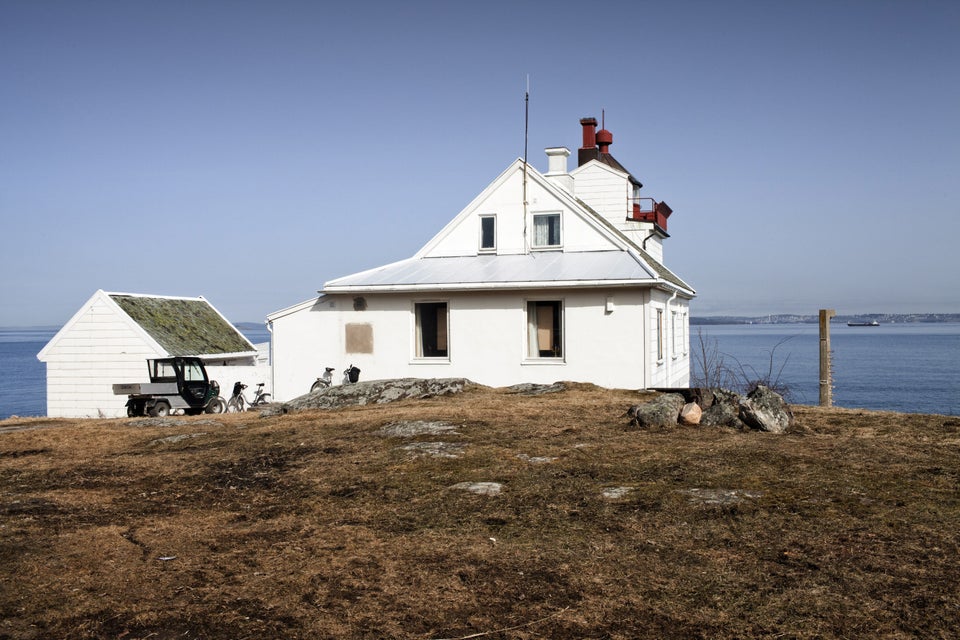 The Most Humane Prison in the World?
Popular in the Community