The Wall Street Journal reports today that the Riverdale Country School will charge $40,050 for high school students this coming year--the first time a New York City private school's tuition has breached the $40,000 mark.
Tuition at New York City's private schools has climbed 79% in the past decade, according to the Journal, and just 5 years ago, they charged $30,000.
The report also notes that when all the fees and additional costs are added up at private schools across the city (like Trinity, Hewitt School and The Ethical Cultural Fieldston School) many parents will be paying more than $40,000 for their child's education next year.
Put into perspective, these schools are charging rates equal to or higher than many Ivy League colleges. Princeton University will charge $37,000 for tuition (with $865 in required additional fees), and Harvard University last year charged $34,976 (along with $3,439 in required fees).
Of course this isn't the first time we've been surprised at the prices New York's patriarchs will pay for their children's education. Some drop six figures a year in private tutor fees on top of tuition, with the city's elite tutoring services charging as much as $800 an hour, according to the New York Times.
Last year Alex Leo calculated that sending a child to school in New York could very well cost parents $1,000,000 from grade school to law school.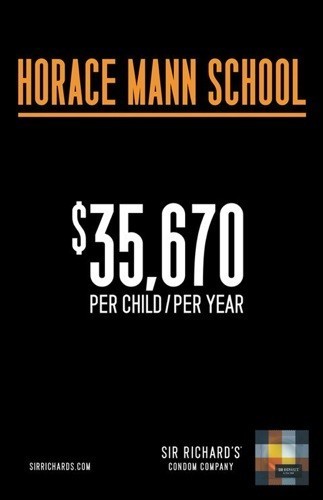 Popular in the Community