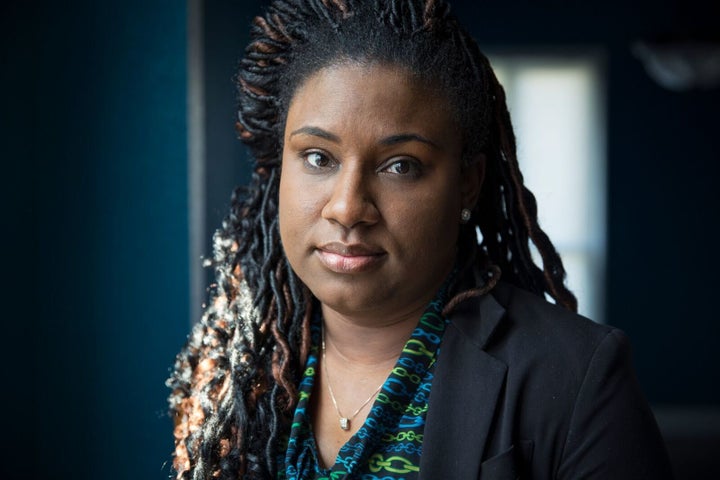 WASHINGTON ― Renata Singleton is a black woman who spent five days in a New Orleans jail because she couldn't afford her bail. Away from her three children, she lost eight pounds before her mother was finally able to purchase her release.
When Singleton got home, she had an 8 p.m. curfew and started wearing bell-bottom jeans to hide the electronic monitor on her ankle from her kids. Despite having a master's degree in business administration, she's worried she'll have trouble finding a new job: Her mug shot and a record of her arrest are still floating around online.
None of those facts make Singleton's story extraordinarily noteworthy: Legally innocent defendants unable purchase their freedom ahead of trial are regularly locked up. Here's what does: Singleton wasn't accused of a crime. She was the victim of one.
About three years ago, in November 2014, Singleton got into an argument with her boyfriend. He shattered her phone. Her daughter called the police. The boyfriend was arrested.
Singleton's ex-boyfriend was able to pay a $3,500 secured bond at his arraignment the next day, and he was released. He later pleaded guilty to two misdemeanors and was sentenced to probation without jail time.
Singleton, the victim in the case, didn't have such an easy go of it. When a victim-witness advocate for the Orleans Parish District Attorney's Office reached out to her, Singleton said she wasn't interested in pursuing charges. She had a job that paid by the hour, and she didn't want to miss out on work or time with her kids. She'd broken up with the man. She was ready to move on.
Prosecutors didn't let her let it go. According to a lawsuit filed Tuesday against Orleans Parish District Attorney Leon Cannizzaro and others in his office, investigators drafted up "subpoenas" requiring Singleton to appear for a meeting at the district attorney's office in April 2015, when the case against her ex-boyfriend was still pending.
Those documents were not actually subpoenas ― but the district attorney's office misleadingly labeled them as such to compel Singleton to show up to a meeting. Singleton didn't know that at the time, but she didn't go to the meeting because a friend in law enforcement told her that she hadn't been validly served.
The day Singleton missed the meeting, an assistant district attorney applied for a material witness warrant, asking the court to jail Singleton. Believing the fake subpoenas were actual subpoenas, a judge issued the arrest warrant.
Singleton eventually met with prosecutors, but told them she wouldn't talk to them without a lawyer present. Rather than granting her access to a lawyer, prosecutors had Singleton led out of their office in handcuffs, and she was arrested on the warrant.
It was the first time Singleton had ever been arrested. She was taken to jail and forced into an orange jumpsuit. Her bail was $100,000 ― more than 28 times the bail amount set for her alleged abuser. She spent five days in jail before she went before a judge, who reduced her bail to an amount her mother could afford.
Singleton is now the main named plaintiff in a lawsuit against Cannizzaro and his office that alleges that his prosecutors "routinely issue their own fabricated subpoenas directly from the District Attorney's Office ― without any judicial approval or oversight ― in order to coerce victims and witnesses into submitting to interrogations by prosecutors outside of court."
The suit, filed by Civil Rights Corps, the American Civil Liberties Union and the ACLU of Louisiana, opens a new front in the legal battle to change the criminal justice system ― by challenging the actions of prosecutors through civil rights litigation.
"Prosecutors are one of the biggest forces behind our society's addiction to senseless mass human caging," says Alec Karakatsanis, the Civil Rights Corps' founder. "And for years, they have operated with virtually no transparency or accountability. Our hope is that cases like this one help tell people the story about what prosecutors have been doing in our legal system, away from view, and about why they have been doing it."
Anna Arceneaux, an ACLU senior staff attorney on the case, said she hoped this lawsuit and others like it would help "change the landscape in holding prosecutors accountable, because so much of our crisis of over-incarceration in this country turns on the decision-making of prosecutors who are so used to not being held accountable and having very little oversight of their decisions."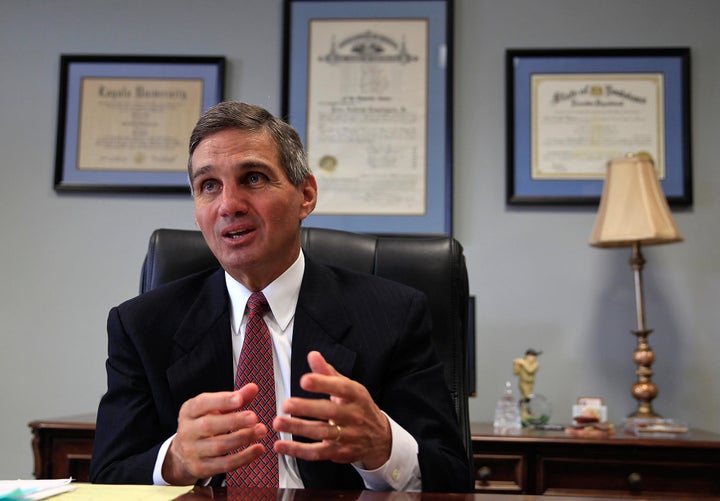 Prosecutors are notoriously protected from being held accountable for misconduct. The high bar for suing prosecutors for the actions they take in the course of their jobs amounts to near immunity.
But there is one rarely used provision of the law: challenging patterns and practices of unconstitutional conduct. That's what's happening in the New Orleans case ― the plaintiffs are alleging that issuing fake subpoenas was the office's adopted formal policy, not just the action of one rogue prosecutor.
Cannizzaro had challenged members of the New Orleans City Council last month to show him one person who was ever arrested on one of the D.A. notices. It evidently wasn't too hard: Civil rights investigators have already found at least 10 cases in the past three years in which prosecutors applied for arrest warrants by relying on the assertion that a witness didn't obey one of the office's fraudulent subpoenas.
The lawsuit alleges that the Orleans Parish District Attorney's Office engages in an unconstitutional policy of using "extrajudicial and unlawful means to coerce, arrest, and imprison crime victims and witnesses." The lawsuit said that victims and witnesses "routinely wait weeks or even months in jail" before they appear before a judge.
According to the suit, a rape victim spent 12 days in jail before making a first court appearance, while a child sex trafficking victim spent 89 days behind bars before she was able to challenge her detention in court.
"Defendants' policies are designed to create a culture of fear and intimidation that chills crime victims and witnesses from asserting their constitutional rights," the lawsuit says. "As a result of these policies, crime victims and witnesses in Orleans Parish know that if they exercise their right not to speak with an investigating prosecutor, they will face harassment, threats, arrest, and jail."
Prosecutors can typically request subpoenas through a formal process that requires witnesses or victims to appear at a court hearing or before a grand jury. They're not allowed to use a subpoena to demand that a witness show up to a private meeting.
So prosecutors in New Orleans forged and doctored the documents, according to the lawsuit. In one case, prosecutors gave a doctored subpoena to a 60-year-old homeless battery victim. The man was required to appear in court on March 6, 2017, but prosecutors altered the document to say he'd instead have to show up to the district attorney's office on March 3. The forgery was apparent because the individual who altered it failed to change the appearance date in some cases, and forgot to remove some references to the court, the lawsuit said.
The Lens, a New Orleans news organization, first reported on the fake subpoenas in April. Shortly afterward, Cannizzaro announced he would bring an end to what he admitted was an "improper" office policy.
"It was improper for us, it was incorrect for us to label those notices as a subpoena," Cannizzzaro told a local news station. "That was incorrect. It was improper and I take responsibility for that."
Instead, the office has begun sending out "notices" that do not include the word "subpoena." Still, the lawsuit alleges, the documents "create the false impression that the witness is 'required' by law to meet privately with prosecutors."
The lawsuit also alleges that Cannizzaro threatened Tamara Jackson, the executive director of the New Orleans victim rights organization Silence Is Violence, another plaintiff in the suit. According to the suit, after Jackson filed a complaint to the National District Attorneys Association about what she saw as the local district attorney office's inadequate protections for crime victims, Cannizzaro "called Ms. Jackson and told her to be careful: if it appeared that she was encouraging victims not to communicate with his office, he could prosecute her for witness coercion."
Jackson told HuffPost that the district attorney's office's actions have made her organization's work more difficult. She said she felt retaliated against for publicly criticizing the office for not offering supporting services. "What they tell people is that they will likely have this witness protection when we don't have a witness protection program here in Orleans Parish, and they're not being truthful. They give folks deceptive information to encourage them to share," Jackson said. "I don't trust them at all, and I do share the sentiments of our clients because I know what they're capable of."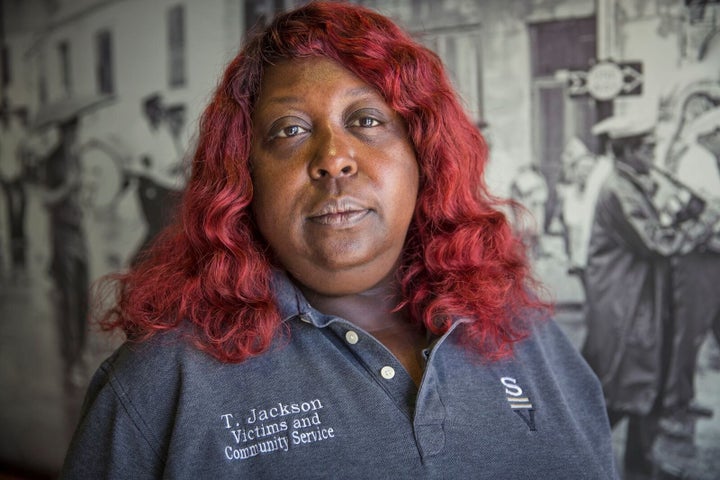 Both Civil Rights Corps and the ACLU are placing a new focus on prosecutorial accountability. Civil Rights Corps, which prides itself on an "innovative and aggressive" approach to civil rights law, has brought several notable challenges to bail systems across the United States, including a noteworthy case currently pending before the U.S. Court of Appeals for the 5th Circuit that bail supporters and opponents are watching closely.
Civil Rights Corps has received funding from Facebook co-founder Mark Zuckerberg and his wife, pediatrician Priscilla Chan. As part of its new project on prosecutors, the organization is planning to build a publicly accessible, centralized database of instances of prosecutorial misconduct. It will also pursue pattern and practice cases ― when an office is accused of using unconstitutional methods on a widespread basis ― and state bar complaints. A job description for the project states that there are "vast swaths of largely unexplored areas" of the law in regard to prosecutorial misconduct.
The ACLU also wants to draw attention to the role of prosecutors, both through litigation and through educational efforts. Arceneaux said the ACLU wants to challenge the contours of prosecutorial immunity and take cases that others aren't always willing to take.
"The district attorneys hold a lot of power, and it's not an easy lawsuit to bring for people in the local community," Arceneaux said. "Prosecutors have enormous power, and they routinely operate without oversight."
This story has been updated with a quote from Tamara Jackson.
Read the full lawsuit below.
Ryan Reilly is HuffPost's senior justice reporter, covering criminal justice, federal law enforcement and legal affairs. Have a tip? Reach him at ryan.reilly@huffingtonpost.com or on Signal at 202-527-9261.
Support HuffPost
The Stakes Have Never Been Higher
Popular in the Community