There are arguments both pro and con about where one finds the best food in Paris. Is it at the classic bistro/brasserie level? The three-star Michelin firmament? Or the places no one will tell you about (which don't actually exist)?
As a frequent visitor to Paris I take no sides, for I am just as happy to dig into a pig's trotter at an old bistro or a helping of cassoulet at a brasserie as I am to dine on haute cuisine. Still, to those who do not wish to spend half their budget on one meal, I often recommend the pleasures of those one-star restaurants verging on getting a second one. In this category I always recommend Pur' at the Park Hyatt Paris, just off the glorious Place Vendȏme.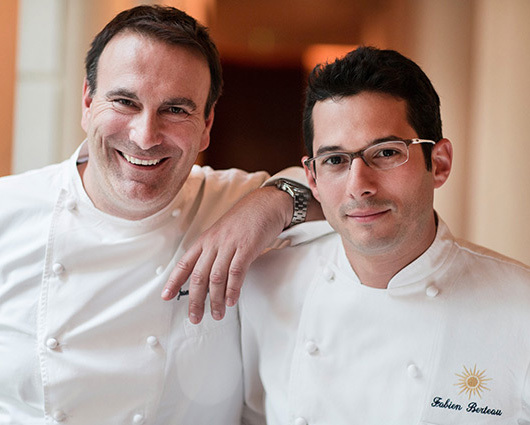 Now open about five years--when it was first dubbed Pur Grill, which emphasized items from that piece of kitchen equipment and introduced Paris to Japanese wagyu beef--Pur' has evolved in step with modern French cuisine under the consistent presence of Chef Jean-François Rouquette, whom I once called "one of the brightest young lights in Paris" but who has become one of the city's finest. His very exuberance is evident in and out of the kitchen, which is sleek, brightly lighted space facing the dining room whose elegant colonnade is built around a rotunda; the room is done is shades of chocolate brown and cream, with excellent lighting. There is also a Table du Chef a four-seat counter they call the "Aquarium" smack up against the open kitchen.
Rouquette's résumé includes stints at the Crillon, Le Grand Véfour, and six years at Taillevent, and his guiding philosophy, based on wide travels and procurement of ingredients from small producers, is, "I love starting from contradictory elements and achieving a moving and powerful result." His command of technique is bred into every member of the kitchen brigade and, since the hotel gets a large international clientele, the service staff is as fluent in various languages as it is in catering to particular requests. "No" does not seem to be part of their vocabulary.
Sommelier Lionel Schneider has refined the excellent cellar at Pur', admirably focusing on more affordable young French regional wines along with the big labels.
Among so many marvelous dishes I enjoyed on my last meal with friends was a starter of Dublin Bay prawns carpaccio with osetra caviar, a creamy panna cotta made with fennel, cucumber jelly and dill oil--every ingredient adding a new way to show off classic pairings. Sweet, fat white asparagus had just come into season (this was May), and they were matched with tuna and smoked anchovies in a preserved lemon broth, a mélange whose seafood I feared would overpower the vegetable .but they were very, very subtle flavors. Beautifully seasoned.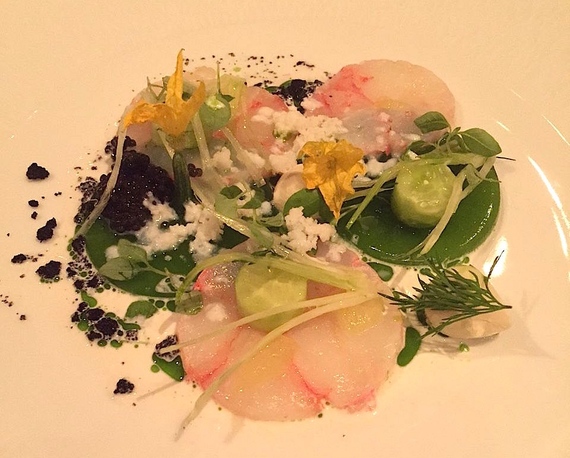 Glistening seabass was served with tender cuttlefish, spring's zucchini flowers, parsley juice, and a reduction of razor clams and cockles with celery. One--and only one--crispy veal sweetbread was perfumed with sorrel, wild garlic, morel mushrooms and green asparagus; I only wish there had been more. The grilled wagyu beef, the real thing from a Japanese Prefecture, was beautifully fatted, almost a mosaic of rich marbling, with soft grilled eggplant, scallions and buttery soufflé potatoes, and, to gild the lily, oxcheek ravioli in a buckwheat broth.
There is a splendid cheese trolley, as you'd expect in a restaurant of this caliber, selected from a fourth-generation fromagerie named Marie Quatrehomme, which has been among the city's finest since 1953.
Desserts, by Fabien Berteau, who was awarded 'Pastry Chef of the Year' for 2015 by Gault Millau, are happily extravagant without being silly in design: Wild strawberries are so difficult to find outside of Europe, so the soufflé (below) made from them along with Damascus rose water, white cheese and iced hibiscus was an enchantment. The Grand Cru Croc' chocolate dessert comes with crunchy caramel pieces and a dark chocolate sorbet. I've yet to figure out what exactly made up a delicious sweet of "jasmine flower velvet almond kazoo" with macerated wild blackberries, but it was very good.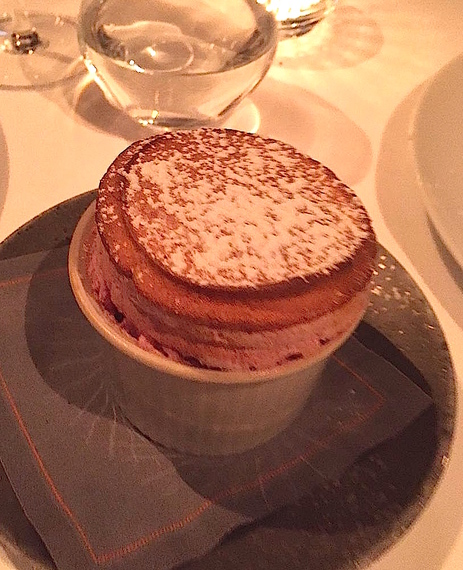 Pur' is not inexpensive, even with a stronger US dollar, but there is a reasonable six-course tasting menu at 135€ (with wine 195€) or eight courses at 175€ (with wine 255€). Otherwise current first courses run from 37€ to 89€ and main courses 42€ to 105€.
This is, after all, a Park Hyatt, the brand's highest claim to competing with the finest in Paris (the soon-to-be-opened Ritz is right around the corner), so everything in terms of design, décor and service is of the highest quality but at a somewhat lower price than at its competitors. The a la carte first courses at the three-star restaurant at the Meurice, for example, begin at 85€ and go up to 130€, and main courses run 110€ to 130€; the six-course menu there is a whopping 380€.
The latter prices are rough on the average tourist's budget, but for a true taste of a very personalized haute cuisine, Pur' is as fine a restaurant as the city has to offer.
Pur'
Park Hyatt Paris-Vendôme
5 Rue de la Paix;
331-58-71-1060
http://paris.vendome.hyatt.com