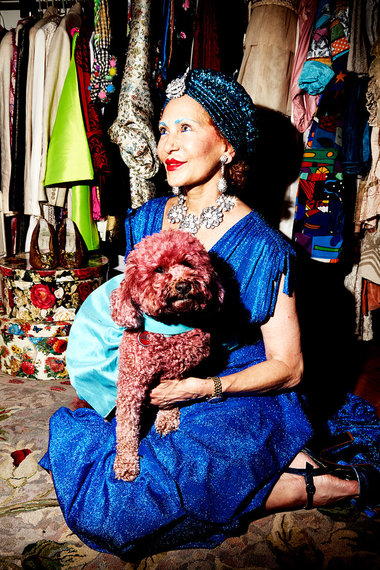 I spotted Patricia in Central Park and was struck by her personal style and of course her red miniature french poodle! We took a stroll, became fast friends and so I present you with Amy Lombard's photographs of Patricia and Rubywoo!
Tell me a bit about you growing up. Were you always fascinated with clothes?

I grew up in Pawtucket, Rhode Island. With a mother who loved fashion, style and was addicted to dressing perfectly daily. When she and my dad went out for an evening at the country club I was her personal dresser zipping up, buttoning and clasping...when she went on a trip I would wear her most fabulous clothes to school breathing in the left over perfume fragrance that permeated the fabric from the last wear.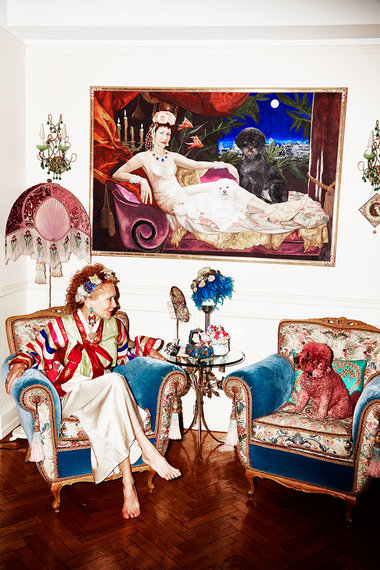 How did you amass your brilliant collection of outfits?

When I first moved to New York City there was a fabulous shop across the street from my apartment called, "The Best of Everything." It was magical in a way like an opium den filled with exquisite vintage clothing and accessories. I was just beginning my career in cosmetics and walked around feeling like a silent film screen star. Merry, the proprietor, and I dressed me in a way that was spectacular and affordable fulfilling my fantasy to the nines. Today, I still have some of the pieces I purchased from her which are totally unaffordable in today's world if they can even be found. This got me going on a magical journey into the world of fabulous designers, creativity, and a massive vintage wardrobe collection.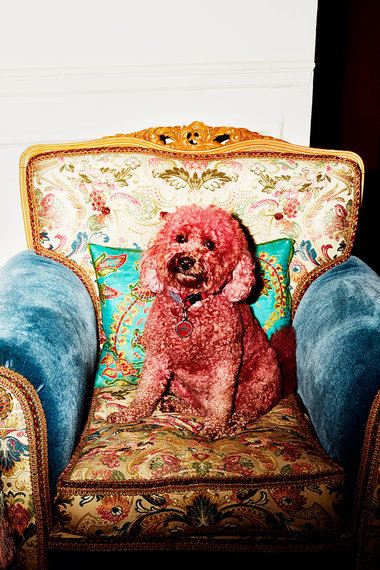 How do you decide what you will wear each day?

I wake up in the morning looking at my schedule, who I am seeing, where I am going, seeing what the weather will be, go into my dressing room and based on my mood, spirit and feeling I see that one quirky item that becomes the focal point and inspiration for my ensemble. It is possible that my mood swings will drive me to change 2-3 times a day into totally different creations.
Ruby who is ruby...How did you come to have this gorgeous creature?
After I had put my two dogs, fanny and lewie to sleep I took some time off dog ownership. Then at the 3 year mark I started to think about what I would like in my next dog. Always non-shedding a female and the perfect fashion accessory that was not going to drag me along the streets when I was in high heels. Then I saw this show stopper red french poodle. The owner told me where he came from and then....Boom I was on a plane to arroyo grande california to pick up rubywoo who is named after a mac red lipstick I wear..........She was the size of a tea cup and rode home business class being passed around the plane from passenger to passenger....She almost disappeared into a passenger's purse!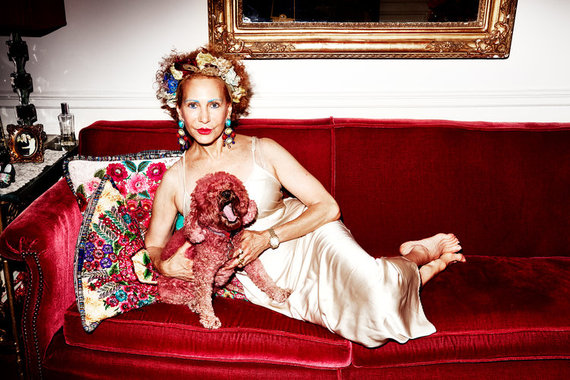 Why is she pink?

Over the past three years her color started to fade, not a little but a lot.......Although she was gorgeous she was no longer that beautiful red....I entertained the idea constantly about dying her.....Then I met the perfect groomer herself hair dyed like crazy.....We were then invited to be in the national ad campaign to raise breast cancer awareness for susan g komen ....We were to be photographed for tutu tuesday which promoted the "race for the cure"...this was the perfect mitigating circumstance to legitimize my burning desire to make her pink.....Rubywoo turned out to be the most gorgeous raspberry color thrilling children and making the sourest adult chuckle.
What did you use to make her that color?

The product I use is blessed by my vet actually recommended by her knowing I was a determined patient and bringing harm to rubywoo's health in any way was out of the question. It is called top performance pet hair dye gel for dogs and cats.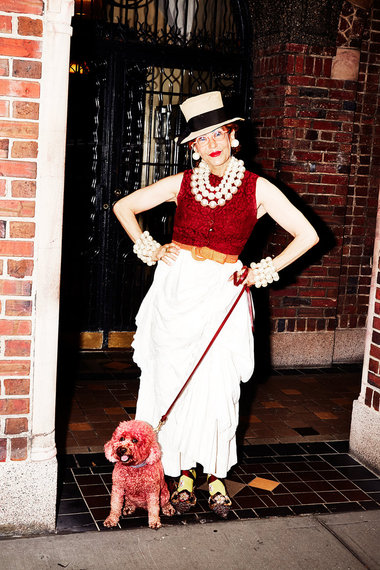 Is there anything else you would like to share with the world?

It is never to late to pursue a dream and I am in the middle of creating the next chapter of my life through curated conversation with people on the streets of nyc. I love this connection and ruby is the perfect people magnet to engage the average citizen or the most exquisite one. I thank god every day for my health and the blessings that I have been given...... I make a concerted effort to bring joy and happiness to the people whose paths I cross and say or do something that will impact their lives and make a difference. Ruby, my favorite companion besides my boyfriend live our lives to the fullest and in the kindness of spirit.
Calling all HuffPost superfans!
Sign up for membership to become a founding member and help shape HuffPost's next chapter