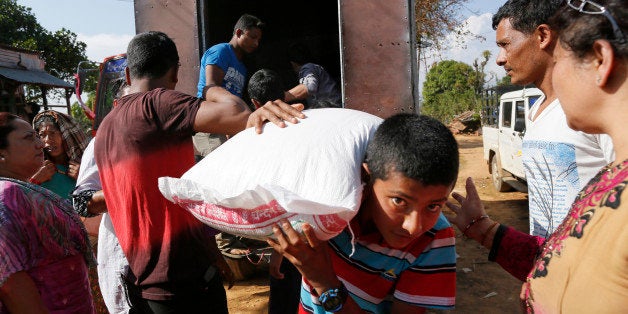 CHAUTARA, Nepal June 26 (Reuters) - Compensation is starting to reach families in the regions worst hit by Nepal's devastating earthquakes, amid close scrutiny of how billions of dollars pledged this week by global powers will be distributed to rebuild the shattered Himalayan nation.
Nepal received on Thursday pledges of aid worth $4.4 billion for reconstruction after two quakes on April 25 and May 12, killed 8,832 people, injured more than 22,000 and destroyed or damaged half a million homes.
But handing out funds remains a challenge for Nepali Prime Minister Sushil Koirala, who vowed at Thursday's donor conference to show no tolerance for corruption or misuse of foreign aid, in a country with a history of weak oversight.
The government will channel aid through a new state body and coordination centers to oversee fund transfers in villages.
"We are encouraging deposits into bank accounts to reduce irregularities," Govind Raj Pokharel, chairman of the National Planning Commission, told Reuters.
Some donors have been reluctant to pledge money, fearing that corruption will divert it from efficient uses.
In Chautara, the main town in the worst-hit region of Sindhupalchowk, quake victims jostled outside government offices this week to get identity cards and death certificates for deceased family members, which they need to claim compensation.
Farmer Sher Man Tamang, 52, trekked for six hours from his village of Haibung to register his father's death in Chautara, and claim 40,000 Nepali rupees ($400) promised by the government for the funeral rites of those killed in the quake.
"It took me a long time to arrange the documents," said Tamang. "These papers prove my father lost his life in the earthquake."
Shops providing photocopies and scans did brisk business, as did people who could read and write on behalf of illiterate neighbors wanting to open bank accounts to receive aid.
The government has delegated officials to distribute aid, but there are no regional lawmakers to hold bureaucrats accountable as there have been no local elections since 1997.
As reconstruction gathers pace, government efforts to help the needy will face additional scrutiny.
"I believe the government is committed to fighting corruption," Asian Development Bank President Takehiko Nakao said in Kathmandu on Thursday.
"Otherwise they cannot continue to get support from the international community."
With debris cleared from quake-hit areas, many people have started businesses afresh.
Under a sheet of corrugated iron, barber Rajendra Thakur, 43, has set up a new shop after the first was destroyed in the first quake.
"People still need haircuts," Thakur said, adding, "Business is picking up." ($1=100 Nepali rupees) (Editing by Rupam Jain Nair and Clarence Fernandez)