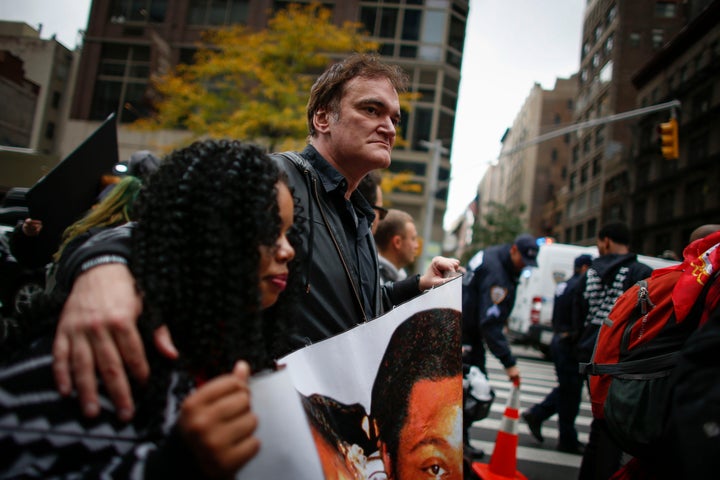 Quentin Tarantino's sharp condemnation of police brutality at a recent rally set off a firestorm of criticism from police and their unions, but the film director isn't backing down from those remarks.
"I'm not being intimidated," he told the Los Angeles Times in his first interview in the wake of the controversy that prompted some cops to call for a boycott of his films. "Frankly, it feels lousy to have a bunch of police mouthpieces call me a cop hater. I'm not a cop hater. That is a misrepresentation. That is slanderous."
Last week, the director of "Pulp Fiction" and "Django Unchained" took part in a Rise Up October demonstration in Manhattan and spoke out against police brutality.
"I'm a human being with a conscience," Tarantino said at the rally, The Associated Press reported. "And if you believe there's murder going on then you need to rise up and stand up against it. I'm here to say I'm on the side of the murdered."
Tarantino told the LA Times that those criticisms of him are preposterous and that he's being used to distract from the issue of police brutality.
"What they're doing is pretty obvious," he told the newspaper. "Instead of dealing with the incidents of police brutality that those people were bringing up, instead of examining the problem of police brutality in this country, better they single me out. And their message is very clear. It's to shut me down. It's to discredit me. It is to intimidate me. It is to shut my mouth, and even more important than that, it is to send a message out to any other prominent person that might feel the need to join that side of the argument."
The Philadelphia police union voted unanimously for a boycott.
"Tarantino has shown through his actions that he is anti-police," said John McNesby, president of the Philadelphia union, in a statement. "Mr. Tarantino has made a good living through his films, projecting into society at large violence and respect for criminals; he it turns out also hates cops."
Tarantino spoke at the rally just days after NYPD officer Randolph Holder, 33, was fatally shot on duty in Manhattan's East Harlem neighborhood. It was that timing that upset union officials further.
Tarantino's next film, "The Hateful Eight," is scheduled to be released on Christmas Day. Multiple police unions did not immediately respond to request for comment.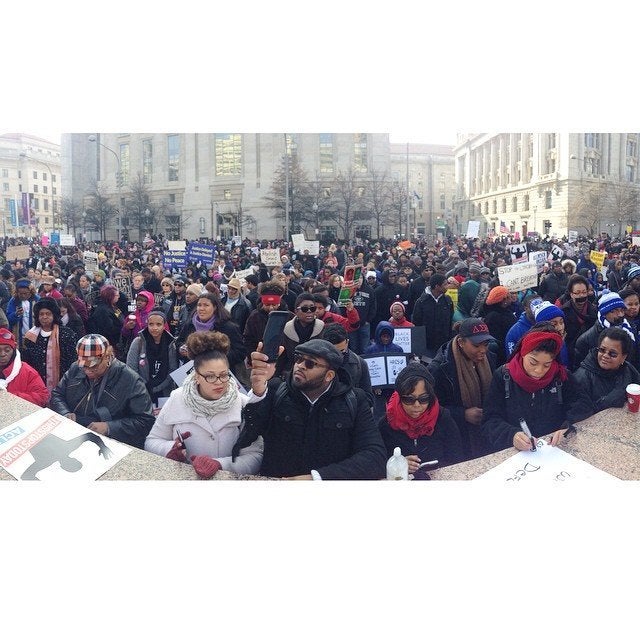 Powerful Black Lives Matter March In Washington
Popular in the Community