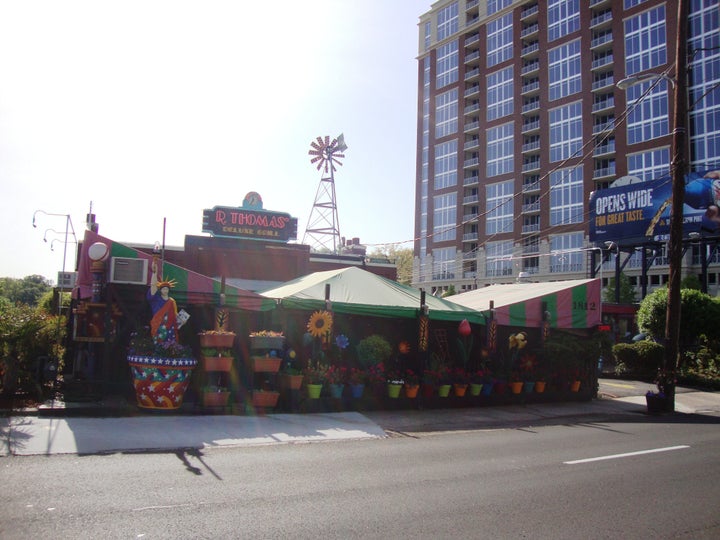 ATLANTA -- Almost 30 years ago, the author and health food pioneer Donna Gates told fast food magnate Richard Thomas he needed to change his ways.
"She looked me in the eye and she said, 'You know, you have probably poisoned more people than anyone in America.'"
It was a notion that Thomas had never considered. Until then, his life had been dedicated to fast food. To grease. He graduated from Michigan State University in the 1950s with the dream of opening his own chicken joint. When a friend told him to try Kentucky Fried Chicken, then a quickly expanding American chain, he decided to get in on that franchise instead. "Their chicken was way better than mine," he remembers.
He drove eight hours overnight to Colonel Harland Sanders' mansion in Shelbyville, Ky., hoping for a face-to-face meeting with the Colonel. The Kentucky Fried Chicken headquarters was in a building out back. Thomas fell asleep out front and awoke to the Colonel banging on his car window.
"The Colonel thought I was the gardener," Thomas said. "So he told me to start pulling all the daffodils out."
When the real gardener showed up five minutes later, the Colonel asked Thomas who the hell he was. Thomas told him he wanted to set up eight Kentucky Fried Chicken restaurants in Michigan. They signed an agreement right then.
A few years later, after his own franchises grew, Thomas became president of Kentucky Fried Chicken. Soon after that, in 1971, the company was sold. "A liquor group bought it," Thomas said. "And I don't like liquor." He left, bouncing from job to job. He ran some Wendy's franchises, some Pizza Huts, and some Sunny's Chicken restaurants, which left him bankrupt. Then, in 1977, he co-founded Bojangles', another fried chicken chain. Bojangles', based in North Carolina, is now one of the fastest-growing U.S. fast food chains.
"I was a millionaire," Thomas said. "But then I met Donna Gates."
Gates inspired him to change the way he thought about food. Thomas knew how to run a food business, but he knew nothing about healthy ingredients. When he started R. Thomas Deluxe Grill in 1985 in Atlanta, he said he wanted a location "that would never expect it." Gates agreed to work in his kitchen for the first few months, steering his menu and ingredients toward the healthy.
Thomas employed his son Jim to help run the business. When the restaurant first opened, it had few customers. One night, Jim asked his dad, "When do we want to close?" And when Thomas couldn't find his keys to lock up, they just stayed open the whole night. It's been a 24-hour restaurant ever since, closing only on Thanksgiving and Christmas.
Thomas, now 78, wakes up each morning at 5:30 and heads to the farmers market, where he gathers ingredients for dishes like Soy Ginger Salmon and Sloppy Veggie Joe and the myriad breakfast entrees (served all day), fresh juice drinks, and quinoa appetizers featured on his menu. The aim has always been to cater as much to vegetarians and vegans as to carnivores.
"When we first opened up, we were a joke," Thomas said. "But now there are thousands of restaurants like mine. It's a gigantic industry."
R. Thomas Deluxe Grill is a landmark in Atlanta, a city known more for greasy food and barbecue joints than local greens and flax seeds. Sandwiched between high-rise office buildings and condominiums and surrounded by a lush garden and hippie sculptures, the purple-tented building is an anomaly along traffic-heavy Peachtree Street. Thomas has also championed green ways of living -- he uses only recycled water used for cooling his dining tents and homegrown fertilizer and herbs. Frequent dining room guests include Ted Turner and Atlanta's former chief of police, Eldrin Bell.
Oh, and there's the birds. Thomas has raised exotic birds since he was 10, when his father, a bird lover, gave him an "egg and an incubator" and told him to do whatever he wanted with them. That was how Sparkle, a 68-year-old yellow-naped Amazon parrot that can say "hello" and "play ball," was born. Sparkle's wings are clipped and she lives in a cage outside the restaurant, along with some macaws, doves, cockatiels and a toucan. Sometimes Thomas will wander around the dining room with one of his birds on his arm. Or he'll place one on your head, which his what he did to a friend of mine the very first time I ate there.
Thomas said potential buyers have been approaching him for years, and he's thought about expanding beyond Atlanta since the early-2000s. Though running the business has been deeply fulfilling, 2012 was a tough year. He lost his son Jim and survived a minor stroke and pancreatic cancer.
As a former fast-food magnate, Thomas said he does have a desire to influence how America's major chains cook their food. He said he'd especially like to influence some old friends who still work at Bojangles', which last June celebrated its 500th U.S. restaurant, but it's hard to get them to listen because they're making "hundreds of thousands of dollars," as he puts it. The only visible similarity between Bojangles' and R. Thomas is that they both serve breakfast all day.
When asked about his vision for the R. Thomas restaurant 40 years from now, after he has passed away, Thomas paused and looked around. He held a photo album of the original restaurant -- pictures of the old, lifeless cement structure as it stood in the 1980s before he moved in.
"I just hope it stays like it is now," he said.
Related