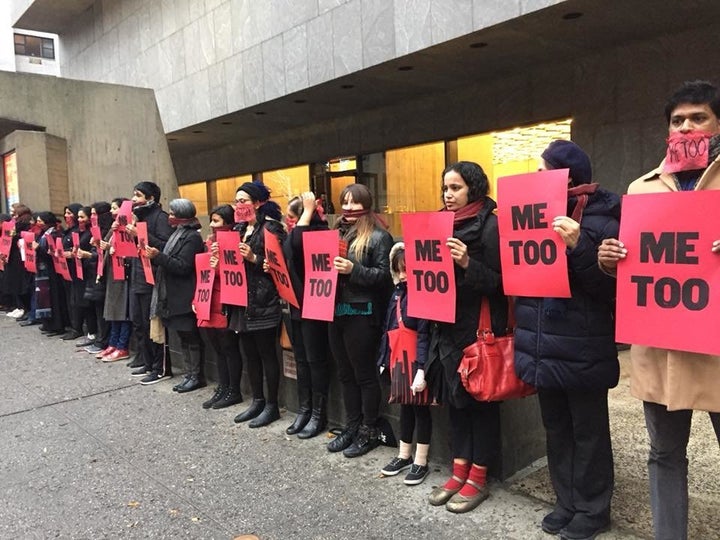 NEW YORK ― At 4 p.m. on Sunday, a group of women and men formed a line alongside the entrance to the Met Breuer, a contemporary outpost of the Metropolitan Museum of Art in Manhattan. Each held a red sign reading "Me Too" in black letters, with red sashes of fabric gagging their mouths. Together they formed a shocking streak of color against the museum's grey exterior and the evening's cloudy sky.
Mumbai-born, Brooklyn-based artist Jaishri Abichandani, who organized the protest performance, held a slightly different sign. Hers read "I survived ... Raghubir Singh. #MeToo."
Singh's work is currently on view at the Met Breuer, in an exhibition titled "Modernism on the Ganges." In light of the show, and the countless number of people who have shared stories of sexual assault and harassment at the hands of powerful men in various fields over the last several weeks, Abichandani opted to step forward with her own story of abuse by an influential male figure ― and provide a space for other people in the art world to do the same.
She organized the protest on Facebook last month, creating an event titled "#MeToo at the Met." Invoking a phrase used by many survivors of abuse over social media, she invited women and male allies to join in the participatory project, including her own friends, fellow artists and members of the South Asian Women's Creative Collective, which Abichandani founded in 1997.
"You have all heard me talk about my experience with Raghubir Singh who has an exhibition up at the Met Breuer," she wrote on Facebook. "With your help, I would like us to put on a silent performance/protest to ensure that historians cannot erase this part of [Singh's] legacy, to hold institutions responsible for their choices."
"Help me make his violence visible," she added. "They can ignore my lone voice, but not a hundred of us."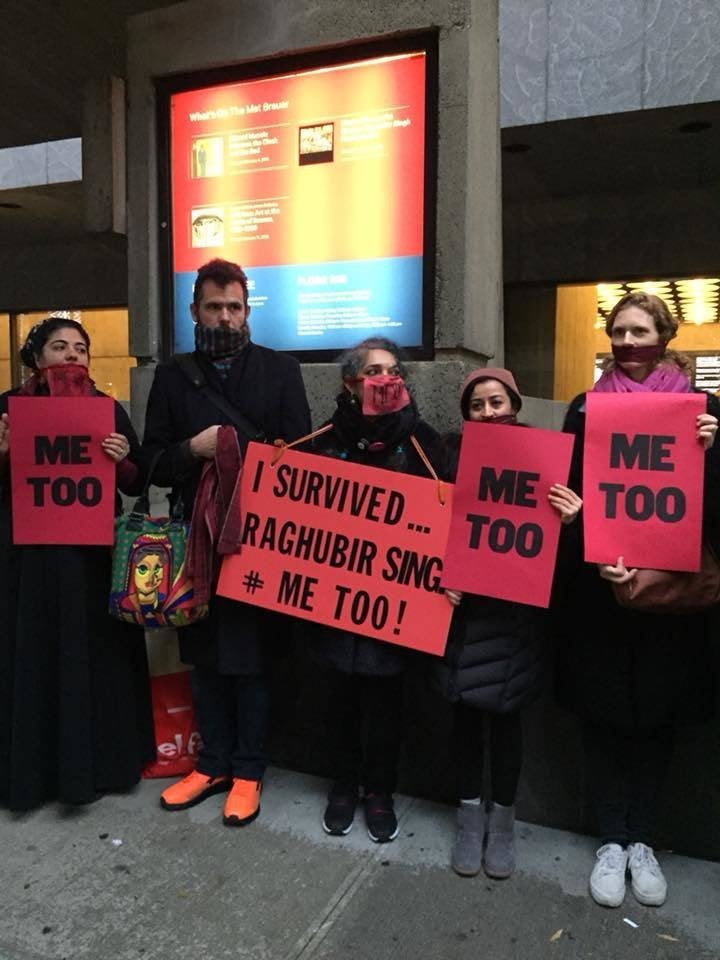 Abichandani said she met Singh in 1995, when she was in her twenties working as a case worker for the Administration for Children's Services and hoping to break into the art world. She was living in Queens at the time and already familiar with his work; she'd studied his photos in school and the two came to run in similar "progressive, South Asian circles" afterward. So when the late photographer invited her to accompany him to India to work as his assistant for three weeks, Abichandani, now in her late 40s, thought it was "the opportunity of a lifetime."
"I walked into a situation thinking it was going to be professional," she told HuffPost in a phone conversation ahead of the protest, "and instead he physically, geographically, socially and financially isolated me. I was stuck alone with him in India with no recourse, no support. It was horrible."
"I felt completely coerced into having sex with him," Abichandani explained, recounting a story she'd shared previously with WNYC. "I made myself clear verbally [that I did not consent]. My body tried to repel him in so many ways. I was completely trapped. There was no way of getting out of the situation."
When Abichandani and Singh returned to New York, she said she put as much distance between them as possible, but he continued to intimidate and harass her. "He used all of his connections, in every possible way, to intimidate me," she said. "It was complete predation."
Abichandani chronicled what happened with Singh in a diary, which she showed to some of her close friends and family. She said she did not report the abuse to authorities, for fear of retribution from Singh.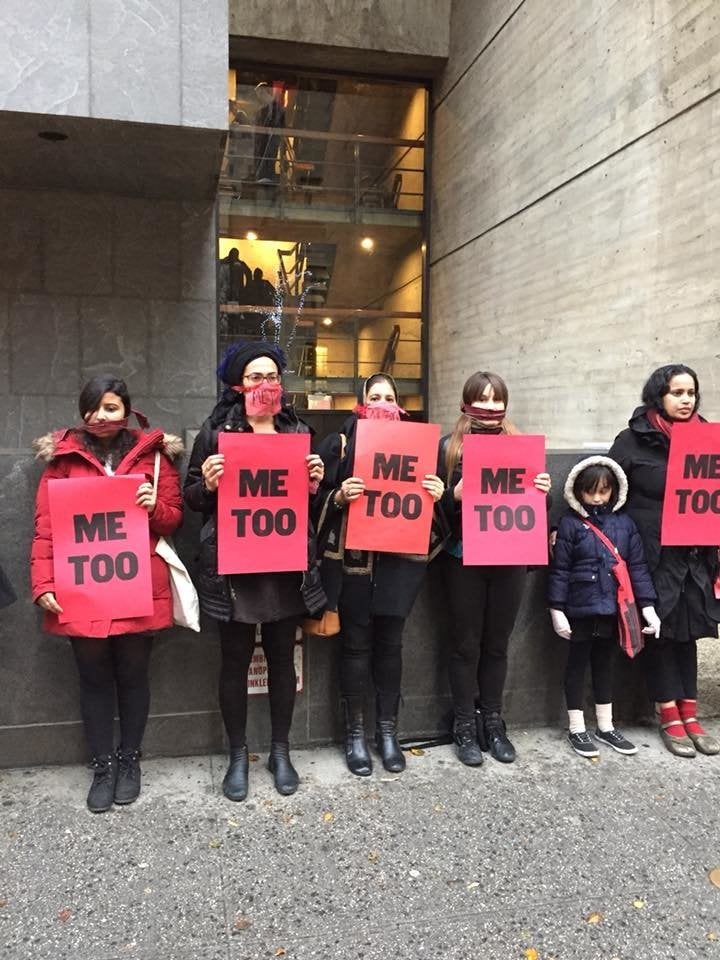 "Modernism on the Ganges" opened on Oct. 11, shortly after Harvey Weinstein's years of predatory behavior came to light. The wave of news helped Abichandani come to terms with the abuse she encountered so many years ago. "I was finally able to make sense of what had happened to me, what he had done to me," she said.
Not long after that, The New York Times reported that former ArtForum magazine co-publisher Knight Landesman had been accused of routinely sexually harassing women over the course of a decade. In response, over 2,000 artists, writers, curators, gallerists and educators wrote an open letter titled "#Not Surprised," taking aim at the art world power structures that tacitly permit and overlook sexual misconduct in the workplace. It reads in part:
We are not surprised when curators offer exhibitions or support in exchange for sexual favors. We are not surprised when gallerists romanticize, minimize, and hide sexually abusive behavior by artists they represent. We are not surprised when a meeting with a collector or a potential patron becomes a sexual proposition. We are not surprised when we are retaliated against for not complying. We are not surprised when Knight Landesman gropes us in the art fair booth while promising he'll help us with our career. Abuse of power comes as no surprise.
In response to her initial Facebook post, Abichandani received shows of support from several women artists, many of whom told her they'd experienced similar abuses in the presence of predatory, powerful men as well. (Abichandani said she even received well wishes from Tarana Burke, who originated the "Me too" movement.)
"There are so many women who are turning up [to the protest] not just to support me but because this is their experience," Abichandani said. "I've gotten call after call after call from women in the same situation. As artists we have zero protections, no human resources, zero due process. Where are we supposed to go?"
Before the protest, Sandra Jackson-Dumont, the chairman of education at the Met, wrote to Abichandani assuring her that the museum "supports the right to free expression" and would not attempt to prevent or shut down her performance. During the event, the Met Breuer's chief communications officer, Ken Weine, remained outside with the protestors.
"Following the opening of the exhibition 'Modernism on the Ganges: Raghubir Singh Photographs' at the Met Breuer, an individual alleged in a public forum that she was sexually assaulted by Mr. Singh," Weine said in a statement to HuffPost. "The Museum was not aware of this allegation previously. The Met is working to enable the protesters' right to free speech while ensuring that the event is neither disruptive to our museum visitors nor puts any art at risk. We are also looking into planning an open forum to discuss the role of museums in navigating the difficult questions associated with allegations and revelations about artists and works of art."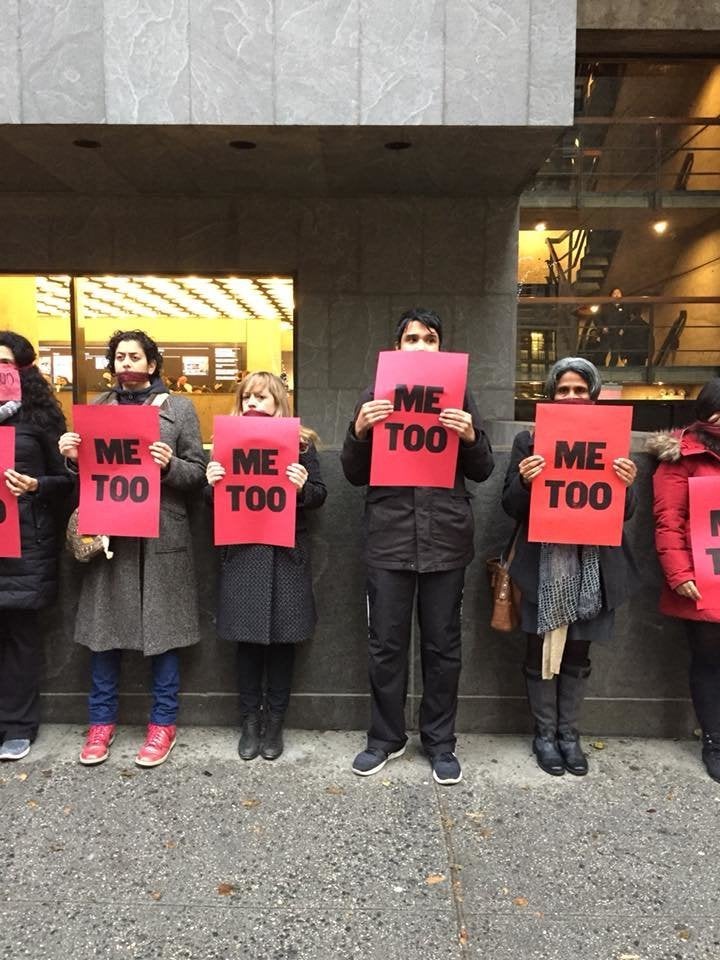 Today, Abichandani is a working artist interested in feminist art history, social practice and South Asian culture. Her work imagines the female body as a site of power, desire, spirituality and conflict, often using craft techniques and ancient Hindu imagery.
Abichandani considers the #MeToo performance to be part of her work in social practice. By gathering together a line of sign-wielding, muzzled protesters, she forced men and women walking down Madison Avenue to consider how the choices of major art museums like the Met affect marginalized members of the art community.
One passerby, a woman seated in the backseat of a car driving past the popular Upper East Side museum, rolled down her window and yelled "Me too!" before raising a fist in solidarity on Sunday. Another pedestrian stopped to thank some of the protesters individually. "This has happened to about every woman who has ever been young," she said. "It's enough."
Christen Clifford, an artist and writer who participated in the protest, said she showed up "to support Jaishri." She added, "I know what it's like to hold that pain for so many years. We're always stronger when we are together."
Ultimately, Abichandani hopes her story gives voice to women of the art world who have been excluded, undercut, objectified, targeted and abused. For her, the number of participants present at the Met Breuer viscerally illustrated the magnitude of the problem ― that there are structural ways the art world limits, silences, devalues and endangers women.
Abichandani doesn't expect her protest to result in the termination of Singh's show. "I have a very simple goal, which is that when you Google Raghubir, this will come up," she said. "So his legacy reflects who he is and what he did."
She does hope, however, that the performance will prompt critical discussions that transcend her personal experience. "My larger goal is systemic change for freelance artists," she said. "It is a systemic problem, we want systemic solutions. What does institutional accountability look like?"
UPDATE: On Dec. 5, Raghubir Singh's Wikipedia page was updated to include a description of Abichandani's protest and the allegations against him.
Popular in the Community