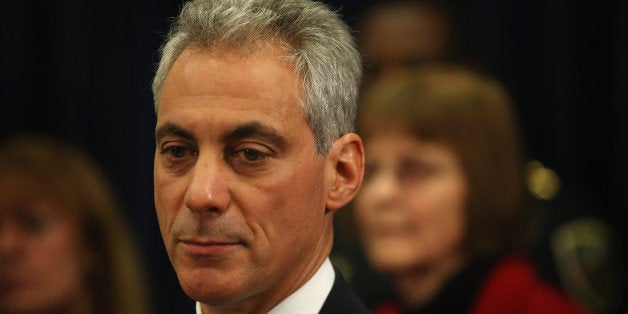 It's been another violent summer in Chicago.
Victims included 11-year-old Shamiya Adams, whose family is raising money for a funeral after the girl was killed by a stray bullet July 18 while making s'mores during a sleepover at a friend's house. Shamiya didn't make it to sixth grade.
Police charged an 18-year-old in Shamiya's slaying, saying he fired aimlessly into a building to avenge a young friend's beating in a fistfight.
As the toll of the bloodshed mounts, there are indications it may spread to Mayor Rahm Emanuel's re-election, according to experts.
News coverage of Emanuel's poll plunge failed to note that the survey showing the worst news for the mayor was conducted following the bloody Fourth of July weekend.
The city's violence, back in the national spotlight two years after some news outlets incorrectly called Chicago America's "murder capital," is a major factor in Emanuel's unpopularity, according to Dick Simpson, a University of Illinois-Chicago political science professor and former city alderman.
Violent crime typically dips during cold weather, coinciding with the mayoral election in February. But Simpson said he doesn't believe voters' attitudes on the problem will change significantly "unless there is some major break -- and I don't see what that would be."
Emanuel's popularity also has been plagued by mass closings of public schools, largely in black and Latino neighborhoods, and "the general problem of the perceived arrogance and unwillingness to have citizens involved in making decisions about the city," Simpson said.
Still, Emanuel faces no announced challengers, and none of the likely contenders can rival the former White House chief of staff's experience and fundraising prowess.
"The polls show Rahm is not invincible," Simpson said. He noted that both Mayor Richard Daleys presided over the city for decades, taking on airs of invincibility, even though Chicago was plagued by even worse violence.
"But the old saying is, you can't beat somebody with nobody," Simpson added.
One potential challenger who topped Emanuel in the recent Chicago Sun-Times poll was Karen Lewis, president of the Chicago Teachers Union. Lewis rescheduled her annual Hawaii vacation from December to July this year, saying she's "seriously considering" challenging Emanuel.
The mayor's office called the Sun-Times poll "laughable" when it came out. Chicago Teachers Union staff coordinator Jackson Potter said that reaction demonstrates "a general lack of respect for the will of the people in this administration."
Potter said he "absolutely" believes violent crime will be a re-election liability for Emanuel.
"The buck stops with him because he's the mayor," Potter said. "He's done a poor job and not reduced violence in a way that will make our neighborhoods safer in any credible fashion. We've had leadership by press release instead of substantive ideas that address the heartbreaking violence that permeates the streets in the city."
Mayoral spokesman Adam Collins acknowledged in a statement to HuffPost that "there's still too much gun violence and much more work remains for everyone involved," though the city has made progress.
"Mayor Emanuel has said there will be a time for politics, but what's important today is continuing to make progress so every child has the opportunity for a bright future and everyone in every neighborhood can enjoy the same sense of safety," Collins said in the statement. He added that the city has partnered with ministers and local leaders to provide opportunities for young people in crime-ridden areas.
Chicago Police Superintendent Garry McCarthy said lax gun laws make crime-fighting "an uphill battle."
"We will keep building on our strategy, putting more officers on the street, and proactively intervening in gang conflicts, and we are supported by the mayor's investments in prevention programs for at-risk youth," McCarthy said in a statement.
While the number of homicides and violent crime overall have dropped this year from 2013, the number of shootings has increased.
The Rev. Corey Brooks, pastor at New Beginnings Church in the Woodlawn neighborhood, said communities like his haven't noticed the progress the Emanuel administration touts.
"It's always gunfire, always trauma, always situations that call for emergencies," Brooks said. "It's something we live under every single day on the south or west side of Chicago."
Brooks agreed that city violence needs to be a "front and center" discussion as Emanuel seeks re-election. He said the mayor's office has been reluctant to embrace ideas from the community and wants investment in community centers to teach conflict resolution and in interracial think-tank forums.
"I think if it's not birthed in the mayor's office or City Hall, they don't take it into consideration," Brooks told HuffPost. "What has to happen is for them to go outside of their office and consider other possibilities and solutions before anything else can be done.
"If not, we're going to continue to see what we see every day: More violence."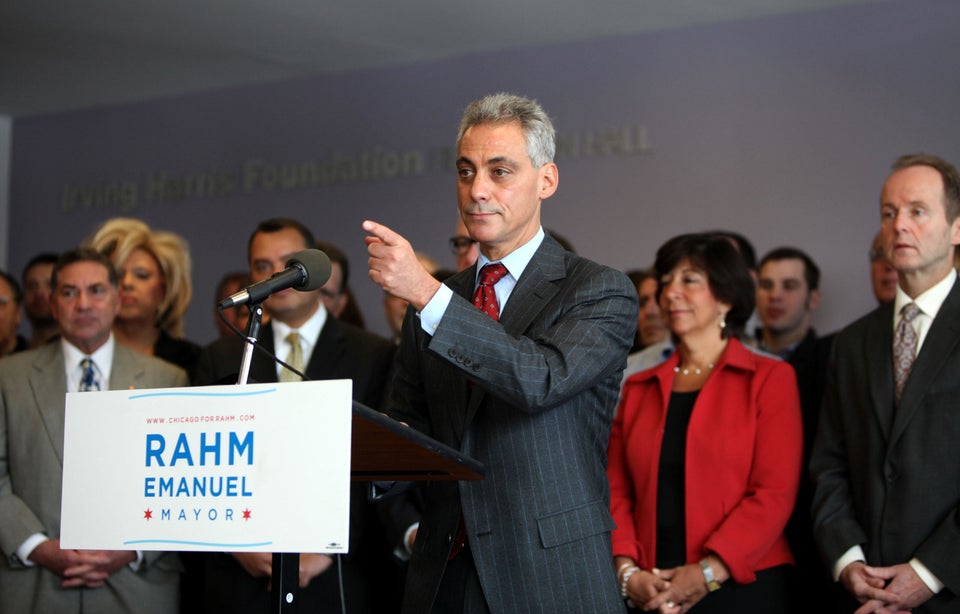 The Many Sides Of Rahm Emanuel
Popular in the Community