A boycott on Ralph Lauren, boldly launched last week by filmmaker Darryl Roberts, was generating so much buzz that news titan CNN quickly scheduled a Sunday afternoon segment on the subject. According to Roberts, a CNN official told him that a rep from Polo Ralph Lauren may make an appearance to debate Roberts' claims that Lauren had demonstrated "reckless and irresponsible" advertising, especially in recent ads.
The lights seemed to be all green. But the segment never taped.
The fact that Polo Ralph Lauren issued a statement to CNN in lieu of somebody actually appearing may have, according to Roberts, put CNN in a position of possibly, airing a one-sided story with no representation from the opposing side. Nevertheless, it only fuels Roberts' cause.
It may have all began with the filmmaker's captivating, often heart-tugging documentary, America The Beautiful, which shines the light on the effects of the media messages being fed to America's youth; more than 40,000 media messages, in fact, which clearly suggest, as Roberts puts it, that, unless you look like supermodels and rock stars, you're not good enough for anyone to love.
The documentary, still touring and also available on DVD, has been a hit in the film festival circuit internationally--it's been seen in nearly 190 cities and seven countries. Curiously, during Roberts' travels, he was approached by many women suffering from eating or body image disorders--they all resonated with the movie's theme. In a way, he became somewhat of a Pied Piper for a population often dismissed, especially by the advertising world.
When a photoshopped image of model Fillipa Hamilton appeared in a recent Ralph Lauren ad, Roberts took pause. But so did countless others. A media storm quickly ripped through Lauren's empire, forcing him to make a public apology, noting, in part: "we have learned that we are responsible for the poor imaging and retouching that resulted in a very distorted image of a woman's body. We have addressed the problem and going forward will take every precaution to ensure that the caliber of our artwork represents our brand appropriately."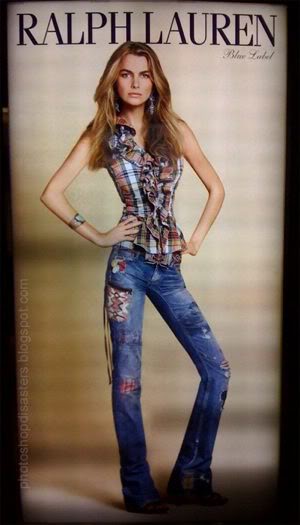 But Roberts felt that "the apology was short-lived."
Not long after the brouhaha over Hamilton's image, Roberts was emailed another RL ad being used in Australia, which also featured a very thin looking woman. When a similar, third image, popped up, Roberts received an onslaught of emails from individuals fuming over the ads--they felt Lauren's apology didn't "mean anything" because he was still running ads similar to Hamilton's. (You can view the ads here.)
"They were telling me 'we're never buying anything Ralph Lauren,'" Roberts says of the people sending the emails. "It was so overwhelming, that I thought it--the boycott--was the right thing to do on the behalf of all these women that he is disrespecting by carrying on with that kind of advertising."
Roberts included all three images in his newsletter, which also included an open letter to Lauren, and sent it out to the more than 100,000 people on his email list.
Of Polo Ralph Lauren's decision not to appear on CNN, Roberts' personal opinion was that nobody was ever going to show up in the first place. He believes that representatives of the fashion king may have been playing mental ping-pong with CNN and himself for several days last week. In addition, Roberts feels that PRL didn't feel the boycott was significant enough--until they discovered the number of individuals on the filmmaker's newsletter list and the fact that 60 organizations, including ANAD (Anorexia Nervosa and Associated Disorders), and the YWCA of America supported the cause.
Polo Ralph Lauren issued a statement in lieu of a CNN appearance: "For over 42 years Polo Ralph Lauren has built a brand based on quality, integrity and a wholesome American lifestyle. Polo Ralph Lauren has apologized for the poor retouching of the images in question and takes full responsibility for the error."
Meanwhile, Roberts had invited Dr. Maria Rago, an eating disorders specialist in the Chicagoland area, to also appear in the segment with him. An ANAD boardmember, Rago, like Roberts, has been making strides in raising the level of awareness about the unhealthy images found in today's media. Beyond her work as Clinical Director of the Eating Disorder Program at Linden Oaks Hospital in Naperville, Illinois, she's co-author of the book Shut Up Skinny Bitches! (being co-written with this blogger), which also tackles issues of body image and eating disorders in the aftermath of the emotional wreckage left by the bestseller Skinny Bitch and its "literary" spawns.
(That's another story entirely--but really, shut up skinny bitches ... and stop instilling paranoia, black-and-white thinking and the fear of swallowing too much "high calorie?" toothpaste into our psyches!)
Rago is quick to note that photoshopped images send out a harmful ripple effect.
"Young people internalize the images in their minds ... when they look in the mirror, they are not able to understand that they look right," she says. "That image they see seems to be the correct one and what they see in the mirror, seems like the wrong one.
"Most of the population dislikes their own body," she adds, "because, obviously, you can't photoshop your own body before you go to school or work."
Rago is also clear that Roberts' film came at a perfect time. "At ANAD, we've always looked for a tool for the world on how the media impacts body image," she says. "And this is the first time a tool has come along that is entertaining and funny and warm. It makes you laugh. It makes you cry. It sweeps you up and entertains you but it also makes you realize how the media was affecting you and your children."
While touring with America The Beautiful, Roberts says he has met, literally, more than 100,000 young women, the vast majority of whom have eating disorders. And the ones that didn't, thought they were "ugly."
"I show some of them on film--8- and 12-year-old girls--who insist that they are ugly and they can't tell you why," he says. "And the rest of them, have body image issues.
"From doing the film, I realized that those images--to me, they are just dumb stupid images-- but I realize that they have a lot of impact on a young girl's life," he adds. "It's reckless and irresponsible to keep advertising in that manner just so you can make money. Many young girls have low self-esteem and hate the way they look, and through the process of doing the film and meeting them, face to face, I became an advocate against advertising that way toward young girls."
Roberts says the boycott is gaining steam. An official media announcement will be released early this week and he's already talking to organizers to campaign with him.
"We're going to pick three of Lauren's biggest stores and start boycotts--right at his stores," he says. "We're going to take young girls that feel that they're ugly, or have eating disorders, to his stores ... so that they can explain to people who are attempting to go in there and shop, how their advertising affects them."
Try that one on for size, Mr. Lauren.
Related