The commemoration of June 4th once united Hong Kong people, now it divides. Perhaps this shouldn't be surprising when the number of people who identify as "Chinese" falls to new lows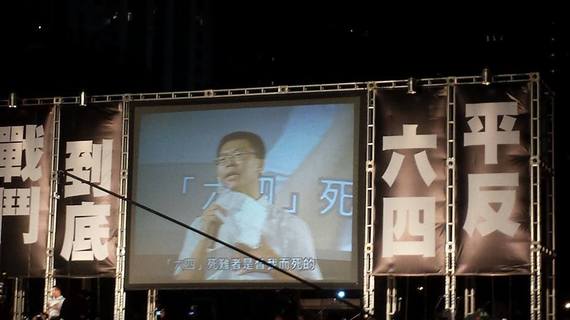 Mainland rights lawyer Teng Biao at Victoria Park, June 4th 2014: without democracy in China, Hong Kong won't have real universal suffrage (pic. Yuen Chan)
On June 4th this year, tens of thousands of candles lit up Hong Kong's Victoria Park to remember the fallen of June 4th 1989, just as they have done every year since China's government sent in the army 25 years ago to crush a popular movement calling for an end to corruption, for greater freedoms and democratic reforms.
Organisers put the turnout at 180,000, higher than last year's 150,000 and matching the record set in 2012. Hong Kong is the only place on Chinese soil where so many gather to mark June 4th without fear of retribution. For Hong Kong'ers, this makes their city different and special - proof Hong Kong is not the same as mainland China, not yet.
Victoria Park was not the only venue for June 4th commemorations. Several thousand (organisers say 7,000) people gathered across the harbour in Tsim Sha Tsui under the banner of "localism, democracy and anti-communism".
Another localist group held a protest at Sheung Shui train station, the stop before Lo Wu in China's Shenzhen. Sheung Shui has become a hotspot in the increasing tensions between locals and the 20,000 estimated "parallel traders" crossing the border daily to buy goods in Hong Kong for resale in the Mainland.
Yet another, smaller group of people with localist sympathies met in a small park opposite the barracks of the People's Liberation Army (PLA) in Central.
The number of events and groups this year reflects more than the diversity of opinion and free speech in Hong Kong, it also highlights a shift in the way Hong Kong society perceives the meaning of June 4th ,how it relates to both mainland China and the territory itself, and to the rise of localism.
Localism or "bun to" literally means "this earth" and generally refers to views and sentiments that take Hong Kong's local language (Cantonese), culture, history and shared experience and values to be the core of the city's identity.
The term came to prominence when young activists waged (ultimately unsuccessful) campaigns to protect historic Hong Kong landmarks in 2007 and to block funding for a new high speed railway linking Hong Kong to the Mainland in 2009.
Despite identifying closely with Hong Kong, those activists were sympathetic to democracy movements on the Mainland and to disadvantaged groups, including new immigrants from the Mainland.
More recently, forms of localism that reject the Mainland and mainlanders have emerged. Tensions caused by the impact of tens of millions of mainland tourists in this city of seven million people led some localists to brand mainlanders in Hong Kong as "locusts". Some even advocate Hong Kong independence and wave flags based on the British colonial flag of Hong Kong.
These localists distrust the organizer of the Victoria Park protests, the Hong Kong Alliance in Support of Patriotic Democratic Movements in China (The Alliance) and the pan-democratic political parties associated with it.
They accuse the Alliance and its allies of betraying Hong Kong's interests by clinging to the ideal of a democratic China and demand that Beijing reverse its official verdict on the 1989 movement and the June 4th crackdown.
Some have gone so far as to call those who attended the Victoria Park vigil as "Chinese", in contrast to the true "Hong Kong'ers" who went to the alternative events.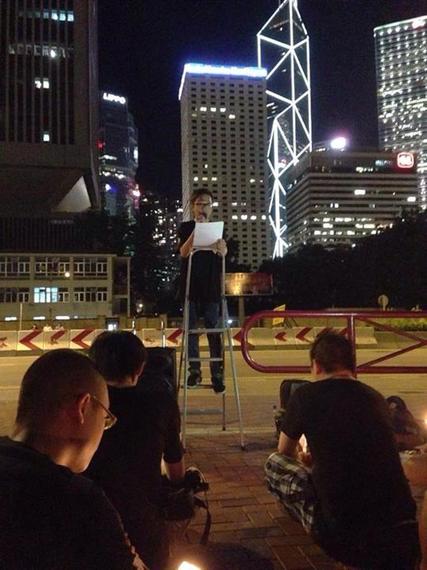 Anthony Yiu addresses June 4th gathering outside PLA barracks (pic. Anthony Yiu)
Anthony Yiu, who organized the event opposite the PLA barracks is not interested in dividing people this way. However, the 39 year-old adverstising creative is sympathetic to the view that Hong Kong's continued concern for June 4th is a kind of sentimental baggage obstructing the fight for Hong Kong's autonomy.
"I also used to believe we needed democracy in China (to have democracy in Hong Kong). Around four years ago, I began to see it as a kind of fraud. We don't have the ability to make it happen, it is a waste of our time to fight for Chinese democracy," he says.
It was not always thus. In 1989, Yiu was a high school student who joined members of his family and over a million other Hong Kong people in rain-drenched protests against the bloody crackdown.
"I saw my Dad crying for one whole night. I was very young, I didn't feel that sad, I didn't feel any kind of Chinese identity. But I thought it was wrong, it was unreasonable," he recalls.
As 1997 approached, Yiu felt neutral about the impending handover to Chinese rule, although by then, members of his family were setting off fireworks to celebrate.
"But I wasn't afraid either. I thought you know, we had a deal," he says of the Sino-British Joint Declaration which guaranteed Hong Kong's laws, institutions and way of life would remain unchanged for 50 years under Chinese rule.
By the new millennium, Yiu was upbeat about China. Its economy was booming and brought opportunities for Hong Kong. He began to wonder whether the government may not have been so wrong in 1989, after all economic reforms were accelerated afterwards.
"When China made it to the World Cup in 2002, I jumped in joy," recalls Yiu with some embarrassment.
Even then, his China-friendly sentiments were complicated. He still attended the annual vigils in Victoria Park because, he says, "Remembering June 4th and telling the Chinese people and the world we remembered was in our blood as Hong Kong people."
And he began to see China in a different light in around 2008. "Bejing hosted the Olympics, China had the world's second largest economy. But I saw the way they treated Hong Kong. There was more interference," he says.
His feelings towards Chinese people from the Mainland also began to change. "I used to hang out with mainlander friends, some of my relatives are Mainlanders. It was never a problem before. But I feel something has changed," he says. "Under the regime, under the system of state and crony capitalism, people now are selfish."
Yiu says he has come to the conclusion that Hong Kong'ers and mainland Chinese are "different kinds of people, with a different history and culture, experiences and values."
These days, he describes himself as a Hong Kong'er and as an ethnic Chinese rather than as a Chinese and refers to China as "that country", neither "my country" nor quite a foreign country.
Accordingly, he says, June 4th is no longer any of his business.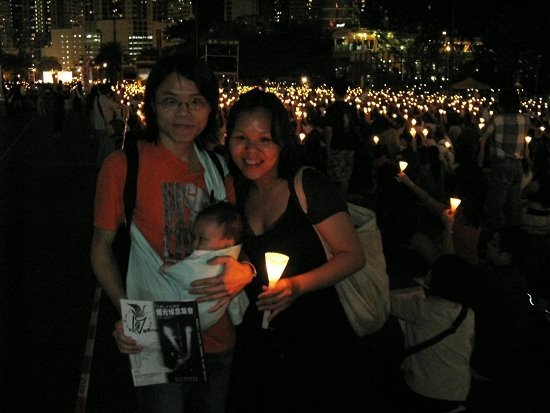 Franklen Choi with wife and son at Victoria Park, June 4th 2008 (Pic. Franklen Choi)
Unlike Yiu, 44 year-old college lecturer Franklen Choi readily concedes that June 4th is his business. "June 4th has something to do with me because the regime responsible for June 4th has something to do with me. Even today, that regime is still standing in the way of our [Hong Kong's] progress," he says.
Choi, who teaches social policy and social studies, has taken part in every Victoria Park vigil and has taken his son there every year since he was born in 2008.
But in May last year, Choi suddenly found himself at the centre of a storm when a Facebook status he posted went viral on social media. In it, Choi said he had attended every candlelit vigil but the organiser's theme of "Loving the country and the people is the spirit of Hong Kong" would keep him away.
"I'm not going because I don't love the country," said Choi's post.
Barely a year after mass demonstrations forced the government to shelve plans to mandate patriotic education in Hong Kong's schools, Choi's message struck a nerve. The Hong Kong Alliance quietly dropped "loving the country" from the theme.
While he admires Chinese philosophy, Choi says he has never really felt Chinese. He grew up working class "during the golden age of Hong Kong, in the 1970s and 80s when Hong Kong's economy was taking off and popular culture was at its peak."
Choi's vision of Hong Kong is a diverse one made up of ethnic minorities and migrants alongside the majority ethnic Chinese. He has been involved in social activism and supports migrants' rights. Although he is staunchly pro-Hong Kong, he is far removed from the stereotype of a xenophobic Mainlander-bashing Hong Kong'er sometimes portrayed in overseas media.
What he is angry about is the impact of the sheer scale of the flow of mainland visitors to Hong Kong on its culture and way of life; about Hong Kong's lack of a say over who is permitted to settle here under the Mainland's One-Way Permit immigration scheme; the creeping use of Puthonghua as a teaching language in Hong Kong's schools and Beijing's increasingly heavy-handed intervention in Hong Kong's daily affairs.
"Since the handover, what we have seen is the re-colonisation of Hong Kong," he says.For Choi, the meaning of June 4th in Hong Kong needs to be more explicitly linked to Hong Kong's own fight to preserve its autonomy and struggle for real democracy - something the Hong Kong Alliance and mainstream pro-democratic groups have failed to do.
"There is nothing we can do to further democracy in [mainland] China. We have to work on Hong Kong first. We need universal suffrage, we need democracy in everyday life," he says.
Yiu and Choi's discontent and disillusionment with the old ideas of pan-Chinese democracy are shared by a growing number of Hong Kong'ers, especially those from the younger generation, some of whom are attracted to the idea of Hong Kong independence.
Neither Yiu nor Choi will go that far. Although they would broadly describe themselves as localists, they refuse to call Mainlanders locusts or accuse Hong Kong'ers who support Chinese democracy movements of being "traitors".
Both chose to mark June 4th in their own ways - Yiu arranged a gathering of individuals who simply wanted to remember and pay their respects. Choi, despite his misgivings, attended the Victoria Park vigil, just as he eventually did last year.
In the end, Choi's wavering over whether to attend was settled by his five year-old son, who insisted he wanted to go, "to commemorate the students who were killed the government."
Indeed in recent years, many of the faces at Victoria Park on June 4th, have been those of young people, born after the events of 1989 and increasingly, after the 1997 handover. The localization of June 4th
Lingnan University scholar Law Wing-sang, who has written extensively about decolonization, says the story of June 4th in Hong Kong is a story of the struggle of memory over forgetfulness. It is a process in which the meaning of June 4th in Hong Kong, to Hong Kong people is being constantly remade, so that June 4th - its memory, its commemoration and its many meanings, are already localized.
The pro-democracy movement of 1989 and its crushing came at a time when Hong Kong's future was being negotiated between the outgoing colonial power, Britain and the incoming sovereign power, China. For the city's residents, the hopes, the anxieties and finally the fears of what that entailed were crystallised in the events of the night of June 3rd/June 4th 1989.
According to Law, June 4th 1989 marks the awakening of Hong Kong people's sense of identity, as subjects in their own right. There had been social actions in Hong Kong before June 4th 1989, and many more since then. But the city has never been united - across all sectors and walks of life - in the same way.
The memory of that united response is so powerful that even today, leading public figures are periodically grilled on their views about June 4th, their responses held up for comparison with their past pronouncements.
But while June 4th may already be localized, Hong Kong's pan-democrats have failed to adequately articulate this. They have struggled to spell out the link between June 4th and the development of Hong Kong's sense of self, its struggle to maintain its autonomy and its fight for greater democracy.
As a result, they have failed to encourage development of a non-isolationist "localism" that acknowledges the reality of the giant autocratic regime on the doorstep without subordinating Hong Kong's struggle for democracy to the struggle for democracy in the Mainland.
For Law, Hong Kong people face two choices in coming to terms with its post-1997 identity. We can either try to cleanse the past and create a new identity or we can acknowledge and understand our legacy, discover ourselves anew from our accumulation of memories, experiences and values.
Hong Kong's experience of June 4th is an important part of that legacy, says Law. "Bidding farewell to June 4th, is like bidding farewell to ourselves, to who we are."
Popular in the Community