* Tactic would be alternative to government shutdown threat on Obamacare
* Cantor aide says debt limit could be way to try to force action
* Another leadership aide says there are discussions but no decision yet
WASHINGTON, Aug 21 (Reuters) - U.S. Republican lawmakers, who staunchly oppose President Barack Obama's signature healthcare law, are considering using a fall showdown over the country's borrowing limit as leverage to try to delay the law's implementation.
The idea is gaining traction among Republican leaders in the House of Representatives, aides said on Wednesday. An aide to House Majority Leader Eric Cantor said the debt limit is a "good leverage point" to try to force some action on the healthcare law known as "Obamacare."
"There are plenty of discussions ongoing but no decisions at this point," said another leadership aide.
Republicans are weighing the tactic as an alternative to another approach that would involve denying funding for the law and threatening a possible government shutdown.
The push to deny funding for Obamacare has the backing of some prominent Republican senators, including Ted Cruz of Texas and Marco Rubio of Florida.
But many Republicans in both the House and the Senate oppose the shutdown strategy, viewing it as a reckless move that is bound to fail. Many worry the gambit would cause a backlash against their party ahead of the 2014 congressional elections.
When lawmakers return on Sept. 9 from their five-week summer recess, they will face two fall deadlines. If Congress does not pass a measure by Oct. 1 to keep federal agencies funded, the government will shut down.
Another standoff looms in late October or early November when lawmakers must pass an increase in the U.S. debt limit or face a default on the country's debt.
Under one scenario for tackling the fall fiscal fights, Republicans might pass a two-month spending bill at the end of September. That would remove any threat of a shutdown before the debt limit deadline comes up.

REPUBLICANS EYE FALL OBAMACARE ROLLOUT
As Congress and Obama spar over spending and the debt limit this fall, Obama will also be focused on the rollout of key provisions of the health care law that kick in at the beginning of 2014.
Republicans see the coming weeks as their last chance to try to stop or weaken the law. They contend the law will be a burden on businesses and cost jobs.
In the House of Representatives, Congressman Mark Meadows, a Republican from North Carolina, has been trying to rally House Republicans behind the government shutdown strategy and plans to release a letter on Thursday signed by lawmakers who support that tactic.
Those who are cool to the shutdown strategy include Cantor and House Speaker John Boehner. Just before lawmakers headed out on their August recess, Boehner sought to rally Republicans behind an alternative approaches to undermining Obamacare.
In a closed-door meeting with House Republicans Boehner said the chamber would "take targeted, regular votes" throughout the fall aimed at weakening Obamacare.
With lawmakers still scattered throughout the country during the summer break, Boehner plans to hold a conference call on Thursday with Republican House members.
A senior Republican aide said Boehner holds such calls every August and that the purpose "is just to hear from members" about what constituents are saying.
With Obamacare a top issue for many lawmakers, it is sure to be discussed during the call.
In town hall-style gatherings and meetings that lawmakers are having with constituents during the recess, Obamacare has emerged as one of the biggest issues.
"There's concern, there's worry and then there's anger and fear," said Congressman Marlin Stutzman, a Republican of Indiana.
Stutzman said he plans to sign the letter being circulated by Meadows of North Carolina calling for a defunding of Obamacare.
On Wednesday night, at a lively town hall meeting in Allentown, Pennsylvania, Republican Representative Charlie Dent called Obamacare "fatally flawed" and predicted it would lead employers to cut workers' hours or jobs.
The Pennsylvania lawmaker talked of a hotel owner who confided to him that he's worried he will need to cut his workers' hours to part time. Starting in 2015, the law will require many companies to provide insurance for full-time employees.
Unlike Stutzman, Dent does not support using the threat of a government shutdown as leverage on Obamacare. He said he didn't think the tactic would work.
Obamacare was raised repeatedly by attendees at the town hall, although other issues such as immigration and tax reform also came up.
Conservative groups, including Heritage Action for America, have been holding events in lawmakers' districts to try to pressure them to support the push to withhold funding for the healthcare law.
Heritage Action is spending $550,000 on online ads and is holding a multi-state tour to push the issue.

Before You Go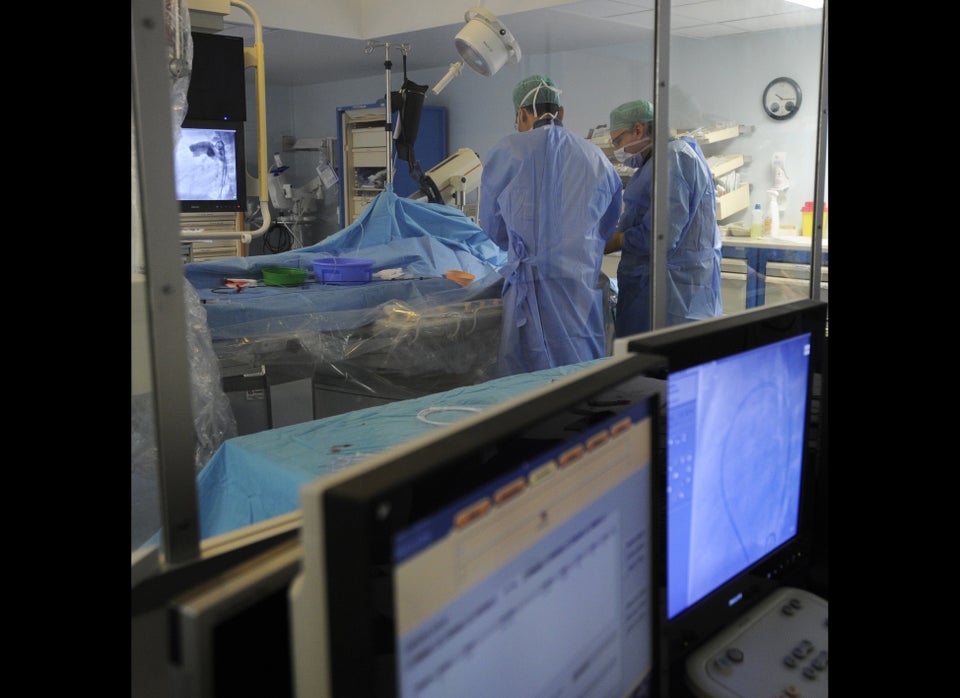 Lies And Distortions Of The Health Care Debate
Popular in the Community