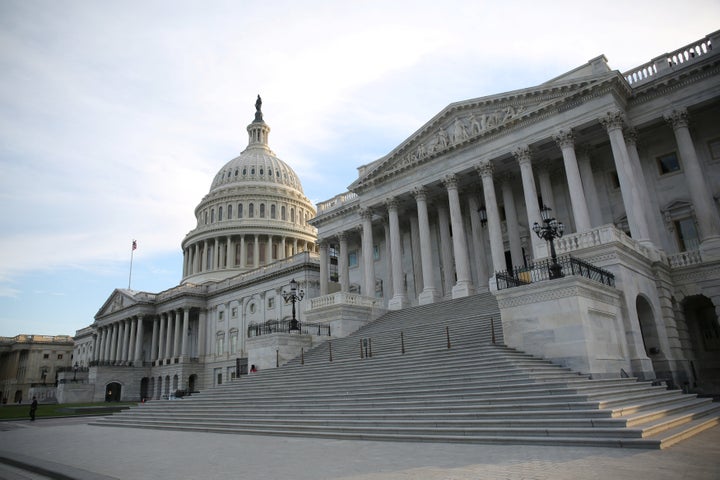 The Republican bill to repeal Obamacare remains as unpopular as ever, a new survey finds.
Americans are split on the value of the current health care law, according to the poll, with 41 percent in favor and 42 percent opposed. (Other recent surveys have found somewhat higher support.) But by a nearly 2 to 1 margin, 42 percent to 23 percent, they say they expect that the GOP alternative would be a change for the worse, not the better.
Just 12 percent of Americans expect the GOP's bill to affect them positively if it passes, while 31 percent say it would leave them personally worse off. The majority, 57 percent, say they wouldn't be affected or that they're not sure what the effects would be.
Sixty-two percent of Trump voters say they support the AHCA ― that number is up from March but down from the 75 percent who favored it earlier this month. Just 3 percent of Clinton voters support the bill, which represents little change from past surveys.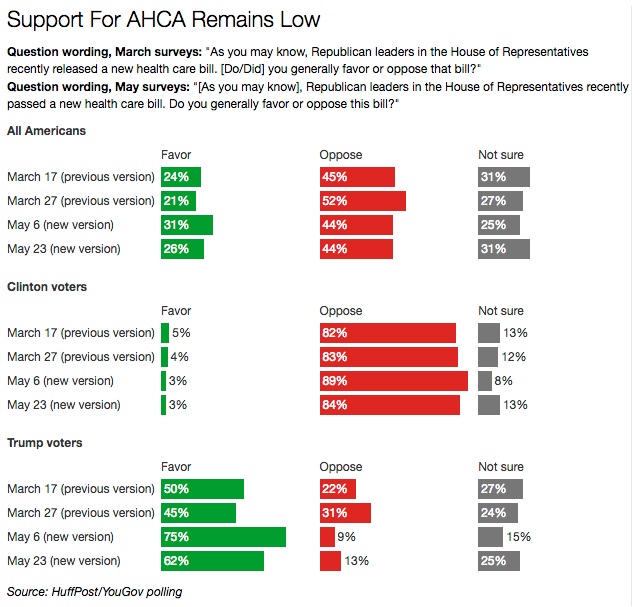 As in previous polls, staunch opposition to the bill far outweighs any fervent support. Just 6 percent of people strongly favor the bill, while more than five times as many, 32 percent, strongly oppose it.

One reason that uncertainty about the bill remains as high as it's ever been: The AHCA has struggled to stay in the news amid a rapid-fire accumulation of other political stories, including controversies over the Trump administration's relationship with Russia. While 83 percent of people say they've heard at least something about the new bill, just about one-third say they've heard a lot about it recently.
And although Americans are both unenthused about the AHCA and bothered by some of the most recent Russia stories, there are signs that the former is currently the more politically damaging issue. For one thing, Trump's supporters have rallied to his side around the Russia revelations in a way they haven't with the health bill.
For another, people simply seem to care a lot more about their own health care. Asked to pick the two issues most important to them, 47 percent of Americans named health care, outranking every single other issue listed. The economy ranked second, at 38 percent. Immigration came in at 20 percent. Just 12 percent chose Trump's relationship with Russia as one of the issues most important to them.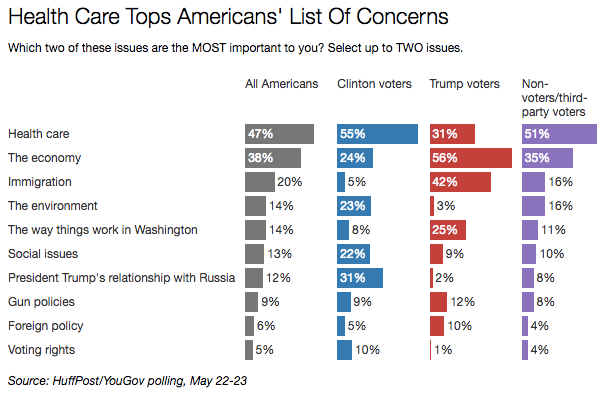 Use the widget below to further explore the results of the HuffPost/YouGov survey, using the menu at the top to select survey questions and the buttons at the bottom to filter the data by subgroups:
The HuffPost/YouGov poll consisted of 1,000 completed interviews conducted May 22-23 among U.S. adults, using a sample selected from YouGov's opt-in online panel to match the demographics and other characteristics of the adult U.S. population.
HuffPost has teamed up with YouGov to conduct daily opinion polls.You can learn more about this project and take part in YouGov's nationally representative opinion polling. Data from all HuffPost/YouGov polls can be found here. More details on the polls' methodology are available here.
Most surveys report a margin of error that represents some, but not all, potential survey errors. YouGov's reports include a model-based margin of error, which rests on a specific set of statistical assumptions about the selected sample, rather than the standard methodology for random probability sampling. If these assumptions are wrong, the model-based margin of error may also be inaccurate. Click here for a more detailed explanation of the model-based margin of error.
Popular in the Community