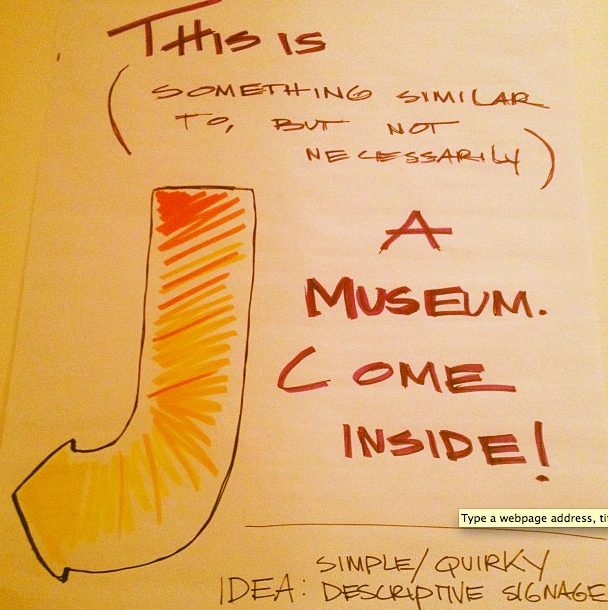 I spent an outsized portion of last week on a unique experience. It was a four-day Maniacal Business Attack (MBA) orchestrated by COMMON for the Wolfsonian Museum in South Beach. What's a Maniacal Business Attack... what's Common, and what's the Wolfsonian you might be asking? And why is any of this interesting?
Well, the Wolfsonian is museum in South Beach that houses a collection of objects, art, and literature from 1850-1950 acquired by Micky Wolfson over his life. The time period and scope of the collection means it is full of resources related to design, media, politics, and technology -- all topics that drive today's world. Other trivia about the Wolfsonian is that it's affiliated with Florida International University and it has a café that you haven't been to yet. Oh, and I serve on the Marketing Committee there.
COMMON, founded by former ad-man turned consumer advocate Alex Bogusky, styles itself "a collaborative brand and creative community for accelerating social change." I would describe it as a life-coach for organizations. The primary facilitators are Mark Eckhardt, a digital strategist/Zen priest, and Rich Demato, an entertainment exec turned world-changer. They spend months preparing a corporate retreat style agenda and then they bring their socially innovative, spiritually aware, brand conscious methodology directly to clients all over the world. When they finally arrive, COMMON brings with it a gang of mercenary creatives armed with sharpies, scissors, and fresh ideas. It's an entire production.
A Maniacal Business Attack is what COMMON calls the four-day workshop that it delivers to clients. The experience is crafted to both destabilize and to offer a safe environment for participants, providing an atmosphere where difficult questions can be asked and hot-topic issues addressed. To me, it felt remarkably similar to previous life-coaching immersions I've attended... and that makes sense. Like a person, an organization can get stuck in periods of "mehhh" (technical term) and just like a person, an organization can use help in breaking old habits and stimulating growth.
Still, we only change when we are ready to change. That's the beauty, and challenge, of the COMMON MBA. Success is only unlocked if the collaboration with existing stakeholders generates the internal heat needed for buy-in and long-term support. As far as I'm concerned, that is the fundamental condition for success and if COMMON gets it right, the four-day effort gets a fighting chance to have a long-term impact.
Last week, 30 very busy and successful people donated their time to the Wolfsonian. The hardest work, I would say, was to break down old patterns of thought and to agree on language that represented the organization. We spent two days (approx 20 hours) getting clear on the vision, mission, and values of the organization. It was a long and painful process, especially for museum execs, but it was fundamental to the exercise. Day three, on the other hand was a lot of fun and energizing... we spent that day building up and articulating the Wolfsonian's story. We also had a really nice dinner party on that day, mojitos and salsa lessons included. The last leg, Day 4, was dedicated to ideating, prototyping, and vetting initiatives that support the work we had done earlier and wrapping up the MBA.
My concluding thoughts are that COMMON crafted a well-thought-out flow to the MBA. The facilitators took us pretty deep, which is important, because the investment of time and energy was massive. You shouldn't put your organization through a process of this magnitude unless you ready to commit to and effect major change. Frankly, the true work begins now, after the catalytic experience. I have hopes that the Wolfsonian executives can take the learnings from last week and integrate them into both the daily operations and the over-arching strategy of the museum. If they can do that, then they will realize a huge ROI on the MBA.
The real beneficiary of COMMON's MBA on the Wolfsonian, though, is the Miami community. If the Wolfsonian really can adopt some of the central ideas we discussed and live up to the vision we articulated, it has a serious chance at impacting this town, maybe even the world.
Article originally published as COMMON Mercenaries Attack the Wolf on Myk Likes
Related
Popular in the Community