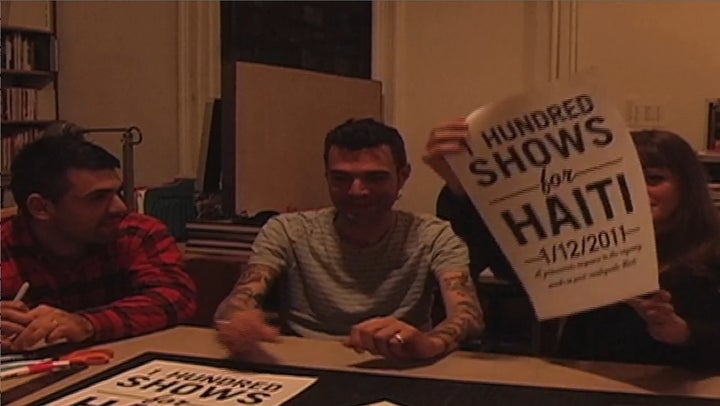 As we approach the one-year anniversary of the devastating earthquake that leveled Haiti's landscape and further imperiled it's political infrastructure and stability as a nation, a grassroots call to action called "The 100 Shows For Haiti" is rallying a second wind of charitable actions in solidarity with the people of Haiti.
The concept is a simple one, to organize 100 benefits that directly support Haiti, with no middle agencies, no payrolls, no operating budgets, just a variety of events of various sizes fueled by an Internet savvy D.I.Y. ethic. "The 100 Shows For Haiti" idea began with Maurice Mitchell, a 30-year-old advocate for public education from Long Beach, N.Y., who spends his free time singing in the political punk band Cipher. He shared the idea with three friends in October and within a week the three had set up a website dedicated to the idea. By December 1, the small group of friends had confirmed five benefit events and began promoting them, by January 1, attention to the project grew and over 20 events were confirmed with more pending, as of January 8, 2011 there are 72 confirmed benefit concerts in six different countries, with support from artists of all genres ranging from local musicians to national recording artists, over a dozen bake sales and a handful of auctions and sponsorships that have partnered with the project.
The marketing approach behind the 100 Shows For Haiti was equally simple, encouraging participants to use whatever media they can get their hands on to tell their friends about the project, then have all of those friends tell theirs, to lead by example by doing your own event, and then to encourage others to do their own event no matter how big or small that event may be. The 100 Shows For Haiti invites you to become part of this mass action in solidarity with the people of Haiti. You can begin by sharing this video on your facebook profile, your twitter accounts, on your tumblr, your personal blogs... But don't let it end there, call your friends organize an event with them and then submit it as part of the drive by emailing mypart@100showsforhaiti.com.
The story of The 100 Shows For Haiti began as a deeply personal one and it ends that way as well. An idea that began in Maurice Mitchell's head ends by directly supporting one doctor's vision for free heath care in Port Au Prince, Haiti. Dr. Jacque Denis and the Centre de Saint Martin II clinic will be supported directly by this benefit drive. After the earthquake Dr. Denis decided to offer all heath care services at his clinic free of charge to whomever walks up. Dr. Denis' unbridled selflessness caught the eye of those involved with the 100 Shows For Haiti and for that reason his clinic will be directly supported by the drive.
It is easy to feel troubled when you read that only 2 percent of the earthquake debris was cleared by November 2010, or that only 38 percent of the charitable donations raised in 2010 made it through to Haiti or worse yet, that the 1.5 billion dollars of U.S. aid pledged to Haiti is still being held up in Washington. Equally easy is it to see why the 100 Shows For Haiti campaign is such a breath of fresh air. The 100 Shows For Haiti campaign is one that empowers those involved to step outside the model of looking to oversized non-profits with exhaustive operating budgets for answers to global problems like that of the ongoing needs in Haiti and to start looking at themselves as the place where lasting change begins.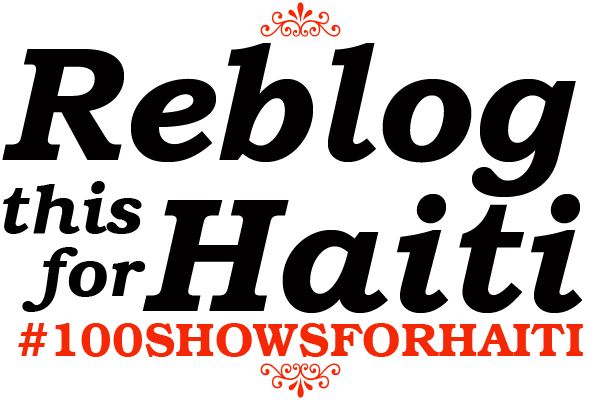 I invite you to get involved, to share this with others, and to become part of this groundswell of grassroots support for Haiti.
REAL LIFE. REAL NEWS. REAL VOICES.
Help us tell more of the stories that matter from voices that too often remain unheard.