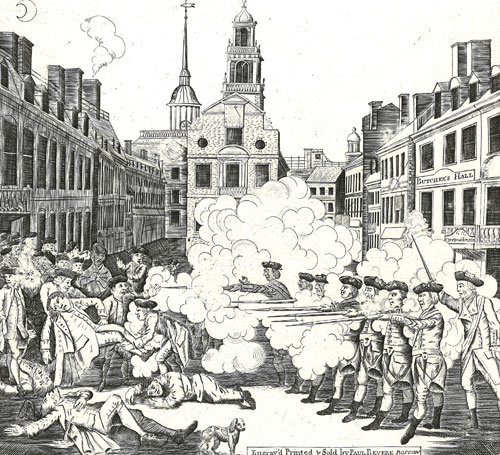 Countless articles have been published on the impact of social media on the Arab Spring revolutions of the Middle East and Northern Africa. Journalists and bloggers work frantically around the clock, breaking news stories about the civil uprisings, protests and bloodshed. Cable news channels and websites stream updated headlines non-stop across their screens. Using Twitter and Facebook, millions of citizen journalists scramble to share the latest Arab Spring news affecting their lives, practically in real-time.
Considering the combined impact of traditional and social media on 21st century politics, it is difficult to imagine a time when media were more important. However, 250 years ago, newspapers were the fundamental form of media and arguably more important than any other time in history. Just as social media is helping to ignite and organize the Arab Spring, printed newspapers fanned the flames of rebellion in colonial America, provided critical correspondence during the Revolutionary War, sustained loyalty to the cause and ultimately aided in the outcome.
Through vivid eyewitness accounts, battlefield letters and official dispatches, American Revolution era newspapers were filled with raw, breaking news, full of intense action, drama and suspense. Americans maintained "Liberty or Death! Join or Die!" attitudes with blood as well as ink on their hands. It was a printer's revolution and these frontline newspapers delivered the 18th century equivalent of Facebook and Twitter.
Mark Twain wrote "of the wide difference in interest between 'news' and 'history;' that news is history in its first and best form, its vivid and fascinating form; and that history is the pale and tranquil reflection of it." For that, we look to contemporary newspapers to better understand events of the American Revolution, such as the Boston Massacre.
By 1770, incidents between Patriots and Loyalists were becoming more common and more tragic in Boston.
On February 22, 1770, to disperse a crowd of boys who were attacking a shop in his neighborhood, loyalist sympathizer and customs informant Ebeneezer Richardson fired his gun from his window, killing 10-year-old Christopher Seider, who was bending over to pick up a rock when he was shot.
On March 2, at John Gray's ropewalk, an unpleasant exchange between a British soldier and journeyman ropeworker incited a nasty street brawl that grew in numbers with dozens of soldiers and ropeworkers soon exchanging blows. These street fights helped trigger the event known as the Boston Massacre three days later, on the frigid evening of March 5.
Following a clash between an angry patriot mob and a British sentry standing outside the Custom House on King Street (now State Street), Captain Thomas Preston marched eight troops from the nearby-stationed 29th Regiment to reinforce the soldier. The crowd swelled to several hundred and their harassment intensified, hurling snow balls, ice chunks and stones while yelling insults and instructions to "fire if you dare, God damn you, fire!" Despite Preston's orders not to fire, the soldiers' muskets were unloaded on the mob, killing five men -- three instantly and two of mortal wounds. News of the tragedy raced through the colonies and Patriots scrambled to compile their version of the event in a pamphlet titled A Short Narrative of the Horrid Massacre.
While the lengthy narrative dominated the pages of the pamphlet, a more concise "Report of the Committee of the Town of Boston" taken from a March 12 town meeting, was printed first. John Hancock, Samuel Adams, Joseph Warren and other committee members authored the report, which was published in March 20, 1770, Essex Gazette (as shown), printed about 15 miles north of Boston, in Salem, Massachusetts. According to the report, a servant was forced to fire a gun upon the people from the Custom House, which was depicted in Paul Revere's engraving of the event. Read the original report below.
Excerpts from this article appear in the March/April 2012 issue of Patriots of the American Revolution magazine. Look for more American Revolution newspaper accounts in Andrlik's forthcoming book Reporting the Revolution (Sourcebooks, November 2012). Coming together to help put hundreds of original newspapers accounts in context are 38 top historians -- including professors, scholars, authors and park rangers -- who have contributed more than 60 fascinating essays to the book. These essays chronicle the impact these papers made on America's War of Independence.

Popular in the Community