Can we rise above our prejudices with honest conversation? In his tour de force one-man show Rhapsody in Black, directed by Oscar winner and American Theater Hall-of-Famer Estelle Parsons, LeLand Gantt trumpets a resounding "YES."
Currently running as a special workshop production at the Actors Studio, Rhapsody in Black explores LeLand's personal journey to understand and eventually transcend racism in America. For approximately an hour and a half we follow his spellbinding life story -- from an underprivileged childhood in the ghettos of McKeesport, Pennsylvania to teenage experiments with crime and drugs to scholastic achievement and an acting career that land adult LeLand in situations where he is virtually the only African-American in the room. How he manages to cope with the various psychological effects of consistently being marked The Other is recounted in remarkable and exquisitely moving detail, guaranteed to leave lasting impressions on the hearts and minds of anyone who isn't a robot.
Multiple elements combine to give Rhapsody its super-powered emotional punch, many of them concentrated in the incredible persona of its star. Charming, self-deprecatingly funny, linguistically awesome, LeLand Gantt imbues every word that falls from his mouth with all the passion and poignancy of a preacher speaking the Gospel. This is partly because he's confronting heavy subjects, but mostly because he believes so firmly in his message that it's impossible for it to emerge any other way. In his own words, "Objective truth strikes a chord."
There is a spark of divinity on this planet, but there are things that we as a society are trained not to pay much attention to. As a black man in America, one of the preeminent forces that has worked on me is racism. Why should we look at the differences and be so blind to what connects us? This is a conversation we should be having.
The first third of the play examines racism in the '60s and '70s, those pivotal years of the Civil Rights movement when black leaders were, as LeLand notes, "dropping like autumn leaves. Medgar, Malcolm, Martin. The lesson? 'You want to be a leader for your people? We'll take you out.'"
Surely society has moved past that, you say. But given fairly recent incidents like the Fruitvale Station or Trayvon Martin shootings -- or even last week's retail discrimination cases -- it's clear that as a country we remain a long distance from where we need to be. (LeLand's own brush with wrongful accusation, an anecdote from the mid-1990s, still rings eerily true for police behavior toward a suspect today and is one of the more harrowing moments of the show.)
"This piece is so original," says director Estelle Parsons, "because people don't talk about these things. I think it's wonderful to have somebody get up and in their own words say, 'Here's what I went through, here's the effect all these things had on me.'" She adds that renowned African-American director/producer Woodie King Jr., upon seeing Rhapsody, commented: "[The story] is true of so many black men, but nobody will stand up and say it."
The Actors Studio, which focuses on the artist's internal psycho-emotional process, provides a perfect setting for the show's development. LeLand began jotting down notes for Rhapsody in 1995 while filming a movie in Los Angeles (back then he envisioned it with multiple characters), later reimagining the play as a solo piece while on his honeymoon in 2001. However, it wasn't until he started working in the Studio's weekly acting session -- where actors perform scenes in various stages of rehearsal -- that he was encouraged to flesh out the project.
Estelle, who frequently moderates the sessions and sits on the Studio's Board, recalls:
Everybody was extremely enthusiastic about it. It was just terrific! So then we wanted to put it in [the Studio's] Playwrights/Directors Unit, and it worked so well that he just needed the opportunity, as all actors do, to play it and get it really into his bones. So then we said, 'Let's give him three weekends with an audience and see how it goes.' Now we're trying to get in people from New York regional theatres and see if they would have some interest in it.
For a first-time playwright, LeLand couldn't have found a better collaborator than Estelle, whose experience with one-person shows (especially her critically acclaimed turn -- twice! -- as the title character in Miss Margarida's Way) made her the perfect choice to direct.
"I think Estelle's a genius," says LeLand. "She has incredible sight. She's passionate. She forces me to be more specific. She is a truly authentic personality without apology."
For her part, though Estelle had some initial concerns about her involvement -- "I didn't think I was the right person for it because I'm not a 'concept' director. I'm much more interested in [helping] actors move forward in their artistic development" -- she agrees that the creative partnership with LeLand has been exceptionally rewarding.
He's a born performer, and the material's very, very strong. It's growing all the time. So I guess we'll probably see it through together at this point because we're so excited about the progress we're making.
As a duo, LeLand and Estelle craft a gorgeous magic; she emphasizes physicality in her direction and he exercises enviable mastery over his body. Onstage LeLand is a tornado of motion. Watching him cavort, contort, twist and twirl around the stage to illustrate his stories, one discovers the real "rhapsody" of the title -- a languid, expressive dance through time and place and the music of human behavior.
Beyond its unquestionably potent insights into the vagaries of racism, Rhapsody draws its real strength and universal resonance from investigating the impact of low self-esteem on our psyches. Who finds us attractive and capable, who rejects us (not merely in the sexual sense, though LeLand points out that that can be a huge part of it) -- figures exceedingly into how we view and present ourselves to the world. It informs the choices we make and how much control we believe we have over our lives.
I focus on self-esteem in order to provide both sides of the paradigm, the deleterious aspect as well as the potential for change and ascension, transcendence. Because with the right poison you'll never feel that you're anything.

I've always felt I was special, but on the other hand all my life people have said, 'You're nothing.' So it's just the little man in the room in the subterranean basement under the bomb shelters whispering, and I've got the whole house on top of me saying, "You're nothing." Now I've shrugged the house off. The foundation has been excavated. The man is out of the little room, standing on level ground, screaming! And I find it difficult to believe.
Pain of being The Other is relative. If you have ever felt like a freak or second-class citizen, if you have ever been convinced you are worthless, if you have struggled with abandonment or poverty, if you have difficulty believing that you are capable of ever being loved, if you have turned to any sort of substance abuse to silence the hurt and rage that will not abate because "some things don't wash off" -- whatever your background, if you have known loneliness, you will find truth and triumph in Rhapsody in Black.
Toward the end of the show LeLand discusses the two major attitudes toward discrimination, the realistic and the fantastic. He admits that the realistic adage of, "accept it and move on" doesn't work for him." "How can I accept the unacceptable?"
Instead he advocates a kind of spiritual origami, looking inward to address your own prejudices and then seeking to learn about those of your fellow men: "All these people we have predisposed ideas about are not the adversary. We can afford to have a conversation."
If we could all be as real with each other as LeLand Gantt is with himself, that would become a fantastic life-altering conversation indeed.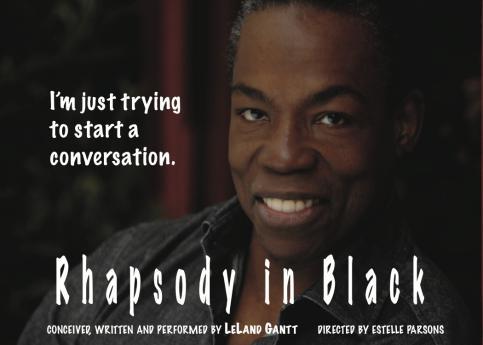 (Photo credit: Joe Henson)
Rhapsody in Black plays at the Actors Studio through November 17, 2013. Please email reservations@theactorsstudio.org or call 1-212-757-0870 ext. 0 for details.
Calling all HuffPost superfans!
Sign up for membership to become a founding member and help shape HuffPost's next chapter