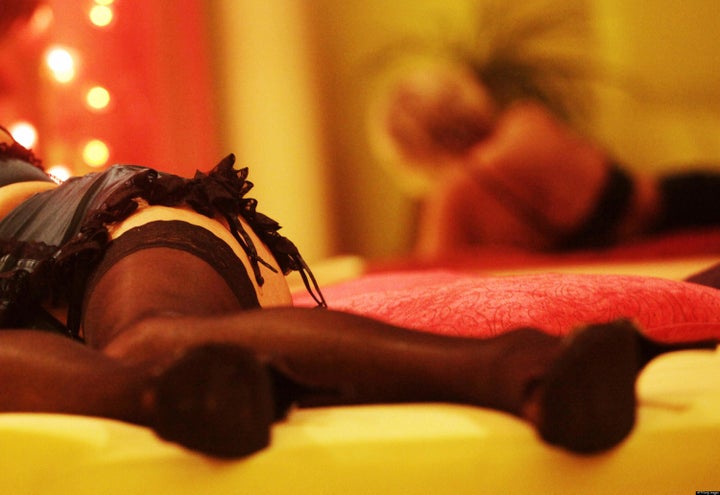 It was kimchi, rice, and Starbucks at Sunday morning's meeting at Providence's Direct Action for Rights and Equality (DARE). About three-dozen Korean "spa" managers and workers -- yes, prostitutes -- had gathered to discuss concerns about the pending outlawing of prostitution in Rhode Island with legislators, victims' rights advocates, prison reformers, and anti-human trafficking activists. The General Assembly will convene this week, and will likely overturn three decades of decriminalized prostitution here.
Rhode Island is one of two states without blanket prostitution bans. It's only sanctioned in a few counties in Nevada, but in RI it's legal everywhere, so long as there isn't public pandering (soliciting via street walking, for instance). Different versions of bans passed the House and Senate this year -- the former, which seven colleagues and I opposed (out of 75), was harsher than the latter. They promise to be reconciled later this week.
We attended yesterday's meeting for a variety of reasons -- a last ditch effort to stir up opposition to some of the changes, to inform the women of the new jeopardy they'd face and of their rights to attorneys and to remain silent, the conceit that we'd be somehow empathetic enough to read the plight of a trafficking victim off of her drowsy face as she sipped coffee early on a Sunday morning.
How did it come to be this way? The Providence Journal covers the genesis of the dynamic here. Lord knows that legislators in the tough-on-crime 1980s weren't in a hurry to sanction prostitution, and essentially, it appears as though the state accidentally decriminalized the act of exchanging money for sex during a push to re-classify what had been a felony as a misdemeanor. (The intended move to misdemeanor status was meant to make it easier for courts to process cases faster and get more women off the streets.)
The effort to criminalize all prostitution has grown, as Asian "spas" have sprung up across the state, and some people have become convinced that legal prostitution has turned Rhode Island into a human trafficking "Mecca." The evidence for this has been mostly anecdotal -- I don't doubt that it occurs, but the magnitude of the practice has not been quantified -- and there's reason to think that lower prostitution penalties could even make trafficking less of a problem -- for instance, women might be more willing to report their traffickers if they can do so without fear of imprisonment. Robert Moosy, the director of the U.S. Department of Justice's Human Trafficking Prosecution Section of the Civil Rights Division, has noted that trafficking victims usually fear law enforcement precisely because they worry they will be prosecuted for prostitution. (The same goes for reporting of crimes committed by johns: For instance, the infamous Craiglist killer was reported by an escort he met in Rhode Island, who could report him without fear of prosecution.)
Nobody would argue that all prostitution in Rhode Island occurs in spas, and one would be hard-pressed to justify claiming that even most of it does, but those concerns about coercion have turned them into the debate's flash point.
Yet prostitution is different than human trafficking, even though some proponents of putting prostitutes in prison have cynically conflated the two issues. This was highlighted in testimony to the Rhode Island Senate Judiciary committee, given by lawyer Ann Jordan, director of the Program on Human Trafficking at American University's law school: "The bill erroneously assumes that arresting women who sell sex will somehow lead to more prosecutions for human trafficking. This is not an effective strategy."
Earlier this year, a colleague and I penned an editorial outlining some of the reasons for our opposition to the proposed ban. I'm a civil libertarian at heart, and think so long as there aren't ancillary concerns, consenting adults should be able to do as they please. Under certain circumstances, legal prostitution could conceivably create peripheral problems -- for instance, if lax prostitution laws were indeed wedded to increased human trafficking, we'd need to figure out how to address that. Sadly, what research I've done on the subject makes it difficult to point to any particular policy scheme as better than the rest, and best at reconciling civil libertarian values with the desire to protect the vulnerable. But we're hardly at a point where this is even a relevant debate, as the bill that passed the Rhode Island House was just so bad.
Advocates for the ban include law enforcement officials, the Catholic Church (RI is the nation's most Catholic state), and a small segment of the anti-trafficking community. They have framed the women as victims -- of trafficking or other unfortunate circumstances -- and some certainly are so, but those same advocates would inexplicably have these victims incarcerated or owing huge fines. In this sour economy, they'd probably work off that debt via further prostitution, putting the general public in a role more comfortably played by what's commonly known as a "pimp." The bill contains no right to diversion to psychological or substance abuse counseling. It provides no protection from deportation. Women would have new criminal records that would make it even harder to find "legitimate" work.
As American University's Jordan asserts, "Such coercive tactics might expose the women or their families to violence from the traffickers who remain at large ... It is highly probable that the overwhelming majority of victims of trafficking would be arrested and prosecuted multiple times for prostitution ... without ever being recognized as victims."
Opponents include most of RI's anti-trafficking activists, the ACLU, anti-domestic violence activists, the RI chapter of the National Organization for Women (reportedly against the national organization's wishes), criminal justice reform advocates, and two-thirds of respondents to the Providence Journal's online polls on the matter. Some of these people and groups are foremost civil libertarians, who'd oppose any sort of ban, while others view the johns as victimizers and would support proscribing buying, but not selling, sex.
For some opponents to the ban, there's a basic distrust of the courts and law enforcement, exacerbated by the sad revelation earlier this month that certain police-affiliated organizations have regularly and repeatedly solicited thousands of dollars in donations from the brothels. (Police officials have vowed to put and end to that practice.)
That opponents of criminalization include academics, and former national-level law enforcement officials like Jordan and Moosy, has led proponents to retort that these outsiders are simply "sex radicals" who are trying to use Rhode Island as a proving ground for perverse, out-of-touch mores. Criminalization proponents tout their own letters, some from legitimate sources, and some from reactionaries like Concerned Women for America, which got famous for outing Harry Potter as a witch.
Sunday's gathering was arranged by a local filmmaker who has researched RI's brothels, is sympathetic to the women who work in them, and is convinced that trafficking concerns are overblown. Workers helped organize the meeting, looking up phone numbers of brothels in the "Adult Section" of the Providence Phoenix, and inviting their employees.
The venue was the modest headquarters of DARE, one of Rhode Island's most prominent social justice activism organizations, a square room with walls of white-painted cinder block and linoleum floors. Perhaps 40 brothel workers -- managers and prostitutes -- attended, sitting in a circle, mostly bedecked in jeans, sweatshirts, and sneakers, simple but clean and well-fitted. Also present were three legislators, a half-dozen activists, two translators, a newspaper reporter, and a radio journalist. (The women had voted to ask the press to attend.) Towards the end of the meeting at least one brothel owner -- a tall, heavy-set, white man in his 50s, exhibiting an oilman's brand of sleaze (he might as well have worn cowboy boots, or might have been) -- rolled up in a luxury SUV with Jersey plates. Under lighter circumstances, it might have been refreshing to be lobbied by someone so lacking public relations-savvy.
Our quick read of the situation made it impossible to know who among the women, if any, might have been coerced in the hardest sense. It is safe to assume that at least some were working because of unfortunate economic circumstances, but that the meeting came about via workers calling fellow workers at other spas, most of whom did not know each other prior to Friday, makes it seem unlikely that many of them would identify as being forced to do the work that they do, or would be identified by the spa managers as such: The sense among organizers and most attendees was that spas where the women are tightly controlled would have been loathe to permit their workers to attend, knowing that legislators, representatives from victims' rights groups, and anti-human trafficking activists would be present, and that the meeting would be controlled and translated by others, in a foreign environment, with dozens of spa workers milling about the building and parking lot. (State and local police were invited, but did not attend.)
In full disclosure, though: At least one anti-trafficking activist took aspects of the meeting's dynamic -- which women spoke and which didn't, for instance -- as further evidence that many of them were indeed trafficking victims.
Many of the women spoke passable or good English, and there's some audio posted here. It is clear that not every person in attendance was a "manager" of a brothel -- there were many rank-and-file workers there, and more women present than there are known brothels in the state -- but I cannot speak to the situation of any particular interviewee. I have no way to affirm which specific women were or were not being forthright, but many expressed sentiments along these lines, from the Providence Journal:
The new law would target the men who pay for sex, landlords who "knowingly" allow prostitution, and women such as Williams, a 53-year-old single mother who uses money from prostitution to help finance her daughter's college education. "I do not want anything to happen until she finishes school ... If I get arrested, my children get hurt."

Williams, who speaks broken English, moved to Rhode Island from Arkansas seven years ago because she heard "the schools were good here." A mother of two, with little education, she quickly found employment in a Pawtucket spa that offered sex for money.

It was only last year, she says, that she learned indoor prostitution was legal. "Everybody found out last year," she said. "Before, we don't know. We were very careful."

Williams works in the Pawtucket spa with three other women. She says that each has a separate tax identification number and pays taxes.
"No one here is under any force to be working in this field," said Sunyo Williams through an interpreter. "We are willing to answer one by one and testify that this is our own choice."
"We choose to do the jobs. If a law really pass (sic) it's going to hurt our family, hurt us to plan for future, for better life."
And another, asked if they were there by choice:
"I like working ... This is the 21st century. We are free to go ... we like Rhode Island that's why we're working here. You know, this is all lying. Nobody forced us working (sic) in there. Because we want to work, we work."And another:

"We are here cause ... we don't want to change the laws ... We all work for a living, right? Other woman they raise the kids and they work for money. If they change the law, what are you gonna do? ... " "I am 35 years-old and don't know what to do ... We are kind of ... in trouble now."

And, later, "All the person who come here, choice. No human tracking (sic) or anything."
No matter the specific predicament of each individual woman present, whether or not they were there entirely freely, one thing remains starkly clear, or grew even clearer: The answer cannot possibly be to put all of these women, and so many more, in prison. And the newly-organized workers are planning to come out in force for hearings on the legislation over the course of the week.