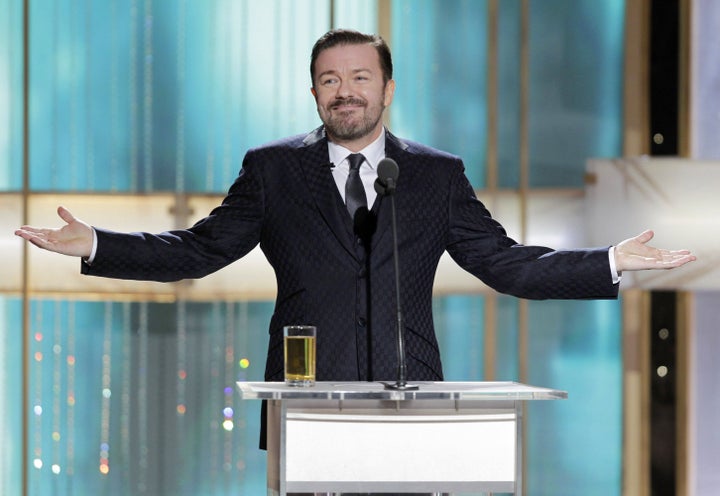 Though a legion of high strung Hollywood publicists would tell you otherwise (through news release or statement to People Magazine), all press is, in the end, good press, so long as it gets people talking.
Ricky Gervais' Golden Globes hosting performance last January was the stuff of insult legend, with the Brit star insulting Charlie Sheen, ripping John Travolta's Scientology, calling out Angelina Jolie and Johnny Depp's terrible "The Tourist," mocking the Globes' elderly president, and riffing on Robert Downey Jr.'s struggles with substance abuse (amongst many other slams). It was exactly what he promised, and Hollywood was thoroughly offended.
"I am but I shouldn't do it. It's a second encore," he said. "Don't do a second encore. I don't think I should do it. What am I going back as?"
This is the second time Gervais has said that he had been asked back; shortly after the show, he wrote in a diary for Heat Magazine that, "I did exactly what I went to do. Improve on last year's and have a laugh. The response was staggering. It was discussed on every news channel and chat show for weeks. The ratings went up again, and the organizers asked me to consider a third year. I don't think I should. I don't know what I could do better. I certainly couldn't get more press for them, that's for sure."
To that, Phil Berk, president of the Hollywood Foreign Press, responded, "There is no truth to this rumor. We have not asked him to come back. Nice try, Ricky."
Gervais' response? He insisted that he had indeed been asked back by the TV organizers of the event -- on Friday, he said something similar, saying that NBC had stuck by him through the entire ordeal -- and, in the event that he did accept, he'd only up his game.
"The TV show organizers said they were happy with everything and asked me to not rule out a third gig. However, it is not entirely up to them," he wrote on his blog. "The Hollywood Foreign Press and various other committees need to meet and agree. I have no idea if they want me back again. It depends whether they care about fifty delicate egos in the room or the 200 million people watching at home who want a laugh. Also, even if they did want me back, at the moment I'm pretty sure I shouldn't do it. But I'll tell you this. If they do invite me back and I accept, I'm going to pull exactly the same s**t again or even worse."
Gervais again touched on the ego issue on Friday, calling out actors who were insulted by his remarks.
"It wasn't a roomful of wounded soldiers," he said. "It was the most privileged people on the planet who spend all day pretending to be someone else. I teased them, I ribbed them."
The Brit also added that he had been asked to consider hosting The Oscars, which he said he'd be unlikely to do.
"They said to my agent would he like to be on our list. I couldn't do the Oscars," Gervais said. "It's a thankless task for a comedian. They don't want to hear jokes, they want to hear if they have won the most important award of their career."
UPDATE: Gervais later clarified on his blog that he had been asked to host the Oscars three years ago, and was misquoted in a press report about the event.
Popular in the Community