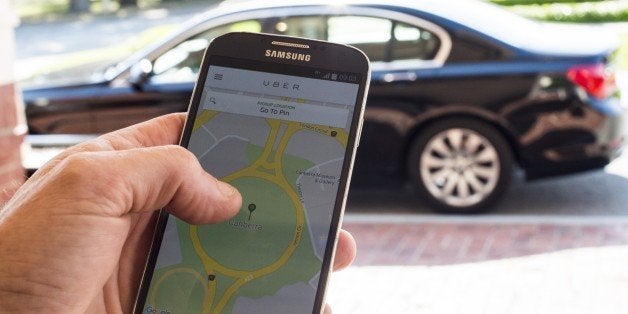 Are we turning into a society that values convenience over safety? Have you ever made a questionable decision in the name of shaving a few minutes off your arrival time? Perhaps we need to collectively reevaluate the services we use to ensure they are up to a minimum standard, or risk negative yet predictable repercussions of skipping the due diligence part.

For starters, what do you know about the car you are getting into?

In the last five years, there has been an exponential surge in Ride Hail Apps like Lyft, Whisk, and America's sweetheart: Uber. Clearly we love them, but statistically we tend to know nothing about them. For instance, when it comes to legislation at all levels, ride hail apps are regarded as technology companies and not a taxi or livery service, thus the companies and drivers are not subjected to the same stringent legislation as taxi and companies and car services. This lack of governance has resulted in a two-pronged effect:

1. Rider safety is at risk
A recent report from the National Limousine Association (NLA) provided a snapshot of the terms and conditions from the top ride hailing apps, and they are terrifying to say the least. Here are a few highlights:
Uber: Uber does not guarantee the suitability, safety or ability of third party providers. By using the services, you acknowledge that you may be exposed to situations involving third party providers that are potentially unsafe, offensive, harmful to minors or otherwise objectionable, and that use of third party providers arranged or scheduled using the services is at your own risk and judgement
Lyft: Users understand and accept that LYFT has no control over the identity or actions of the riders and drivers, and LYFT requests that users exercise caution and good judgement when using the services. Drivers and riders use the services at their own risk.
VIA: You assume all risk associated with dealing with third party providers. You agree to resolve disputes directly with the other party. You release VIA of all claims, demands, and damages in disputes among users of the Service.
Whisk: Whisk assumes no liability for any acts on the part of the driver.
These Ride Hail apps have clearly positioned themselves as mere brokers in a transaction they assume zero responsibility for. Many app users are not aware of the risk they are taking when they step inside these cars and regard these apps the same way they would a traditional cab or car service. This is a disaster in the making and these app companies will walk away with all of the profits and impunity. To speak plainly, these apps are not taking steps to ensure your safety.

2. It propagates an inflated economy built on substandard worker conditions
These apps have been praised for creating flexible and accessible jobs, but have not been known to be the greatest of employers. In light of an ongoing class action suit against Uber by its drivers, Fortune Magazine investigated the economics of Uber's business model, uncovering less-than-favorable working conditions for its drivers. In fact, the National Employment Law project equates Uber and the like to "turn of the century sweatshops".
Uber insists their drivers prefer to be classified as1099 workers (independent contractors), however the class action suit would indicate otherwise. As a 1099 worker, the driver is not entitled to fair wage, health care, expense reimbursement (tolls, gas, etc), and insurance. And it goes without saying that Uber's success and subsequent $51 billion valuation is a result of their business model, which some legislators are beginning to consider illegal. Fortune concluded that it would cost Uber well over $4 billion to properly hire its drivers as employees.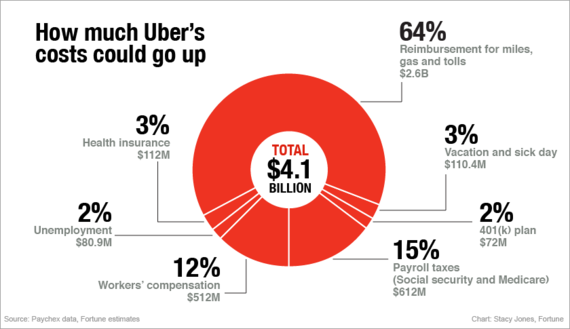 Created by Stacy Jones of Fortune Magazine. Original article is available here.
"We don't want to shut them down or limit their business. We just want fairness and safety, and for that to happen, the ride hailing services must be subjected to the same laws as taxi and limousine services," notes NLA Co-Founder, Scott Solombrino.
By way of great PR, ride hail apps have positioned themselves in this public debate as the little guy - the entrepreneurs that big, evil taxi and limo companies want to keep down. But this debate is about much more than simply fighting for market share. The NLA and its supporters are passionately advocating for a level playing field to encourage fair competition and maintain the reputation of the transportation industry by ensuring passenger safety.
At this time, I am still awaiting a response and comment from Uber on this issue - because I too am all about fairness. However I see little wiggle room here. These apps have found a profitable loop hole by eliminating any and all safety precautions and re-classifying an entire industry to avoid governance.
A survey conducted by Harris Poll of US adults aged 18 or older revealed that 80% of consumers consider these apps as transportation providers, thus assuming they are held to the same strict standards as taxi and limousine companies. This misconception is a disaster in the making, and there have already been a large number of incident reports nationwide. Sexual assault, robbery, and kidnapping are just a few of the recent reports logged by victims of this poorly vetted service. The wrongful categorization and subsequent lack of legislation of the ride hail apps have turned into a very real problem, and this needs to stop.
In busy cities, we are all looking to 'get there faster', but at what cost? While legislators on the state and federal level grapple with how to move forward, users must heed these concerns and be wary when using these apps. Or perhaps, just go the old school route and get yourself a cab.

Related
Popular in the Community