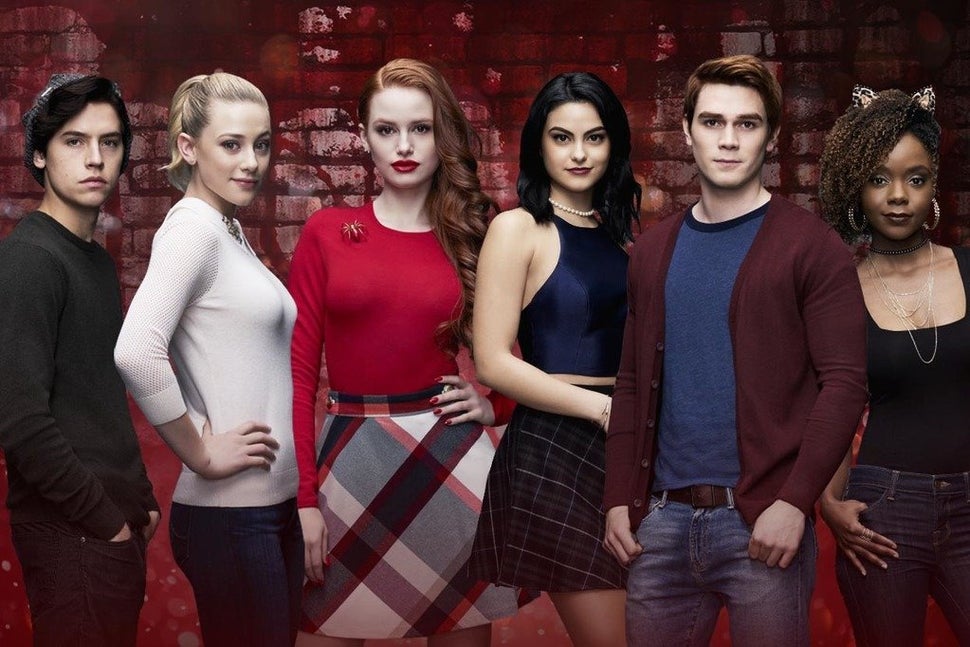 The tale of a teen outcast turned murderous prom queen: With all that's gone down on the second season of "Riverdale" — a hunt for a hooded serial killer, the football team moonlighting as a local militia, Archie and the gang getting high on a drug called jingle-jangle — that hardly ranks as a compelling B-plot on any given episode. 
Singing and dancing about the horrors of high school, however, make for a very special installment of the hit CW series.
Wednesday's episode, the series' first official foray into the depths of the musical-on-TV genre, revolves around a teen production of "Carrie: The Musical." Adapted from the classic 1974 Stephen King novel, the musical has been called the "most expensive quick flop in Broadway history." Nevertheless, it's found a home in "Riverdale," a massively popular TV show that deals with similar themes ― the good-girl-versus-mean-girl binary, raging teenage hormones and bloodshed.
But since buckets of pig's blood lack a certain visual panache in 2018, the cast of "Riverdale" lends the story a horrific new ending. (Spoiler alert!) Instead of simply acting out King's familiar finale, the teens witness an actual murder when a student is stabbed multiple times on stage unbeknownst to the audience. Leave it to "Riverdale" to turn up the camp and the crazy for a musical episode unlike any we've seen before. 
The episode came to life thanks to series creator Roberto Aguirre-Sacasa, the man who once staged an unauthorized production of the gold-standard "Buffy" musical episode as a Yale drama student. Aguirre-Sacasa actually envisioned "Riverdale" as a musical series in the beginning stages of development. He's been angling to do a full-blown production ever since. 
"Originally, we always thought that there would be a stronger musical element and the kids would do school musicals, but as the show developed, it became more of a crime and noir show," he told HuffPost. "But, by this point, even the superhero shows had done musical episodes, so I think the network was, like, if we're letting these shows do it, we better let the show about high school kids do musicals, too."
Musical episodes on television, much like the high school musicals of real life, have indeed become something of a rite of passage. What was once a set-your-DVR-or-regret-it event is now an increasingly regular milestone for shows including "Buffy the Vampire Slayer," "Scrubs" and "The Flash." (Not to mention "Crazy Ex-Girlfriend," which gifts the world with a mini-musical every week.) As a result, it's never been harder to stand out.
Of course, "Riverdale" slips easily into its new skin as Archie (K.J. Apa), Betty (Lili Reinhart), Veronica (Camila Mendes) and Cheryl (Madelaine Pestch) get in touch with their inner theater kids. The town's resident fire-starter, Cheryl, takes on the role of Carrie White, a socially ostracized, telekinetic girl repressed by her religious fanatic mother. Betty, naturally, plays good girl Sue Snell, who initially bullies Carrie but succumbs to remorse. Veronica embodies the titular teen's tormenter, Chris Hargensen. Finally, Archie fits nicely into the boy-next-door slot as Tommy Ross, Carrie's ill-fated prom date.
Dressed in peak '70s garb, the musically inclined actors belt their way through 11 songs from the musical, gathering for an especially impressive opening group number, "In," that requires each of the cast members to show off their singing chops and some serious choreography. Meanwhile, Jughead, not exactly the song-and-dance type, films a behind-the-scenes documentary after actor Cole Sprouse took a hard pass on any musical moments. 
"He's a Broadway Scrooge," Casey Cott, who plays the musical's director, Kevin Keller, joked. "I've seen him do karaoke, and I've seen him dancing on the dance floor. That kid can move."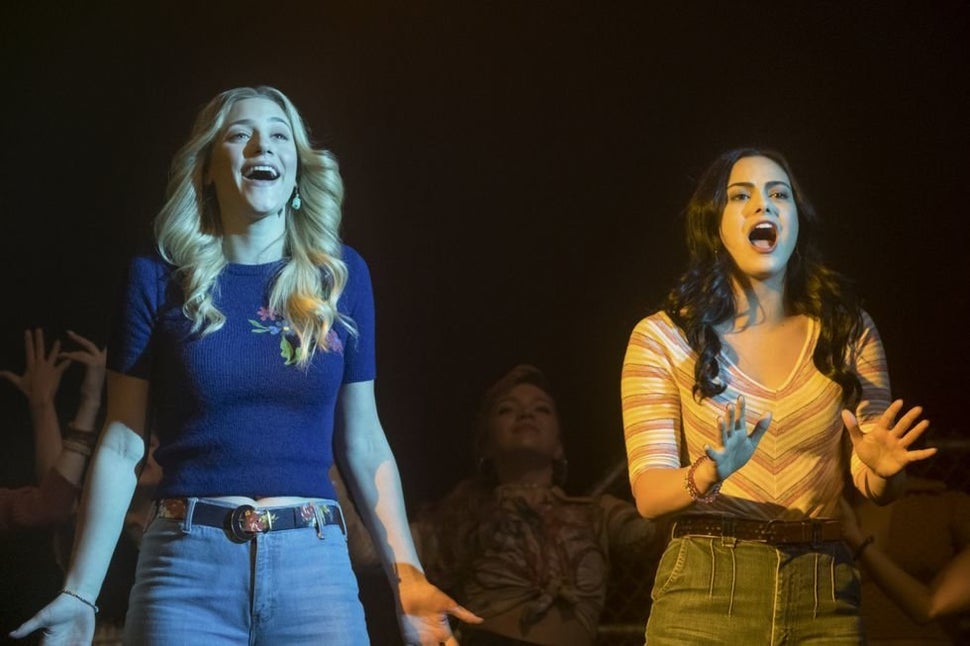 Back in 1988, when "Carrie: The Musical" first opened more than a decade after the Brian De Palma film hit theaters, the production closed after a handful of performances due to scathing reviews. "'Carrie' expires with fireworks like the Hindenberg," a New York Times theater critic wrote in a particularly savage takedown at the time. The show, however, found its audience years later, amassing a cult following that flocked to see revivals in London and Los Angeles.
That audience included Aguirre-Sacasa, a self-professed mega-fan of the "Carrie" story who wrote the screenplay for a tepidly received 2013 movie remake starring Chloë Grace Moretz, which he described as a "very fraught" ordeal.
"It was not the most artistically satisfying or pleasant experience in my career," he said. "I'll save you the gory details. It sort of soured me to 'Carrie.' I really feel like this musical has allowed me to take it back as something I love and feel good about after years of not feeling good about it."
Before landing on "Carrie," Aguirre-Sacasa's team considered staging other productions, like "Little Shop of Horrors" and "Sweeney Todd." He even contemplated using songs from an original musical based on Archie Comics characters that he wrote before he was brought on as the company's chief creative officer in 2014.
"It never got produced, but it has really good songs. I briefly thought if we can't get the rights to 'Carrie' we'll do 'Archie: The Musical,'" he said. 
But the disastrous prom saga seemed almost tailor-made for the series, which is why Aguirre-Sacasa stuck primarily to script, save for the addition of a few distinctively "Riverdale" flourishes ― mainly that twist ending that revives the mystery of the Black Hood, the town's believed-to-be-dead serial killer.
The musical is "literally about a girl who goes crazy and kills everybody with blood all down her face," Cott said. "Cheryl does that, and no one is surprised."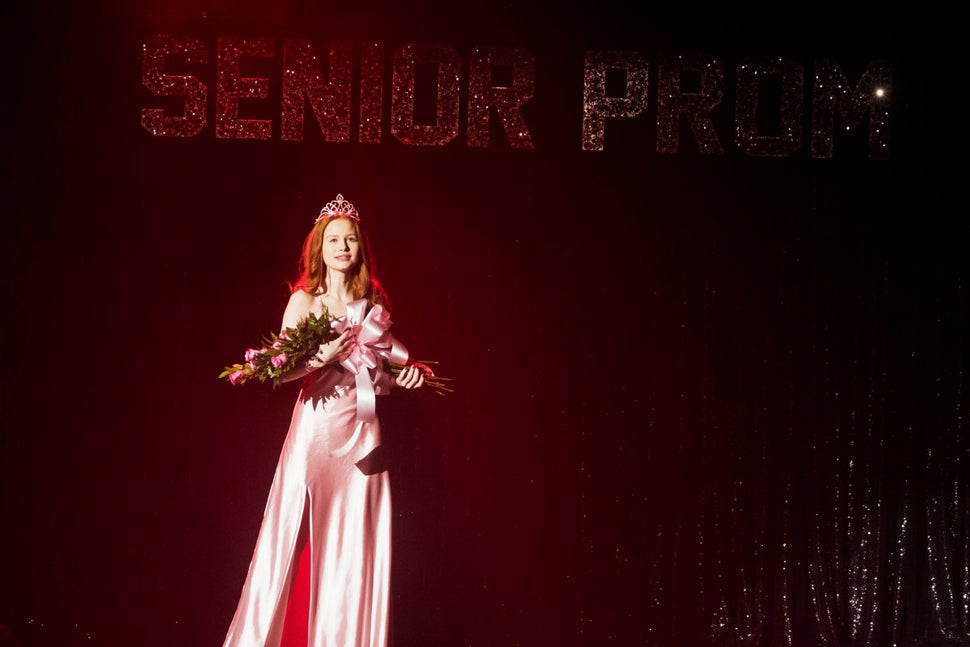 Overall, the musical feels expertly suited to highlight the series' biggest draw: the core four characters. In a season paced at break-neck speed, the lion's share of the "Riverdale" plot has been dedicated to a whirlwind of murder mysteries, mayoral races, long-lost siblings and corruption scandals. This episode gives the series a much-needed chance to breathe by finding crucial moments to revisit some of the relationships that made the show a success in the first place. 
In one of the episode's most inspired plot diversions, Betty sings "You Shine," a love song featured in the original musical, to Veronica instead of her onstage paramour as a peace offering after a particularly nasty fight. 
"Even though there's this big shocking ending, the musical allows us to focus more exclusively on the friendships, which we don't always get to do because we are so frantically telling other stories," Aguirre-Sacasa said.
As "Riverdale" rockets off toward the season finale, perhaps that's the lesson it should take to heart ahead of Season 3. (Netflix recently picked up two seasons of a "Sabrina the Teenage Witch" spinoff, too.) Sure, the show thrives on crazy plot twists (remember: the town was founded on maple syrup blood money, after all), but how it builds upon the iconic characters of comic book lore in new and interesting ways will always be its lifeblood.  
And should the musical experiment prove to be a success, the powers that be have every intention of making this a tradition for the show that has no incentive to stick to form.
"Every week 'Riverdale' is something different," Aguirre-Sacasa said. "One week, it's a serial killer show or 'The Godfather' in a small town and the next it's a political thriller or a homage to 'The Wrestler.'" 
"The show is naturalistic, but it also exists in this weird area where the musical episode comes in and makes total sense," Cott added. "It's not all 'Glee' or flashy. It's actually really weird and such a 'Riverdale' story." 
As for who might take the reins the next time around, Cott has some suggestions: "One day we'll get Cole into a musical episode. In Season 3, he can be the lead." 
Calling all HuffPost superfans!
Sign up for membership to become a founding member and help shape HuffPost's next chapter