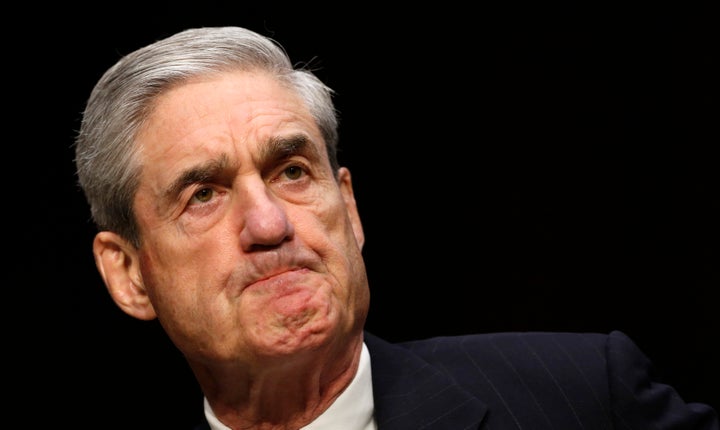 It's hoaxes all the way down in what appears to be an effort to discredit special counsel Robert Mueller with fabricated claims of sexual misconduct.
Several media outlets, including HuffPost, received emails earlier this month from a woman claiming she was offered money to spread fake accusations about Mueller. In her email, the woman said she worked as a paralegal at a law firm called Pillsbury, Madison & Sutro in the early 1970s. Mueller worked at the firm after he finished law school.
The Atlantic was the first outlet to write about the email on Tuesday afternoon, reporting that the special counsel's office had referred the allegations to the FBI.
"When we learned last week of allegations that women were offered money to make false claims about the Special Counsel, we immediately referred the matter to the FBI for investigation," said Peter Carr, a Justice Department spokesman who has been detailed to the special counsel team since its inception last year.
But the problem is, there's no evidence the woman worked at the law firm with Mueller, or that she even exists. A spokesman for the law firm, which now goes by Pillsbury, told HuffPost that there was "no record of this individual working at our firm at any time."
HuffPost conducted a public records search to locate the woman, but could not definitively tie her to a known person. The New York Times and other outlets were also unable to confirm the woman's identity or her story.
But another woman, Vermont Law School professor Jennifer Taub, said that she also received an offer to be paid to tell stories about Mueller. Taub, who has previously commentated on the Mueller probe, told The Atlantic and MSNBC that she was also contacted by someone interested in stories about her "encounters" with Mueller, whom she has never met.

The emails ― and subsequent tweets and announcements by two men known for spreading rumors and political hoaxes on the internet ― appear to be part of a clumsy effort to smear Mueller and derail his investigation into Russian interference in the 2016 U.S. presidential election, just by putting the whiff of misconduct in the air without any evidence or credible information.
Even in the Me Too era, when sexual misconduct allegations come down seemingly daily against powerful men, those accusations typically involve a real, verifiable woman and some kind of corroborating evidence. In this case, there's neither.
"The email appears to be part of a clumsy effort to smear Mueller and derail his investigation into Russian interference in the 2016 U.S. presidential election."
The woman's initial email to HuffPost and several other outlets was fairly detailed, suggesting she wanted to tell her story. Yet she repeatedly declined to get on the phone with HuffPost or other outlets ― an unusual sign.
Another red flag: Blasting an email of this nature to so many outlets seemed off. Ordinarily, a source with a sensitive story would take care to reach out to publications individually. Christine Blasey Ford, for example, was very particular about whom she contacted when she came forward with misconduct allegations against Supreme Court Justice Brett Kavanaugh.
Over four paragraphs, the woman said a man had contacted her and offered to pay off her credit card debt and give her $20,000 if she would make accusations of sexual misconduct and workplace harassment against Mueller. She said the man told her he was working for Jack Burkman, but didn't explain who he was.
Burkman is a Republican lobbyist, conspiracy theorist and conservative radio host. He said in a Facebook video on Tuesday that he planned to introduce the first of the "sex assault victims of Robert Mueller" at a press conference on Thursday.
"This isn't something I take any delight in. It's something I wish I didn't have to do. But my viewers and the American people need the truth," Burkman said. "Remember, if you like us, like us on Facebook, subscribe to our podcast on iTunes or wherever you get your podcasts."
The woman wanted nothing to do with any of this, according to the email. She never experienced anything inappropriate with Mueller, who was always polite when she interacted with him, the email read.
On Oct. 22, she said she was talking to the New Yorker to "expose these hucksters."
That apparently didn't work out. "It's just a stupid hoax," New Yorker investigative reporter Jane Mayer tweeted about the accusations on Tuesday.
With the New Yorker apparently out of the picture, the woman emailed HuffPost again on Tuesday. She said the New Yorker had dropped her story and suggested that the men calling her were Russian, which seemed to contradict her earlier email ― which mentioned a man with a British accent ― and also appeared to be an attempt to give the alleged conspiracy a Russiagate vibe.
"Lastly, I just wanted to update you and let you know that this morning, a man with a Russian or Eastern European accent (not sure) called me up from a blocked number, saying that it was my final chance, to take the offer and make the accusations," the email read.
Mueller is coming under attack just days before the midterm elections as the GOP seeks to keep the Senate and House Republican. Republicans are also seeking to protect President Donald Trump and undermine Mueller's probe. The special counsel has secured a number of guilty pleas and indictments, including some that laid out the Russian social media and hacking campaigns to boost Trump's candidacy.
On Tuesday, Gateway Pundit, a right-wing conspiracy website, published an obviously false document with the subheading "international private intelligence" detailing rape claims against Mueller.
The questionable document claimed that the purported incident took place in August 2010, when Mueller was the head of the FBI (and had the security team that goes along with that position). Moreover, on the supposed date of the incident, Mueller was serving jury duty in Washington, D.C., according to a contemporaneous 2010 Washington Post report.
Gateway Pundit later took the documents down.
Jacob Wohl, a Trump supporter and discredited hedge funder accused of cheating clients, appears to have been involved in the scheme to undermine Mueller with false accusations. Digital footprints suggest that Wohl created a fake private investigation company, Surefire, which was purportedly working with Burkman, to make the claims against Mueller appear more legitimate.
NBC News found that the official phone number for Surefire redirected to Wohl's mother's voicemail. And several of the company's purported employees had LinkedIn profiles with fake headshots from elsewhere on the web.
An apparently fake woman, fake claims and faked LinkedIn profiles. The whole episode "seems fishier than a tuna sandwich," Mayer tweeted.
Read the full email below.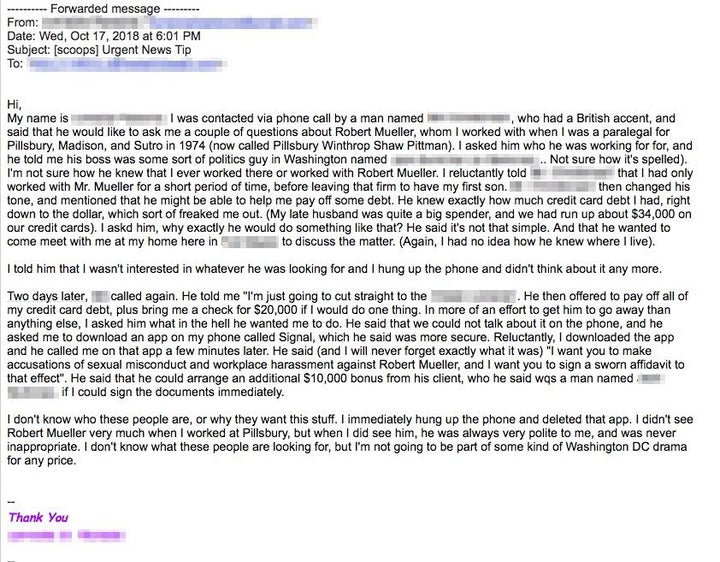 Popular in the Community