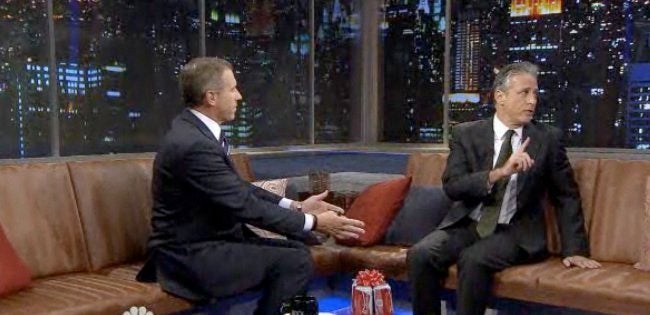 Brian Williams hosted Jon Stewart on the premiere of "Rock Center With Brian Williams" Monday night. The two media men got a tad personal during the interview, touching each other's socks (it was weird!) talking about their trick-or-treating habits, and comparing their overall manhood to that of NBC's top foreign correspondent, Richard Engel.
Stewart started off the interview by presenting Williams with a welcome gift: a six-pack of Budweiser with two cans missing.
"What do you want from me?" Stewart asked. "I've been here an hour and the football game is on."
"And it's warm. I'm not saying, I'm just saying, it's warm." Williams responded. He noted that he has appeared on Stewart's show a total of nineteen times and thanked Stewart for appearing on "Rock Center" despite the premiere conflicting with Halloween (Stewart has two young children).
When asked about how he takes his children trick-or-treating in New York City, Stewart said that he "does not let his children" go near any apartment buildings. His children are "escorted to bodegas" where "they may get edamame" instead of candy.
Stewart did not appear to enjoy the Halloween talk so instead he decided to comment on Wiliams' high socks. "Brian Williams needs vascular support," Stewart said as pulled up Williams' pant leg. "You wear an anklet," Williams said, before telling Stewart, "OK, that's enough!"
Williams then pointed out that Stewart has been particularly harsh on Occupy Wall Street protesters. Stewart disagreed with this sentiment and said he really empathized with the protesters. He did mention however, that he was keeping the protesters in "perspective."
"You got guys down in Zuccotti Park with a tent roughing it with brown rice and a tent. I'm sure there are people...in sub-Saharan Africa who are like 'Ooh, tents. Look at you, mister,'" Stewart said.
Popular in the Community