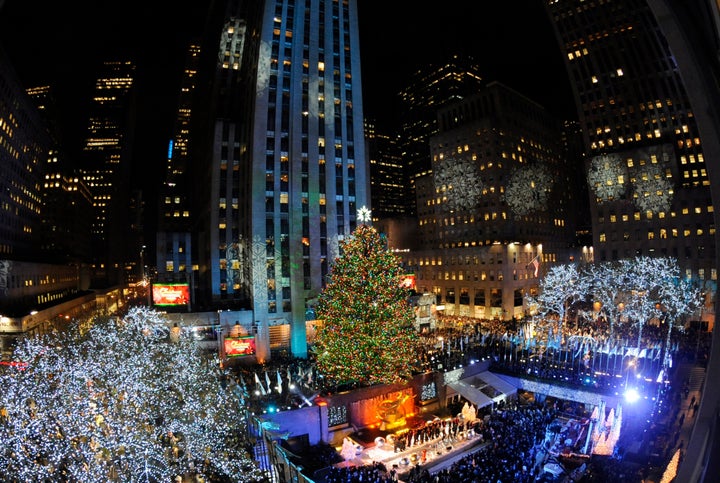 New York -- Just before 8 p.m. -- and an hour after the tree lighting ceremony at Rockefeller Center began -- Gino Palacios stood at the southeast corner of 50th and 5th Avenue waiting to cross the street and enter the city's massive outdoor holiday space.
His son, Alexander, 4, was seated on his shoulders. His daughter Victoria, 7, was standing just a few inches away. His wife and a relative visiting for the week from Ecudaor were also there. Palacios said he saw the tree lighting in Rockefeller Center once before, almost 20 years ago. But for his children, this was the first time, making the drive from their Nutley, N.J. home and the wait worthwhile. This was to be a night of big waits for big things.
"I just, I just want to see it," Victoria said. "I want to know what it's like. I think my tree is bigger at our house."
Victoria's bold declaration made a few people nearby chuckle. After all, there were what seemed like hundreds of people on the same corner inching toward Rockefeller Center, home of a massive Christmas tree and New York's declaration that the Christmas season has begun.
This year's tree, a 74-foot-tall Norway Spruce, is believed to be about 75-years-old, according to a statement released this month by Rockefeller Center. It weighs in at 12 tons and measures about 40 feet around. The tree hails from Mifflinville, Pa.
A crane positioned the tree in an upright position at Rockefeller Center earlier this month, where it was promptly wrapped in scaffolding so that workers could begin stringing more than 30,000 multi-colored -- and, as Rockefeller Center's public relations staff stressed in the statement -- energy-efficient LED lights. Strung on the equivalent of five miles of wire, the lights will be powered with the help of hundreds of solar panels, according to the statement. The tree is topped with a Swarovski Star -- unveiled by the actress Blake Lively at a separate event on Nov. 18.
Rockefeller Center officials also did not respond to a request for comment Wednesday. Everyone from President Barack Obama to the Black Eyed Peas were scheduled to attend the tree-lighting ceremony.
In New York, Christmas has not always been the city's most heavily decorated holiday, said Eric Robinson, a reference assistant at the New York Historical Society's library. That honor was reserved for New Year's Eve, from the city's earliest days as a 17th century Dutch colony until at least the early 1800s. Then, some New Yorkers began public celebrations and displays associated with a Dec. 6 holiday known as St. Nicholas Day. Before long, the public displays and events extended to Christmas, Robinson said.
In 1924, the nation had its first outdoor illuminated Christmas display in Cleveland, Ohio, said William L. Bird, who wrote the 2007 book "Holidays on Display." The display did not land in Cleveland's Nela Park by coincidence, Bird said. General Electric's lighting division was based in the area. In 1924, company engineers spent weeks building the outdoor wonderland and figuring out how to make the noses of reindeer sculptures twinkle.
"It's kind of interesting that General Electric is today the major tenant in Rockefeller Center," said Bird, who is also a curator at the National Museum of American History.
Rockefeller Center history and common folklore have it that in 1931, in the midst of The Great Depression, workers building the office complex that would become Rockefeller Center put up and decorated a small Christmas tree, Bird said. Rockefeller Center began an official holiday display and celebration in 1933, according to the complex's website.
At Rockefeller Center on Wednesday night, the big tree, the lights and the show drew a large crowd with long waits. Moving about 100 yards took more than five minutes.
"I'm hoping, I guess I'm really hoping for the kids to see the big tree at least one time," Palacios said. "So far, the wait hasn't been too bad. I mean, this is a big deal. You want the kids to have this experience, to see the big, big tree. So, you wait."
CORRECTION: This story has been modified to remove inaccurate information about the tree's origins provided by Rockefeller Center.
Popular in the Community