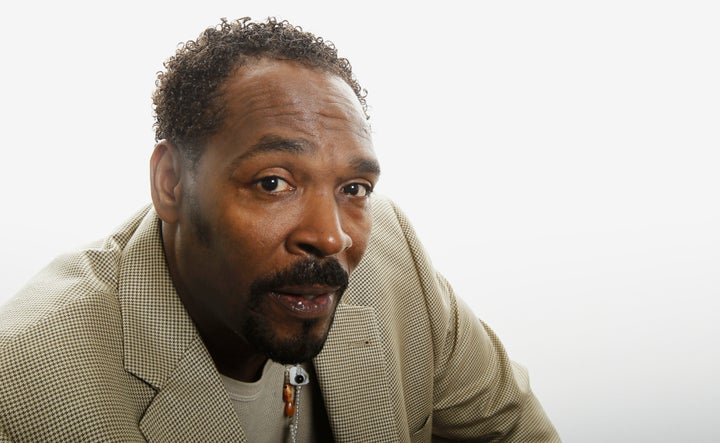 Rodney King's friends and family want to lay him to rest Saturday at Forest Lawn Hall in the Hollywood Hills. But will their plans change if they don't raise enough money for the funeral?
In a statement released Sunday, family rep Kali Bowyer asked for supporters to contribute to a memorial fund for King's family to help defray the costs of the funeral. The fund is in Rodney Glen King's name with Bank of America in Los Angeles County, Calif.
Bowyer spoke to TMZ about the funeral costs, which are expected to amount to more than $22,000. She emphasized, "They need the money."
How To Attend Rodney King's Memorial Service
When: Saturday, June 30 at 2 p.m.
Where: Forest Lawn Hall, 6300 Forest Lawn Drive, Los Angeles, CA 90068
How: Family and friends will be seated first, and then the public will be allowed to enter for the service. There will be standing room available. The burial will only be open to family and friends.
King's funeral will be held in the same place that Michael Jackson, David Carradine and Don Cornelius' funerals were held, according to Celebuzz.
King will be remembered as the man who was filmed while suffering a nearly fatal beating at the hands of Los Angeles police in 1991. When the officers involved in the assault were acquitted in 1992, the verdict sparked one of the worst race riots that the United States had ever seen. After three days of arson and violence, 55 people were dead, 2,325 people reported injuries and the total cost to the city of Los Angeles was estimated at approximately $1 billion.
At the height of the violence, King held a televised press conference calling for peace and uttered now-famous words: "Can we all get along?"
He was eventually awarded a $3.8 million settlement, but continued to struggle with addiction and had several run-ins with the law. In April of this year, he admitted he was broke, reports the Los Angeles Times.
Police are treating his death as a drowning, and investigators at the LA County Coroner's office are still conducting a toxicology test on his body to see if King was under the influence of drugs or alcohol around the time of his death.
The King family, which includes his three daughters Candice, 30, Dene, 28 and Tristan, 19, released a statement about the inquiry into King's death: "Our family is looking forward to a swift investigation into the death of our father ... we put our faith in the authorities responsible for handling matter."
UPDATE: The bulk of the funeral costs have now been met, said Kali Bowyer to The Huffington Post. Any extra money that the fund receives will be put toward the ceremony open to the public.
REAL LIFE. REAL NEWS. REAL VOICES.
Help us tell more of the stories that matter from voices that too often remain unheard.
BEFORE YOU GO
PHOTO GALLERY
Rodney King: A Look Back