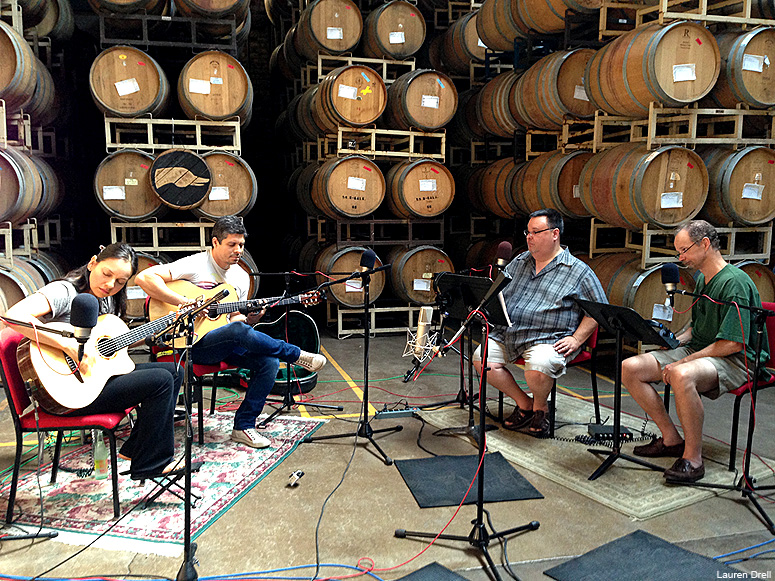 Co-hosts Jim DeRogatis and Greg Kot interview Rodrigo y Gabriela at Goose Island Barrel Warehouse for an upcoming 'Sound Opinions' show.
The unmistakable magnetic chemistry of Rodrigo y Gabriela was floating in the air while several small handfuls of people who were surrounded by scores of Goose Island-branded barrels quietly listened as the acoustic duo recorded an upcoming show for WBEZ Chicago's Sound Opinions with rock critics and co-hosts of the weekly program, Jim DeRogatis and Greg Kot. Goose Island's barrel-aging warehouse was perhaps the perfect backdrop to uncork those stories the duo holds, and unveil new music; just hours before the internationally-acclaimed musicians took the stage at the Chicago Theatre on July 24.
Rodrigo y Gabriela cover Daft Punk's 'Get Lucky' at Chicago Theatre on 7/24/13.
What gets uncovered during the hour-long recording session is how the music of Rodrigo Sánchez and Gabriela Quintero -- who met in Mexico City in the late '90s while -- get this -- playing in a thrash-metal band that was virtually unheard of -- came to rise through the ranks where they can now sell out their own concerts. The stories are intriguing ones, as DeRogatis and Kot delved deep into the duo's history and career making of music together.
What surfaces is that Rodrigo y Gabriela are risk takers, not only with their music that doesn't fit into a neatly packaged genre -- but slides into different categories as they can thrash to their own cover of Metallica's "Orion" often played at the pair's live shows -- or slow it down with some folk -- or play an original number that's jazz, blues or even world-rooted -- but that willingness to take chances is also seen early on in their career when they took a big leap of faith by heading off to Dublin, Ireland, with just their acoustic guitars, not speaking any English.
The story continues that the pair built a name for themselves in Dublin via word-of-mouth, mostly by busking the infamous Grafton Street in Dublin much like Damien Rice did, who coincidentally enough discovered the pair and helped launch their music career by featuring them on his band's touring bill as the opening act. Then there was the time, just a couple of years ago in 2011, when the duo recorded in Havana, Cuba, with C.U.B.A., a 13-piece Cuban orchestra.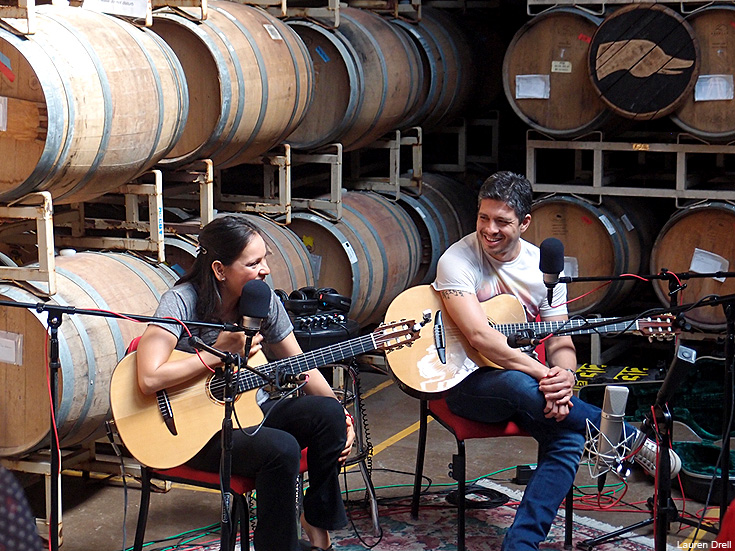 Rodrigo y Gabriela add a twist of humor to a story while recording a 'Sound Opinions' show
It's not hard to see why Rodrigo y Gabriela have come to attract such a following. Those in attendance at Goose Island's warehouse, who casually sipped on complimentary 312s and strong coffees, were also treated to a two-song set of new material off Rodrigo y Gabriela's forthcoming album (not yet titled). Watching Rodrigo pluck away at his six strings while Gabriela tapped her hand rhythmically against the guitar again sparked the duo's magnetism and served as a reminder of why early on their fans took a chance on them.
The 'Sound Opinions' show featuring Rodrigo y Gabriel will air in early October on WBEZ 91.5 FM Chicago.
Related
Popular in the Community